The Real Reason Gino D'Acampo Quit His ITV Series With Gordon & Fred
"I don't want you to read any wrong information."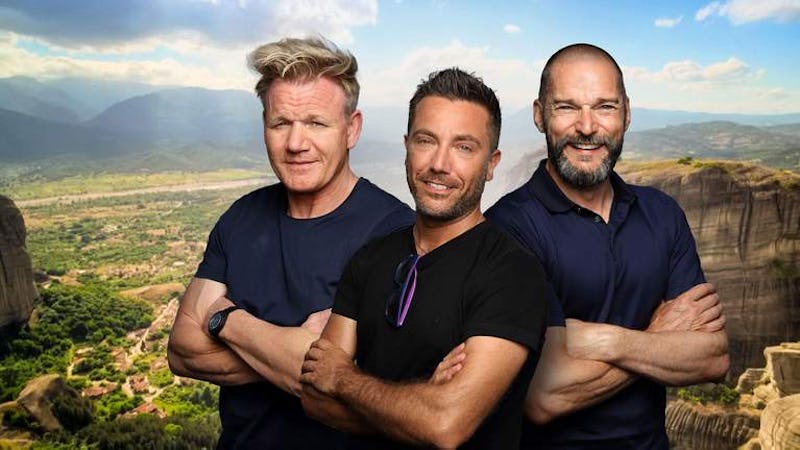 ITV
Gino D'Acampo has revealed that he's quitting Gordon, Gino And Fred: Road Trip after three seasons. The travel and food show, which co-stars fellow chef Gordon Ramsay and First Dates' resident Maître d' Fred Sirieix, sees the trio adventuring around destinations like Greece, Mexico, and Morocco sampling the best in local food. "I've got a bit of news for you, and the reason I want to tell you is because I don't want you to read any crap or any wrong information," D'Acampo explained in an Instagram video, humorously captioned with choice lyrics from "My Way" by Frank Sinatra.
"Last week I decided not to film any more Gordon, Gino And Fred: Road Trip. The reason is simple: nothing to do with Gordon and Fred, the friendship is very strong. It's just because we can't get the dates together." The chef explained that with all three of their busy schedules, it can be "complicated" settling on dates that work for everybody. He admitted that when things get pushed back it can sometimes cause problems with other professional commitments and can impact his time with his family. Ultimately, he's opted to focus on his friendship with his co-presenters rather than getting bogged down with business.
"When contracts start to get very complicated, then it becomes very stressful, and I personally value the friendship with Gordon and Fred so much, that I'd rather the friendship than getting [into] arguments with the contracts," he reasoned. "I want to be friends with the boys for many, many years ahead."
The celebrity chef, who rose to fame as a regular on This Morning, is admittedly in high demand at the moment after landing the presenting job on Family Fortunes back in 2020. Last year, D'Acampo also decided to take a step back from the daytime TV show in order to spend more time with family. "My life cannot always be about work," he told This Morning's Phillip Schofield and Holly Willoughby. "I admire and respect people who have a lot of time for work. I have a lot of friends that do that but it's not me. I think there are so many beautiful things in life that you can do that have got nothing to do with work and if one has the chance, then you should take it."
Bustle has reached out to representatives of Gordon Ramsay and Fred Sirieix for comment.