Harry Styles Helped A Fan Come Out As Gay In Dramatic Fashion At His London Show
"When this sign goes over the head, you're officially gay, my boy."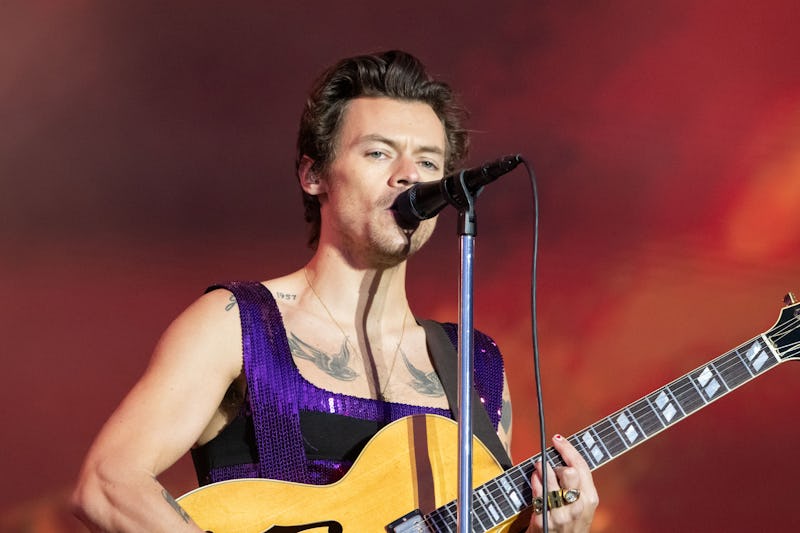 Joseph Okpako/WireImage/Getty Images
Harry Styles is proving to be a trustworthy ally. On June 20, the "As It Was" singer helped a fan come out as gay during a show at Wembley Stadium in London, as part of his 2022 Love On Tour, after spotting a sign in the crowd that read, "From Ono to Wembley: Help me come out." Luckily for that fan, he was happy to oblige.
As seen in fan videos from the show, the One Direction alum (whose bandmate Niall Horan happened to be in the audience) reached for a rainbow flag that he was given by another prideful audience member. "When this flag goes over my head, you are officially out," he said. "I think that's how it works: When this sign goes over the head, you're officially gay, my boy." True to form, Styles proceeded to make a dramatic moment out of the occasion, running across the stage with the flag before triumphantly lifting it above his head. "Congratulations, you're a free man!" he concluded.
After the show, Styles took to his Twitter account (which is a rare occasion outside announcements) to leave a message for the show's attendees. "Wembley, last night was one of my favourite shows we've ever played," he wrote. "I don't know where to begin thanking you, I'm completely overwhelmed. I'm so grateful, I'm so happy. Thank you, thank you. I love you all. See you later. H."
This is actually not the first time that Styles has provided assistance to one of his closeted gay fans. In November, Styles noticed a sign from 23-year-old McKinley McConnell that read, "My mom is in Section 201. Help me come out," at his Milwaukee show. "Do you want me to tell her?" he asked her. "I can tell her. Yeah, no problem, one second." He then dramatically hustled to the center of the stage and screamed, "Mom, she's gay!" Needless to say, everyone took it well. "Afterward, she told me, 'You always had a flair for dramatics,'" McConnell told NBC at the time.
While Styles has made his support for the LGBTQ community very clear, often waving different Pride flags at his shows, he has refused to label his sexuality himself. In an April interview with Better Homes & Gardens, the singer, who is currently dating his Don't Worry Darling co-star Olivia Wilde, called speculation about his sexuality "outdated." "I've been really open with it with my friends, but that's my personal experience; it's mine," he said. "The whole point of where we should be heading, which is toward accepting everybody and being more open, is that it doesn't matter, and it's about not having to label everything, not having to clarify what boxes you're checking."