Harry Styles Had A Major Stage Malfunction At The Grammys
"There was nothing we could do to stop it."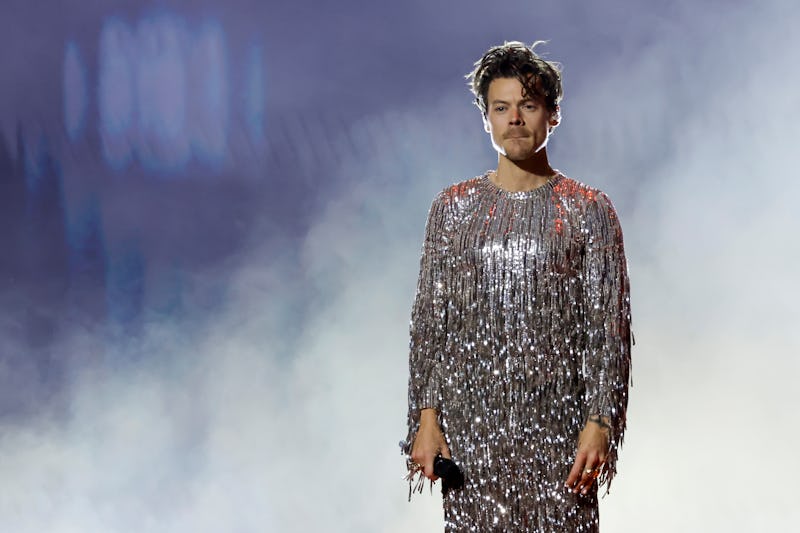 Kevin Winter/Getty Images Entertainment/Getty Images
Harry Styles has an incredible fandom. Much like Taylor Swift and Beyoncé, the audience fights tooth and nail to get tickets to a Styles concert owing to the singer's charming on stage persona and beyond incredible costumes. And yes, the Beyhive was livid about Styles taking home the Album of the Year award, but there was more drama afoot. (No, I'm not talking about that secret reunion with his ex, Taylor Swift.) No, this drama has to do with Style's performance and the major stage malfunction you almost certainly missed.
Wearing a silver, fringed jumpsuit, Styles took to the stage to perform his "As It Was" single. Reminiscent of the original music video, the set included a revolving stage, with Styles and his team of back-up dancers move atop it.
"What you don't know is that the moment the curtain opened and it was time to perform, our turntable started spinning in reverse," said Brandon Mathis, one of the dancers, in an Instagram story. "Backwards. Freaking all of us out on live television, and there was nothing we could do to stop it. In real time, we had to troubleshoot and try to do a complete piece in reverse. Talk about professionalism."
"12 of us were on the turntable and we rehearsed for 10 days getting down these beautiful formations and sliding off the turntable… and Harry did such a good job integrating into it and had a beautiful duet," said choreographer Dexter Da Rocha in a since-deleted TikTok video cited by Variety. "To switch all of those patterns around on the spot [without] having even walked in that direction?…Harry did his best to walk and reverse everything while he was singing which is incredible," Da Rocha continued.
Mathis also shared celebratory images of the crew with an ode to the artistic director Yoann Bourgeois, thanking him for his encouragement and creative prowess. Despite the chaos on stage, it was a big night for Styles. At the ceremony, he was up for six Grammys, including 'Record' and 'Song of the Year' for "As It Was." He also won accolades for the 'Best Pop Vocal Album' and 'Best Engineered Album' the same night.