Hilary Duff Is Starring In A How I Met Your Mother Sequel Series
Suit up for Hulu's How I Met Your Father.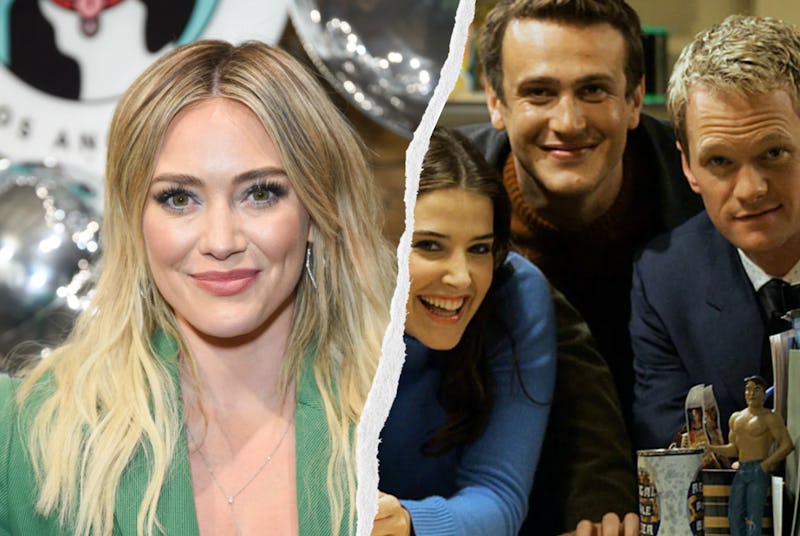 Presley Ann/Gary Friedman/Los Angeles Times/Getty Images
Neil Patrick Harris has some competition in none other than Lizzie McGuire. Hilary Duff will star in a How I Met Your Mother sequel series titled How I Met Your Father, Hulu announced on Wednesday, April 21. The Younger star confirmed the news in an Instagram video, referencing Barney Stinson's iconic catchphrase from the original show: "Where's your suit? Suit up!"
Duff will play Sophie, who in the near future tells her son the story of how she met his father, a direct parallel to HIMYM's premise. HIMYF's flashback narrative starts in present day 2021 with Sophie and her friends still figuring out who they are and what they want for their futures, all while trying to navigate dating apps. "I'm excited about my job if you can't tell," Duff said. "I'm really excited to dig in and start finding out who Sophie is going to be, and the new onscreen family that I'm going to have. Super exciting!"
Hulu has given a ten-episode, straight-to-series order for How I Met Your Father. The news comes just months after Duff told fans that the planned Lizzie McGuire reboot was no longer happening after she and Disney+ couldn't come to an agreement.
A How I Met Your Mother spinoff has been in the works since 2014, according to Deadline, when the original show's creators Craig Thomas and Carter Bays wrote a pilot for CBS starring Lady Bird director Greta Gerwig, which wasn't picked up. Two more spinoff ideas were pitched in 2016 and 2017, but neither managed to get off the ground. For HIMYF, Isaac Aptaker and Elizabeth Berger will serve as creators, writers, and executive producers, with Duff, Bays, and Thomas also onboard as producers.
Ironically, the project marks Duff's arrival at Hulu after she publicly pleaded for Disney+ to move the Lizzie reboot to Hulu, which is owned by Disney. The company halted production on Lizzie due to concerns about adult-oriented content, before eventually canceling the reboot altogether in December 2020. Thankfully, she doesn't seem to harbor any ill will about the ordeal, saying she's excited to join the Hulu family.
"I've been incredibly lucky in my career to play some wonderful characters and I'm looking forward to taking on the role of Sophie," Duff said in a statement. "As a huge fan of How I Met Your Mother, I'm honored and even a little nervous that Carter and Craig would trust me with the sequel of their baby ... Just fangirling over here getting to join the Hulu Originals and 20th families. I realize these are big shoes to fill and I'm excited to slip my 6 ½s in there."