How Can I Adopt The Puppy Bowl Puppies?
Thinking about expanding your family by one adorable athlete? It's actually super simple.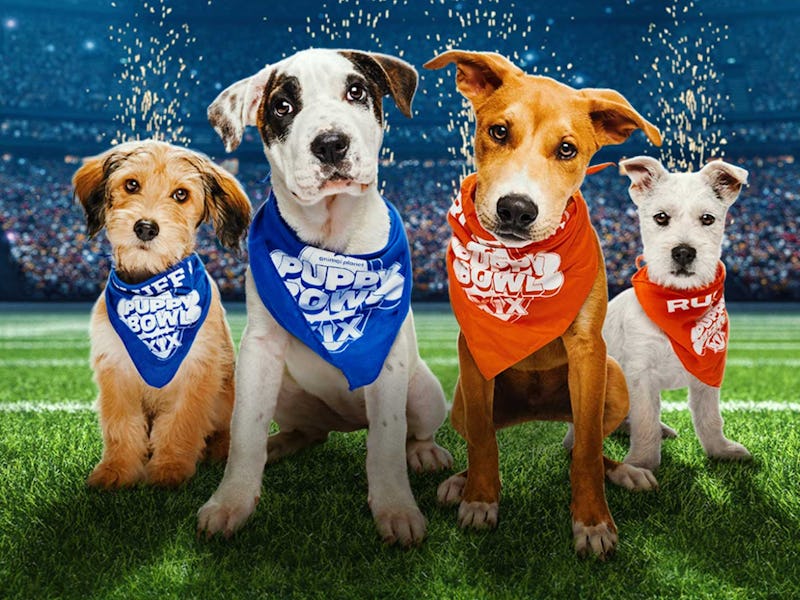 On Feb. 12, viewers across the country will tune in to the most important athletic event of the year — and they might stick around to watch the Super Bowl, too.
Puppy Bowl XIX marks the 19th year of adoptable dogs competing against each other on a pup-sized field. The prize is technically the Lombarky Trophy (a riff on the actual Super Bowl's Vince Lombardi Trophy). But really, every player on Team Ruff and Team Fluff wins something even better: a home of their own.
Indeed, CNN reports that every Puppy Bowl participant in the game's nearly two-decade history has been adopted. And this year, Animal Planet promises "more puppies, more animal shelters and rescues, and more inspiring adoption stories than ever before."
This year's pups include a Pomeranian/husky mix named Jimmy Kibble (yes, he's the "team comedian") and a two-legged terrier named Joey who tears up the field with an impressive set of wheels. In total, there are 110 dogs on the full Puppy Bowl lineup — so if you've been thinking about adopting a dog, you're destined to find one you love. And if you're just watching for fun, well, you might end up wanting to adopt one anyway.
There's one tiny caveat, though. Unlike the Super Bowl, Puppy Bowl isn't actually a live event — in fact, it films in October. "By the time the Puppy Bowl actually airs, most of these puppies have already found their forever homes," rufferee Dan Schachner told Mental Floss.
Granted, that's a pretty good problem to have! That's actually what happened to a notable Puppy Bowl player from last year, Team Fluff's Irwin. By the time the three-legged rescue from Puerto Rico charmed viewers on TV, he had actually been adopted by the actor Jeffrey Dean Morgan via The Sato Project. Though as the Walking Dead star writes, "Make no mistake... he did the choosing."
The bottom line? If you're ready to open your heart and home to a new dog, the Puppy Bowl can help you do that. In his interview with Mental Floss, Schachner said you should visit the Animal Planet website while you watch the game — "and if you see a puppy that you fall in love with, check him out," he explained. "They may be adoptable. And if not, that shelter will have other puppies who are equally adorable, maybe even from the same litter."
As a reminder, you can watch the big game (before the other big game) on TV at 2 p.m. ET via Animal Planet, Discovery, or TBS, or stream via HBO Max or Discovery+.