Daniel Kaluuya's Rumoured Girlfriend Is A Film Industry Boss
Kaluuya has always been pretty low-key about his personal life and that includes his rumoured girlfriend.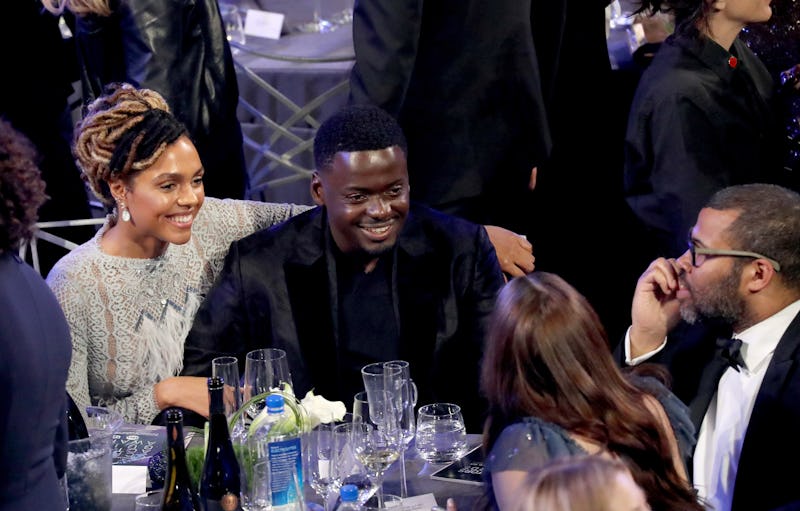 Mike Coppola/Getty Images Entertainment/Getty Images
This is Daniel Kaluuya's world and we're just living in it. The Brit, whose breakthrough role was as Kenneth in Channel 4's Skins, won best supporting actor at the 2021 Oscars for his monumental performance as Black Panther Party activist Fred Hampton in Judas and the Black Messiah. Despite being one of the brightest stars in Hollywood right now, Kaluuya has always been pretty low key about his personal life, and that includes his rumoured girlfriend. However, his family were a highlight of his Oscars acceptance speech, especially his mum's sensational reaction. But what about the woman he's reportedly dating? How did the actor meet Amandla Crichlow?
Marie Claire reports that while there's been a little bit of uncertainty surrounding Kaluuya's relationship status, he's been with Crichlow since 2017 or 2018. The pair have kept things fairly private — the publication writes that they've never made things official in the press but she's been supporting him at award shows and events since that time. In 2018, she joined him at the SAG Awards, Academy Awards, and the pair were seen together at the Golden Globes where he was nominated for his role in Get Out. They were also pictured together at the after party for Queen and Slim in 2019.
How they met and what brought them together isn't currently public information. And, as both of them aren't that active on social media, we may never know unless they decide to tell us. Fair enough, TBH. However, both Crichlow and Kaluuya are from London and move in very similar professional circles. While he's gained fame for his work in front of the camera, Distractify outlines that Crichlow has forged her career behind it, in TV and film production and development. She joined Kaluuya's production company, 59% as an executive in 2019.
If Crichlow's name sounds familiar then it's because you'd likely recognise some of her relatives. Her sister is the actor Lenora Crichlow who gained fame in Channel 4's Sugar Rush. She's also starred in Black Mirror. They're also the daughters of prominent activist Frank Crichlow, the subject of Steve Mcqueen's BBC film Mangrove.
Crichlow died in 2010. His Guardian obituary describes him as someone who "stood out among others around him, never bitter, always it seemed to me cool in the face of discrimination and prejudice" In the '60s Crichlow owned The Mangrove restaurant in Notting Hill which became a centre for activism after a series of racist attacks and acts of police harassment. Frank and eight others were arrested and put on trial. However, their efforts to advocate for themselves so them acquitted of the most serious charges. The court's ruling went down in history and the group became known as The Mangrove Nine.