Daniel Kaluuya Making His Mum Cringe & 16 Other Incredibly British Oscar Moments
Because we've been fussing and fumbling our way through the Academy Awards since day one.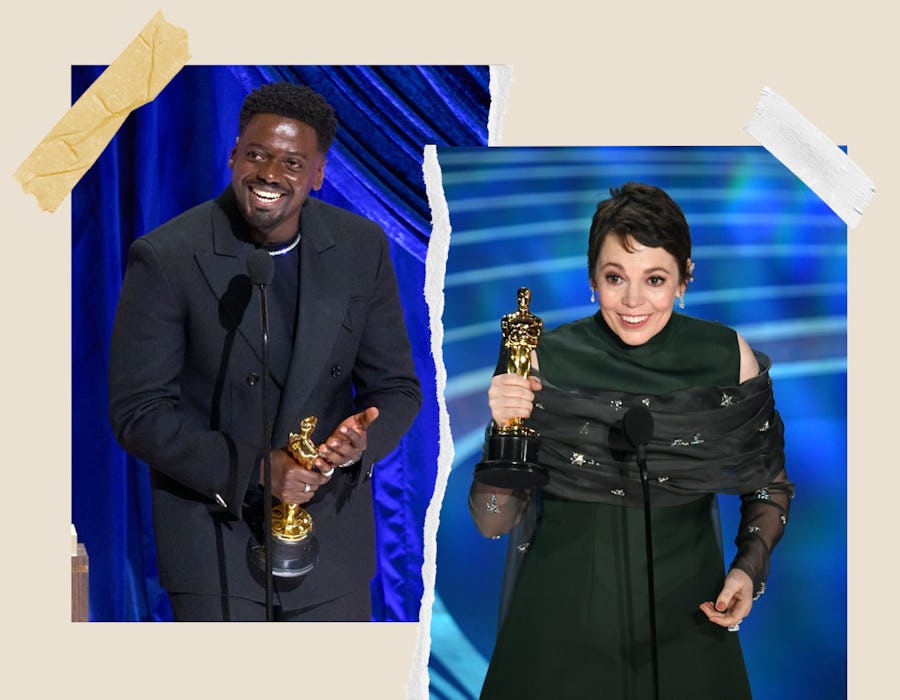 Todd Wawrychuk/A.M.P.A.S./Shutterstock / Kevin Winter/Getty Images Entertainment/Getty Images By Sophie McEvoy
The 2021 were completely different from any other Academy Award ceremony we've seen before thanks to – you guessed it – COVID-19. The ceremony took place on April 25 instead of its usual February date and was attended by far fewer people. Luckily, however, nominees still lined the red carpet in all their finery, and that included a whole host of British stars including Riz Ahmed, Carey Mulligan, Vanessa Kirby and more. To celebrate the home-grown talent at this year's awards, we've taken a look back at some of the times British celebs were at their peak Britishness during the Oscars.
When British actors take to the stage at the Academy Awards, more often than not they bring with them a whole lot of self-effacing awkwardness mixed with a heavy helping of deadpan humour that our nation is known for. Olivia Colman's hilarious 2019 speech is perhaps the clearest example of that – and one that saw the entire world fall head over heels in love with her – but us Brits have been fumbling over our thank you speeches pretty much since the Oscars first began in 1929.
And as it turns out, this year was no different. Take Daniel Kaluuya, for example, who attributed his win to his mum and dad having sex. "It's amazing to be alive!" he exclaimed, while camera's cut to his visibly confused mum and embarrassed sister. A beautifully awkward moment.
And the Britishness doesn't just come from those who win awards. Oh no. Any Brit who gets up on stage to present an award usually can't help floundering a bit too. Take Hugh Grant, for example, who at the 2002 ceremony – in a move straight out of Notting Hill – had to reach for his specs while reading the nominee list for Best Original Score.
Then there are the backstage parties and the Oscars events we non-celebs don't even get to see. Cynthia Erivo, who had a particular British way of describing the luncheon she went to in 2020, comes to mind.
To celebrate the British actors who won and were nominated at the 2021 Academy Awards, take a moment to relive moments from the Oscars that are more British than Marmite, tutting in queues, or even chips and gravy.
This article was originally published on