How To Listen To The Love Island 2022 Soundtrack
The 2022 series is shaping up to be the ultimate summer soundtrack.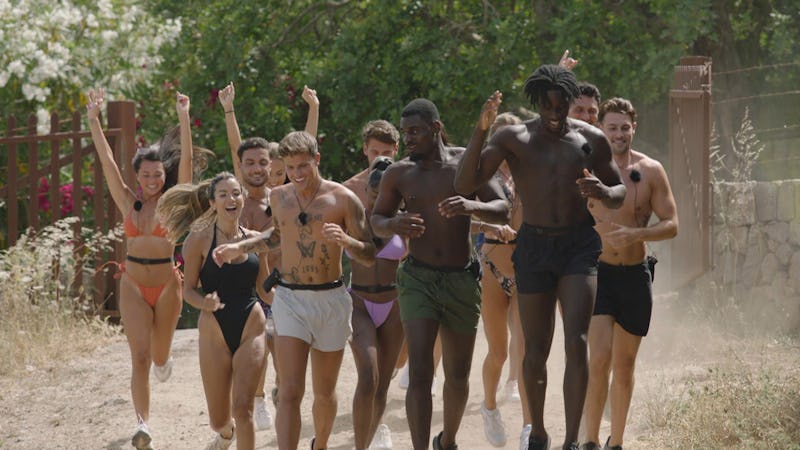 ITV
The Love Island soundtrack divided opinion in 2021, with some people complaining about the acoustic covers and unusual song choices and others really loving them. It would seem that Love Island's supervisors took the hint this year, and have stuck to louder beats from the biggest stars like Britney Spears and Billie Eilish to unsigned acts. And thanks to Spotify and Apple's Love Island-themed playlists, you can keep up with the series eight tunes throughout the summer
Love it or hate it, the Love Island music choices always become a major talking point each series . It may still be early days for the 2022 soundtrack, but it's already been graced with an acoustic performance from Mabel, and even Clean Bandit's collab with Love Island alum Wes Nelson.
First of all, let's give a shout out to the clever people behind the music choices. There are currently two music supervisors working on Love Island – Lora Gape and Pretti Hanumara – and, in an interview with Crack Magazine, they gave readers a few BTS insights into how they decide tracks for the show. They explained that there is usually a 50/50 split between music they discover themselves and songs that are pitched directly to them through established industry routes, like meetings with labels and publishers.
Gape and Hanumara said that roughly 15% of the tracks chosen come from unsigned acts that fit with the sound of Love Island. For the smaller unknown artists, landing 30 seconds on Love Island is a big deal as it can occasionally amount to a career break for them. Case in point: singer-songwriter Hana Lili whose single "Stay" became a major hit thanks to its inclusion on last year's series.
If you're looking to stream the songs heard on this year's Love Island, you can find them on Spotify and Apple Music. The playlists are pretty extensive and feature tracks including "You Used To Know Me" by Charli XCX, "There It Is (Whoomp)" by The Vega Brothers, and "Work Bitch" by Britney Spears. .
All that's left to do now is whip up an iced coffee, don some sunglasses, and hit play and you'll be transported to sunny Majorca (well, almost).
This article was originally published on