How To Stream Ant-Man And The Wasp: Quantumania
Paul Rudd's back at the pint-sized superhero — and this time, he's facing off against Jonathan Majors' Kang.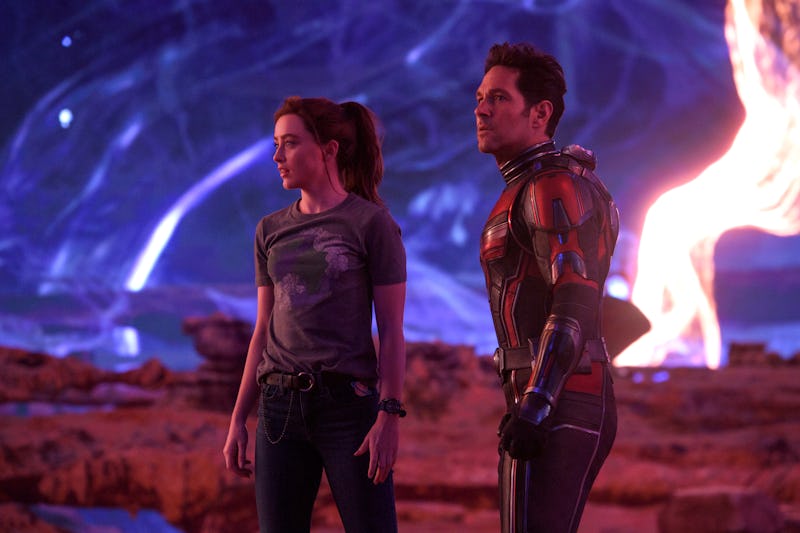 Jay Maidment/Marvel
Released in November 2022, Black Panther: Wakanda Forever marked the end of the Marvel Cinematic Universe's Phase 4. Now, the franchise ushers in a new era with Ant-Man and the Wasp: Quantumania, which sees Paul Rudd and Evangeline Lilly reprise their titular roles. And after first appearing in the finale of Loki's first season, Jonathan Majors makes his official debut as antagonist Kang the Conqueror in Quantumania. (He already seems to be stealing the show — director Peyton Reed called him "a force of nature.") The ensemble cast also includes Michelle Pfeiffer, Bill Murray, Samuel L. Jackson, and Michael Douglas.
In the MCU's 31st film — and the third in the Ant-Man trilogy — Ant-Man and the Wasp are pushed to their limits when they're transported to the Quantum Realm, where they must face off against Kang the Conqueror. In an interview with Empire, Marvel Studios president Kevin Feige gave insight into Ant-Man's upgraded status in the MCU franchise. "We wanted to kick off Phase 5 with Ant-Man because he'd earned that position," he said. "To not simply be the back-up or the comic relief, but to take his position at the front of the podium of the MCU." The film promises to be quite the spectacle on the big screen, with all the requisite high-stakes battles and out-of-this-world CGI — but not everyone wants to trek to the theater. So how can Marvel fans watch the film at home? Below, how to stream Ant-Man and the Wasp: Quantumania.
Is Ant-Man and the Wasp: Quantumania Available To Stream?
Most MCU titles get an exclusive theatrical release, and Ant-Man and the Wasp: Quantumania is no exception. The superhero film is only showing in theaters right now, but when it does make its way onto a streaming platform, you can bet it'll be Disney+. The timeline for Marvel's Disney+ debuts can vary, but if it's any indicator, Black Panther: Wakanda Forever landed on Disney+ on Feb. 1, 2023, about two and a half months after it hit theaters on Nov. 11, 2022.
If you can't wait for Quantumania, you can tide yourself over with its predecessors, 2015's Ant-Man and 2018's Ant-Man and the Wasp, which are both currently streaming on Disney+.
What Critics Are Saying About Ant-Man and the Wasp: Quantumania?
Critics' reviews have generally been unfavorable, and many of them have noted that Phase 5 is off to a rocky start. One of the biggest issues for IGN's Joshua Yehl was an overall lack of development, from the characters to the plotlines. "The saving grace is Jonathan Majors' show-stopping performance as the chilling new villain Kang, but not even he can conquer the MCU's tendency to get in its own way," he wrote. Rolling Stone's David Fear predicts that the film will be a blockbuster success, but says it feels more like a product than a storyline: "The powers that be have several years worth of narrative mapped out, and given the last few entries in their superhero soap opera, even they seem a little tired by all of it. Until some sort of creative second wind blows in, casual moviegoers and deeply invested fanatics may have to simply keep enduring overly familiar, frustrating placeholders like this."