Everything You Need To Know About 'Ant-Man And The Wasp' Before Seeing 'Endgame'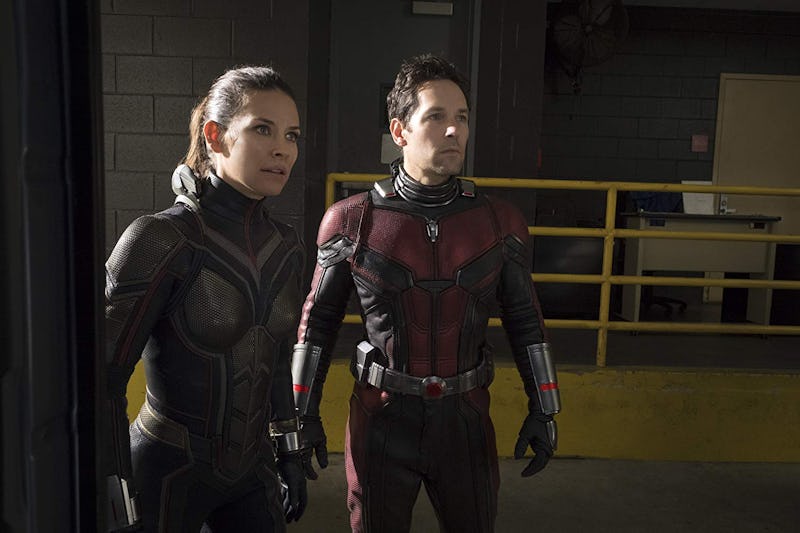 Marvel Studios
While it seemed like the entire Marvel Cinematic Universe came together for Avengers: Infinity War, a few of our favorite superheroes missed out on all the Thanos action. While the Avengers were assembling to go up against the Mad Titan and trying to get the Infinity Stones out of his clutches, Scott Lang (Paul Rudd) was, unfortunately, unavailable to help. What happens in Ant-Man and the Wasp is important to the larger universe, even though Ant-Man himself was pretty busy with his own mission and misadventures.
The second Ant-Man movie actually picks up where Captain America: Civil War left off, after the Avengers vs. Avengers showdown brought on by the Sokovia Accords. It was the first Marvel movie to premiere after Avengers: Infinity War, but is also set at around the same time as the third installment to the Avengers movie franchise.
A lot of things happen to Ant-Man, his new partner Hope Van Dyne a.k.a. the Wasp (Evangeline Lilly), and their mentor/Hope's father/the original Ant-Man Hank Pym (Michael Douglas), which all lead to the same universe-altering Infinity Gauntlet snap at the end of Infinity War. And, yes, it's important that you know the events that took place in order to fully understand what's about to happen in Avengers: Endgame.
This Ant-Man and the Wasp recap will catch you up on everything you need to know.