How To Stream Babylon
In his latest film, director Damien Chazelle explores the debauchery and extravagance of old Hollywood.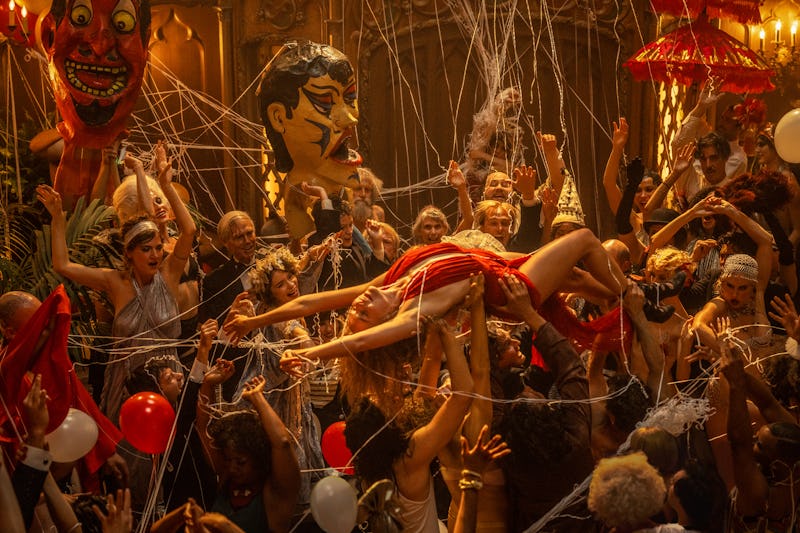 Scott Garfield/Paramount Pictures
If you're looking for a fever dream of a movie, then Babylon is for you. Directed by Damien Chazelle (La La Land, Whiplash), and starring Margot Robbie, Brad Pitt, Jean Smart, and Tobey Maguire, the over-the-top movie looks at the rise of cinema in 1920s Los Angeles. As NPR described it, "This was the moment when Hollywood debauchery prompted talk of a production code. And Chazelle serves up nudity, profanity, murder, rattlesnake rustling, mountains of cocaine and a probing look at the effect of film industry racism towards even Black stars like the trumpeter played by Jovan Adepo." Clocking in at over three hours, Babylon is a big movie about movies.
Critics haven't come to a consensus on the film's merits, but Babylon is definitely an awards season contender: It's already racked up a whopping 10 nominations at the Critics Choice Awards, and it's up for five statues at the Golden Globes. Want to see what all the fuss is about, but not eager to trek to the theater for a screening? Below, how to stream Babylon at home.
Is Babylon Available To Stream?
Babylon was released in theaters on Dec. 23, 2022, which means it will likely be some time before it hits streaming services — but when it does, it'll almost certainly hit Paramount+ first, as Babylon is a Paramount Pictures property.
Recently, Paramount movies haven't had a consistent timeframe for debuting in Paramount+. Top Gun: Maverick, for example, didn't hit the platform until Dec. 22, 2022, well after its theatrical premiere in May 2022. Other films, like Devotion, hit Paramount+ much quicker (on Jan. 8, 2023, after bowing in theaters on Nov. 23, 2022). Viewers will have to wait for an official announcement to learn when Babylon will join the service.
Around the same time Babylon hits Paramount+, though, it should become available to rent or buy on VoD services like Amazon Prime Video, Apple, and Vudu.
What Are Critics Saying About Babylon?
Babylon has a 70% rating on Rotten Tomatoes, which is not a bad showing, but far from universal praise. Some critics hailed Chazelle's latest outing — like Kyle Smith at the Wall Street Journal, who called Babylon, "One of the year's richest and most ambitious films." Others liked the film well enough but had their reservations, like David Sims at the Atlantic, who wrote, "Chazelle is trying to make a point with all the excess... I'm not sure if I agree or if I was simply beaten into submission after more than three hours, but Babylon is the kind of grandiose folly that at least gives the viewer a big old mess to chew on." And some, Bob Mondello at NPR, had their critiques, but still found something to enjoy: "Babylon feels over the top and enormous at three-plus hours, reportedly down from a four-hour first cut. It is a crazily overstuffed love letter to the glories of cinema, as characters keep telling us. It is too much and often, especially in call-outs to "Singin' In The Rain," a little on the nose. It is also clearly heartfelt and that counts."
Still more, like K. Austin Collins at Rolling Stone, didn't like it at all. "Its panache begins to feel more like the idea of panache — like a bodysnatcher lurking under a skin of actual cinematic style, all empty gestures and wiry nothingness," he wrote. "The disappointment is that the movie wields so much and achieves so relatively little."