The Spice Girls Did An Adele-Style Audience With In The 90s & You Need To See It
It features karaoke from Lorraine Kelly.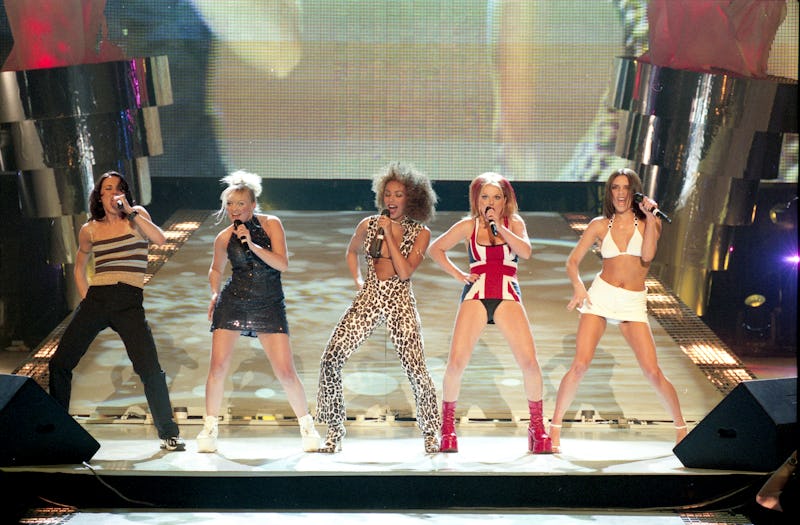 JMEnternational/Hulton Archive/Getty Images
An Audience With Adele premiered on ITV on Nov. 21 and essentially reiterated why the "Easy On Me" singer is a national treasure. It featured questions from Samuel L. Jackson, Stormzy, and Dawn French, incredible dancing from Emma Thompson, and a moving reunion between Adele and her inspiring Year 7 English teacher.
You may have noticed that at the start of the show Adele said that An Audience With was something she loved growing up. So, here's everything you need to know about An Audience With including the other stars who have had a night dedicated to them.
What is An Audience With?
While it sounds like a clever name dedicated to Adele, An Audience With is actually an ITV show that first aired in the '70s. Pegged as prime time Saturday night entertainment, when it first aired in 1978 it was named An Audience with Jasper Carrott. The actor and comedian who was in shows like The Detectives had a six-part special.
However, in 1980 ITV changed the show's name and format to An Audience With. Each episode saw a new famous face take to the stage to answer questions from other celebrities and perform music or comedy.
Ten episodes of the show went out throughout the '80s. There were 20 episodes in the '90s and '00s. The last episode to air before Adele's show was a posthumous celebration of the comedian Les Dawson. The episode entitled An Audience with That Never Was went out in June 2013 and outlined that Dawson was supposed to host a night in 1993 but died two weeks before filming started.
Who Has Done An Audience With?
Over the last 40 years, some of the biggest names in music and comedy have appeared on An Audience With and in 2010 ITV compiled some of the best bits under the title 30 years of An Audience With.
In Dec. 1980 comedian Dame Edna Everage kicked off the new format of An Audience With and went on to appear on the show a total of three times. Joan Rivers, Billy Connolly, and Victoria Wood also had their own specials throughout the '80s.
In 1997 the Spice Girls highlighted they really are all about girl power by hosting their own An Audience With and inviting an all-female audience. During their show, they performed songs like "Wannabe", "Stop Right Now", and "Mama" and took questions from fans.
Baby, Ginger, Posh, Scary, and Sporty aren't the only musicians to don the stage at An Audience With. In 2006 Take That repped for the boy bands and had their own episode. Celine Dion graced the stage in 2007 and the King of Christmas tunes Michael Bublé had his own episode in 2010.
How To Watch An Audience With?
If the sound of the Spice Girls hosting an hour of chaotic fun sounds like too much to miss then you might be wondering if you can still watch some of the past episodes of An Audience With. Sadly, the only episode available on the ITV Hub is An Audience With Adele and you can watch Victoria Wood's double BAFTA Award-winning episode on Brit Box.
You can also find clips and the full episode of An Audience with the Spice Girls on Youtube. Billy Connolly's set has also been posted alongside Kylie Minogue's, Elton John's, and Take That's. Some of your favourite celebrities special's may live on on Youtube but you might have to put up with the dodgy '90s TV quality and hair cuts.