Here's How To Watch The Alex Murdaugh Trial Live
The proceedings are reportedly nearing their end.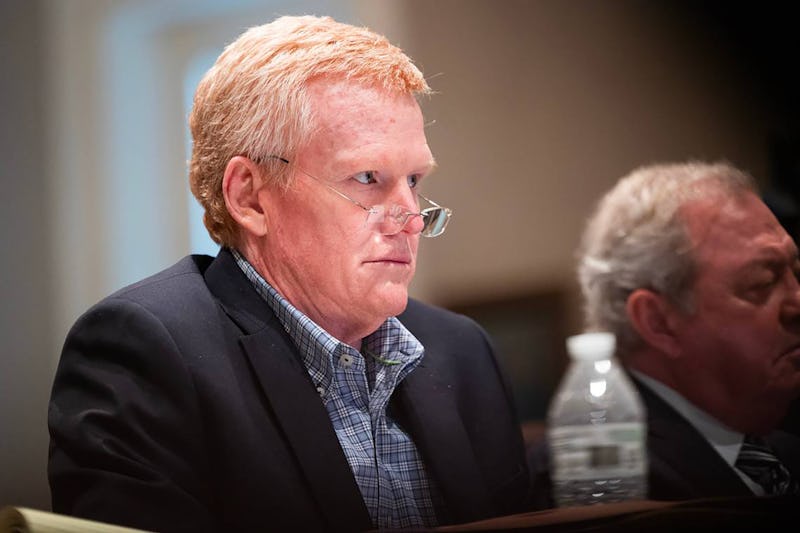 The State/Tribune News Service/Getty Images
In June 2021, mother and son Maggie and Paul Murdaugh were discovered shot to death on their rural South Carolina hunting property — but it wasn't until the next summer that husband and father Alex Murdaugh, patriarch of the prominent family, was charged with their murders.
Now, Murdaugh is on trial for double murder after pleading not guilty for the charges back in July 2022. Though the defense has rested its case, NBC News reports, there's still much ahead in the Murdaugh trial. In fact, Judge Clifton Newman just granted Murdaugh's defense team the chance to bring jurors to the Moselle, the name of the family hunting lodge where Paul and Maggie's bodies were discovered. "You can't really appreciate the spatial issues without actually seeing them," attorney Richard Harpootlian said, per the outlet.
In the meantime, here's everything to know about the remaining Murdaugh trial — including when (and where) you can watch the proceedings live.
What Time Is The Alex Murdaugh Trial?
Murdaugh's trial began back in January. As of Feb. 28, it's still going on — but The Washington Post reports that it "appears to be headed to a conclusion." Similarly, NBC News said closing arguments could be coming soon.
Wondering when you should tune in? According to local outlet Greenville News, proceedings for the latest week of trial began at 9:30 a.m. ET.
Where Can I Watch The Alex Murdaugh Trial?
There are several options for watching the Murdaugh murder trial, and you don't need a cable subscription to do so. If you prefer to watch on YouTube, you'll find multiple livestreams: ABC News, Law & Crime Network, USA Today, and local station News 19 WLTX, to name just a few. You can also watch the proceedings on Court TV.
If you want to familiarize yourself with the case beforehand, there are also plenty of other titles to stream that may be able to give you some background. In November, HBO Max released Low Country: The Murdaugh Dynasty, which explores the history of the Murdaugh family. "[It] questions the unchecked power of privilege — and the trail of death and destruction left in one family's wake," the streamer writes.
Netflix recently dropped its own docuseries called Murdaugh Murders: A Southern Scandal. Both titles explore the events that precipitated Maggie and Paul's murders, including the fatal 2019 boating accident for which Paul received multiple felony charges. He pleaded not guilty.