7 Things I Noticed Rewatching The iCarly Pilot From 2007 In 2021
Freddie was a low-key stalker. Convince me otherwise.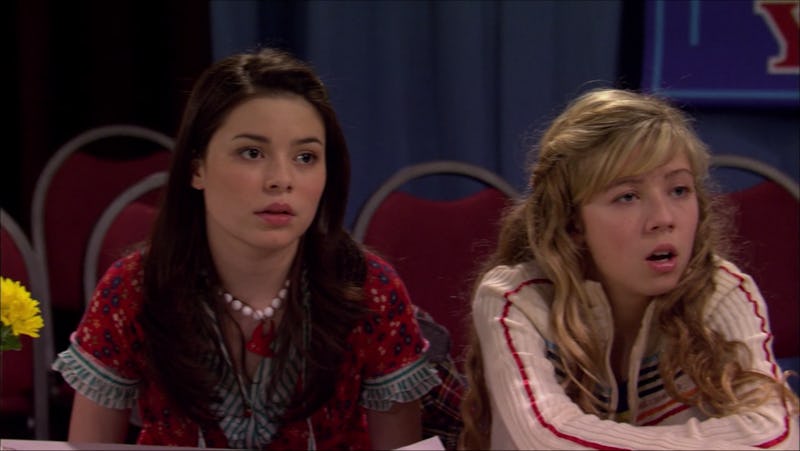 Paramount+
In 2007, Freddie Benson announced "In 5, 4, 3, 2 ...," Carly Shay and Sam Puckett introduced themselves as the hosts of their new webshow iCarly, and the world was never the same. The classic TeenNick series lasted four seasons, set records for having some of the network's most-viewed telecasts of all time, and inspired an entire generation of Internet stars and tastemakers in the process. It's hard to argue against the fact that Carly Shay was one of the OG YouTubers and influencers. Now, the former queen of the web is back to reclaim her crown.
Nearly a decade after the gang seemingly signed off for good, iCarly will be back on our TV screens faster than you can count down from five (like Freddie, always skip one). Paramount+'s reboot premieres on June 17 and will see the return of Miranda Cosgrove, Nathan Kress, and Jerry Trainor in their iconic roles. Jennette McCurdy has retired from acting and will not star in the reboot.
While the show guarantees all the nostalgic feels as Carly makes her comeback, it's going to look very different and much more mature in comparison to the pilot, when Carly, Sam, and Freddie were just wee middle school cherubs. Here's what I noticed while watching the iCarly pilot in 2021.
1. I Wanted Principal Franklin At My School
Before you even meet Carly Shay, iCarly opens with a shot of Ridgewood High School principal Ted Franklin laughing at a picture of Miss Briggs photoshopped onto a rhinoceros, before the mean teacher herself walks in and he must pretend that he wasn't just laughing hysterically at her. He may not have been able to show it, but Principal Franklin always just got it.
2. The Theme Song Aged Well
In the sacred canon of Disney Channel and Nickelodeon theme songs, "Leave It All To Me" still knocks to this day. "Wake up, the members of our nation" is an iconic call-to-arms, and when Cosgrove tells you to "leave it all to me," you really can trust in her to get things handled. At the time, having Drake Bell sing background vocals was a nice nod to Drake & Josh, like the passing of the Nickelodeon torch to his onscreen little sister. But given how Bell was recently arrested for alleged crimes (and the fact that he apparently changed his name to get famous in Mexico), it may be best to forget he was apart of this at all.
3. Sam Was A Bigger Bully Than I Remember
Let's get one thing straight: Sam Puckett is an icon (even if McCurdy would say otherwise). She never let anyone push her around, invented one of the world's most powerful weapons (the butter sock), and had Freddie fearing for his life, but always had his and the rest of her iCarly family's back. But Sam's first scene, where she knocked a kid against a locker for calling her "aggressive," was, well ... aggressive. She's beloved for not tolerating anyone's BS, but her random bullying of her peers wouldn't be celebrated today.
4. Freddie Was A Low-Key Stalker
On his first scene of iCarly, Freddie Benson looked through his door peephole waiting for Carly to come home from school, and admitted that he was looking for her after school to walk home together but couldn't find her. Thankfully, Carly and Freddie would grow to become best friends who hung out and worked together in a normal, respectful manner, with Carly even returning his unrequited crush after he saved her life in Season 3. But back then? Freddie was serving future stalker vibes already.
5. Spencer Proved He Was MVP Already
To be honest, Spencer Shay had me when he was dangling on a ceiling pipe to take pictures of his soda bottle robot — then showed Carly his video camera squirrel. Not only should his work be in the MoMA, but he deserves some sort of big brother medal. What 26-year-old man, living it up in Seattle as an artist, would take in his little sister, let her use the third floor of his loft as a webshow studio, and often drive her friends across the country at the drop of a neon sock? Yes, Spencer is the absolute best, and it's OK to accept that.
6. How Did Their First Video Get 27,000 Views?
Carly and Sam had electric chemistry and the wits to make anyone want to watch them do anything, which is what made iCarly, both TV series and webshow, work so well. But how did an accidental upload of them making fun of Mrs. Briggs' "pointy boobs" get 27,000 views in just a few hours? The video didn't even have an intriguing or clicky title: it was simply called "Talent Show Auditions." iCarly made it look way too easy to go viral.
7. Carly Is The True Creative Genius
As iCarly went on, Sam, Freddie, Spencer, and even Gibby (well, at times) got angrier, geekier, and wackier, with Carly often serving as the voice of reason, and therefore, the most "normal" character on the show. But the pilot episode is a reminder that they wouldn't be living their best lives without her. Fueled by Miss Briggs' hatred of fun, Carly is the one who comes up with the idea to launch a webshow and spotlight the kids who teachers had no time for. iCarly went on to expand with sketches, gags, and random dancing, but Carly was the creative heart behind it all.
BONUS: The iCarly Reboot Trailer