Queen Charlotte's India Amarteifio Watched The Crown For Royal Research
The star of Netflix's Bridgerton prequel tells Bustle about taking on the iconic role.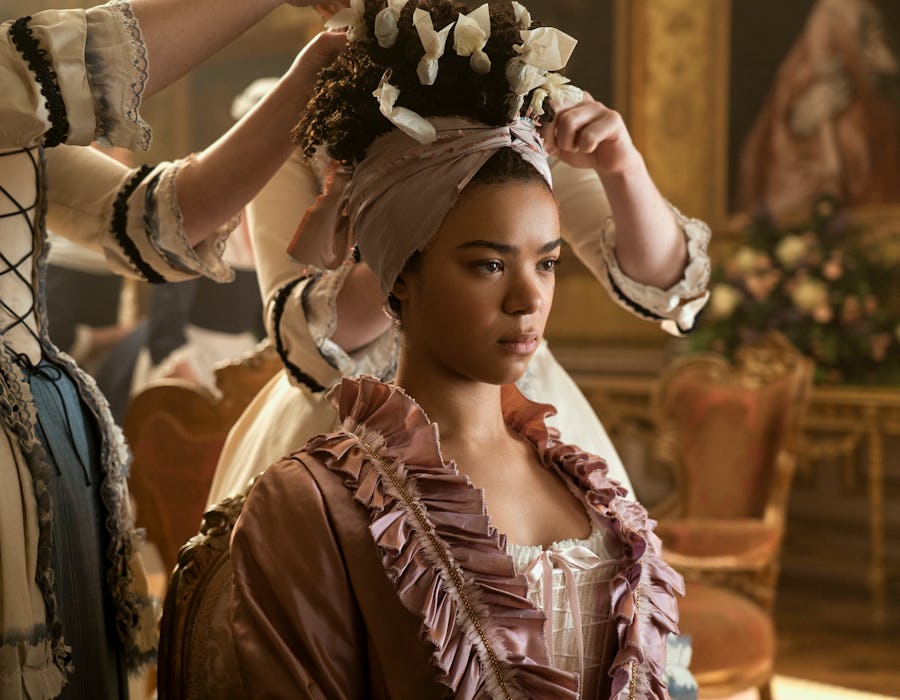 Liam Daniel/Netflix
Spoilers ahead for Queen Charlotte: A Bridgerton Story. Netflix's Bridgerton prequel, Queen Charlotte, begins with an arranged marriage. Seventeen-year-old Charlotte of Mecklenburg-Strelitz (India Amarteifio) is suddenly uprooted from her home and left on the doorstep of her new husband, King George (Cory Mylchreest) — who, it turns out, doesn't want to live with his wife at all, and soon begins to exhibit startling behavior. Their shaky start also affects the lives of their respective butlers, Brimsley (Sam Clemmett) and Reynolds (Freddie Dennis), who navigate their own secret relationship while struggling to meet the conflicting demands of their charges.
It's tense, to say the least. But according to Amarteifio, things were a lot chummier behind the scenes — the four actors even shared an Airbnb for several weeks of filming. "We had a jacuzzi, and we played Scrabble," the 21-year-old tells Bustle. "It was really, really lovely just to come home after these long days and chill and unwind."
Amarteifio also received support from Golda Rosheuvel, who originated the role of Queen Charlotte in Bridgerton. Rosheuvel advised her to have fun with the role. "She said it's the best job she's ever done ... and also that the job is bigger than myself," Amarteifio says. "It's going to do so much for representing Black people and inviting them into this space, into this genre."
Below, Amarteifio opens up about preparing for her role with The Crown, what she's learned from Charlotte, and more.
Were you a fan of Bridgerton before being cast?
I watched Season 1 when it came out with the initial buzz. I just loved everything it stood for — I loved the characters, I loved the escapism. Then Season 2 came out when we were rehearsing, and again, I binged the whole thing. I probably should have been doing my lines. But I couldn't not [watch it].
Queen Charlotte is such a big name on Bridgerton — and in history, but you don't realize until Queen Charlotte just how young she was when she became queen. How do you get into that mindset as an actor, balancing being a teenager with ruling an empire?
I was 17 once. I was trying to find — still am trying to find — who I am. I didn't have to look too hard to find that. But then [for] the sense of duty and the added pressure of being in the monarchy, I had to trust my scripts, Shonda [Rhimes], and my director [to understand] what she was going through. I could try to find correlations to my own experiences — for instance, that feeling of being in a room and not feeling like you belong there, whether that's racially, or to do with class.
I saw that filming wrapped last fall, shortly before Queen Elizabeth II's passing. Did playing part of her family tree affect how you experienced that at all?
I definitely understand the royal family more, in the sense of knowing who people are in relation to other people — that's because when I was filming, I binge-watched The Crown. So I feel like I know them all. I know their secrets. But [Queen Charlotte] didn't give me any further insight into them because we don't delve into that. We're taking from history, but we're retelling it.
Did watching The Crown help you while filming?
Cory actually recommended [that I] watch The Crown because we were doing the coronation scene [in Queen Charlotte]. In Season 1 [of The Crown], the Queen is going through a coronation, and it was interesting to see how that was done — because it's a ritual, it's a very similar experience, and to see the behind-the-scenes elements that they showed in The Crown was actually helpful.
Did playing Charlotte influence your own life in any way?
I see her as a very different entity. [But] not being embarrassed or afraid of asking questions is probably one of the things that I took away, because she asks questions and gets answers. Sometimes she doesn't get answers, but at least she tried. Sometimes I feel like I'm a bit nervous to ask questions or rock the boat — but actually, it just makes things easier.
We know where Charlotte ends up in the Bridgerton era — but have you imagined how her life plays out in the years we don't see?
We leave Queen Charlotte on the trajectory of where we end up in Bridgerton. It's a little bit bleak, but it's bathed in so much love. I think [her life is] probably quite monotonous and not too dissimilar from where we see her in the Regency era, because she has a confidence that is only gained through repetition and routine. As much as I would love to say [she and the King] lived together happily, that would go against the show.
This interview has been edited and condensed for clarity.