Kate Winslet Met Her "Superhot" Husband Through Richard Branson
The Mare Of Easttown star just offered rare insight into life with her "superhot & superhuman" husband.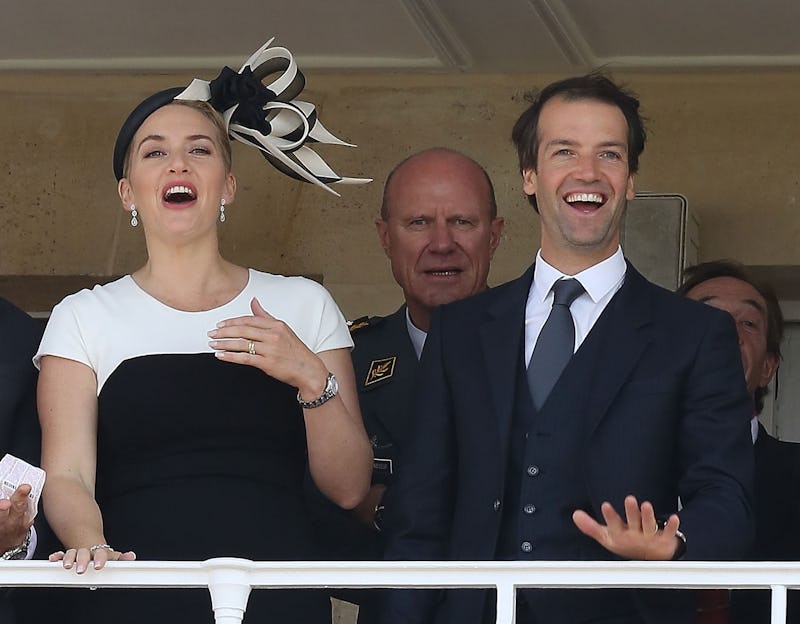 Marc Piasecki/Getty Images Entertainment/Getty Images
Thanks to the HBO masterpiece Mare of Easttown, the world is experiencing another Kate Winslet renaissance. The five-part series is receiving rave reviews and there are already calls for a second season. Luckily, it's been revealed that Oscar winner is totally down to return as Mare, but I can't help but wonder if she's got a significant other to cheer her on. So, is Kate Winslet married?
Well the short answer is yes, she certainly is. Winslet married Edward Abel Smith – nephew to Richard Branson – in 2012. He formally changed his birth name to Ned Rocknroll in 2008, but changed it back in 2019. Unsurprisingly, Smith works for Virgin Atlantic, where is Head of Marketing Promotion and Astronaut Experience. I know, right? It sounds like the coolest job ever.
According to The Guardian, Smith and Winslet met "while she was at Branson's holiday home on Necker Island in the Caribbean" in 2011. This was also the year that the house was struck by lightning, where "Winslet was reported to have led her two children and Branson's mother to safety."
The couple were engaged in the summer of 2012 and subsequently tied the knot in December that year. It was also reported that Leonardo DiCaprio gave Winslet away, but nothing has been confirmed on that front.
Both Winslet and Smith were previously married before finding each other. "I know lots of people who are not in the public eye who have gone through several marriages, I really do, and it's just those are the cards that life dealt me," Winslet told the Wall Street Journal in 2015. "And f*** me, it hasn't been easy, you know. No one really knows what has happened in my life. No one really knows why my first marriage didn't last; no one knows why my second didn't. And I'm proud of those silences."
In the same interview, she also talked about Smith and how supportive he's been. "Thank god for Ned — really. He's just so incredibly supportive, and he's so much fun," she said. "He's absolutely everything to me. And to all of us."
Referring to him as "the superhot, superhuman, stay-at-home dad" in a 2021 New York Times interview, Winslet made it clear that Smith is her rock. "He looks after us, especially me ... I'm so, so lucky. For a man who is severely dyslexic, as he is, he's great at testing me on lines," the actor said. "It's so hard for him to read out loud, but he still does it."
While Smith "didn't particularly plan on meeting an marrying a woman who is in the public eye and therefore having been so judged", he totally fell for Winslet. I mean, who wouldn't?
This article was originally published on