Is Kim Lee Dating Anyone After Bling Empire Season 3?
She did have a promising date at one point.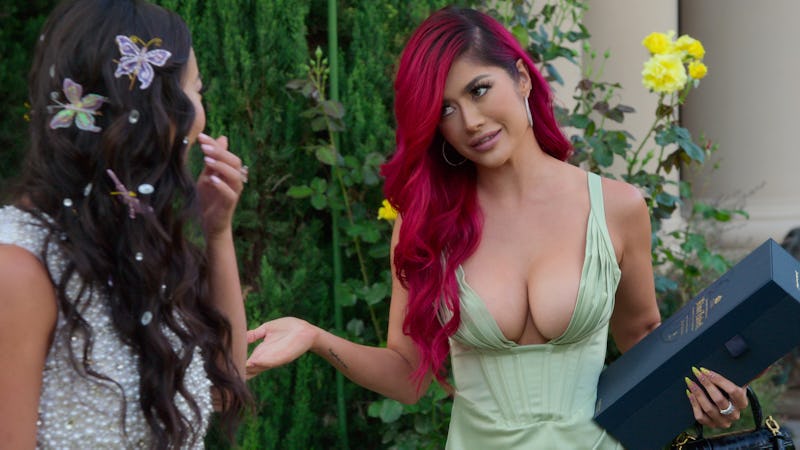 Netflix
Spoilers ahead for Bling Empire Season 3. Following her failed attempt at a relationship with Kevin Kreider during Bling Empire Season 2, you may be wondering — is Kim Lee dating anyone now? Season 3 saw her bring actor Lewis Tan to a group dinner, and it seemed like they might be a budding item.
However, during the season finale, Kim said Lewis was "away shooting a movie," suggesting that not much was going on between the two. Plus, she was surprised to find out that Lewis had been hitting on Jaime Xie, further diminishing Kim and Lewis' apparent connection.
Later on during Season 3, Kim joked that she "changed [her] mind" about ending things with Kevin, who's now with Devon Diep. But she seemed to be in a good place with Kevin. "Maybe he had to go through all of that with me — and for me to, like, break his heart — to finally realize that Devon is the one for him," she said. "Maybe this had to happen, you know? Life is crazy like that sometimes."
As for whether Kim is single, or in a relationship with Lewis (or anyone), she addressed that topic with Celeb Secrets in June. "I'm still single," she said. "[I'm] just really busy with work right now but hey, I'm open to dating and whatever happens is going to happen."
Since it's been awhile, you may need a refresher on why didn't Kim and Kevin work out.
In Season 2, Kevin asked Kim out on a date, noting that he was "trying to lay it on thick," but it didn't seem to be working. (Or, as revealed later, she was purposely dodging the hints.) After a few jokes, she agreed to have dinner with him. But then she stood him up, tearfully admitting that she "[wasn't] sure if I want to go there with you" when he confronted her about it later.
At that point, it seemed like there was a clear mismatch in the level of interest between them. But their will-they-won't-they relationship continued to be teased across the season. Kim admitted that she was worried about creating awkwardness in the friend group and also said she disliked how flirtatious Kevin was with other women. In a confessional, she revealed that she's only been in love once and that he "betrayed and traumatized" her, but she still clung to the relationship for longer than she should have. Describing herself as "damaged inside," Kim worried that she would get too attached only to have Kevin reveal it was only casual to him. "I never want to go down that road again. I want a relationship; I don't want to just date," she told Kane.
But their relationship seemed to be taking a turn for the positive in Episode 4, when Kevin took Kim on a road trip and she said she was won over by how "spontaneous" and "gentlemanly" he was. Meanwhile, Kevin reiterated how serious he was and opened up to her about having a sobriety mentor and being a part of Alcoholics Anonymous. At the end of the trip, she told him that the date made her miss having a boyfriend, while Kevin said in a confessional that he was "falling head over heels for her."
But that all fell apart again by the next episode. Kane — who's the primary source of drama and gossip in Season 2 — told Kim that Kevin slept with another woman "just a week" before their date. Kevin asserted it was more than a month ago, and regardless, that was before his date with Kim. But Kane angered Kevin so much that he shattered his wine glass, spooking Kim because she said that reminded her of her ex.
They later made up, but Kim admitted that she still didn't trust Kevin. So she asked him to take a lie detector test, which he agreed to on the condition she took it too. The test proved he was genuine about liking her, but it also revealed she wasn't at all interested in him. Feeling hurt, he walked away and later told his mentor that he didn't like how he reverted to his old anger around her. While he said he knows he probably still has feelings for her, "I know it's not good for me. ... I'm trying as hard as possible to squash that and just move on."
This article was originally published on