Is Scott Disick Dating Lisa Rinna's 19-Year-Old Daughter? An Investigation
The pair has been spotted together on many occasions, including Kendall Jenner's birthday party.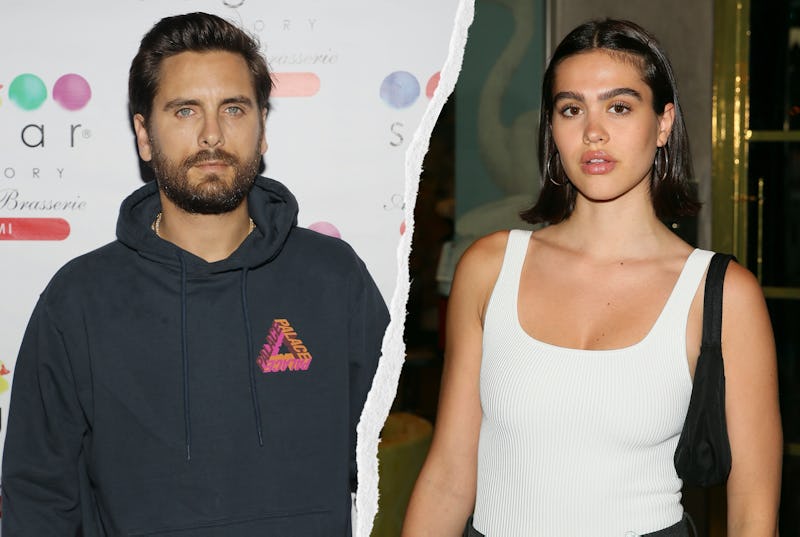 (Alexander Tamargo/Getty Images for Sugar Factory)/(JB Lacroix/Getty Images)
Scott Disick's dating life might be the one thing that's more complicated than the Kardashian family tree. Rumors have been swirling that the Keeping Up With the Kardashians alum is pursuing 19-year-old model Amelia Hamlin, also known as the daughter of Real Housewives of Beverly Hills star Lisa Rinna. The two were reportedly seen together at Kendall Jenner's controversial Halloween-themed birthday party on Oct. 31, according to Page Six, and later spotted out to dinner in Malibu on Nov. 7. Naturally, this made fans wonder who the 37-year-old reality star is dating.
The speculation around Disick and Hamlin's relationship status continued on Monday, Nov. 16, when TMZ published photos of them walking together on the beach in Santa Monica. In one of the photos, Disick's arm is around the model; in another, Hamlin is holding onto his hand. These new images paint a very different picture than the one People reported the week before. On Monday, Nov. 9, a source told the magazine that Scott is currently not seeing anyone, nor is he in a rush to do so. "Scott is single, having fun and enjoying life," the source said of the KUWTK star, who is focusing on his health after seeking treatment at a rehab facility in April. "He is doing well and staying healthy. He is not partying."
The rumors about their relationship intensified thanks to Love Island, of all things. On Nov. 20, former contestant Megan Barton Hanson revealed that Disick recently DMed her to criticize her for "mugging off" fellow contestant Eyal Booker on the show in 2018. According to Cosmopolitan, Hanson broke things off with Booker early in the season, telling him that he's "not exactly Jim Carrey" and she wasn't having fun with him. "I'm extremely disturbed that anybody could be so disrespectful to somebody for no good reason," Disick wrote. "The fact that you told him he wasn't funny - when in fact, you are not Jim Carrey, is absurd." Hamlin's sister Delilah is dating Booker, which might explain why Disick has come to his defense.
To add further fuel to the romance fire, TMZ reported on Dec. 22 that Disick and Hamlin toured some massive estates in the Holmby Hills neighborhood of Los Angeles together — one of which was a nine-bedroom estate with a price tag of $65 million. It's unclear if the two were searching for a place for themselves, but moving in together would be a big step in the rumored relationship.
To celebrate the new year, the two were also spotted relaxing with friends on a beach in Mexico, Entertainment Tonight reported on Jan. 5. "Amelia is easygoing and gets along with Scott's friends, so they're able to just kick back and have a good time," a source detailed to the publication. "Amelia has also been loving the attention she's been getting from hanging with Scott."
Hamlin also posted a series of photos from the Mexico trip to her Instagram — though she's notably solo in every one.
Scott split up with his 21-year-old former girlfriend Sofia Richie in August after three years of on-and-off dating. The pair briefly reunited over the summer following Scott's rehab stint, according to People, but broke up once again due to their schedules. "It's always been difficult for them to balance their relationship with Scott's family life," a source told the outlet. "His kids will always come first."
If it were up to some KUWTK fans, Scott would move on with someone more familiar. Fans have been speculating that he rekindled his relationship with Kourtney Kardashian, with whom he shares three kids, after the pair recently posted photos of them looking cozy at her sister Kim's 40th birthday party. While they're not officially back together, US Weekly did report that their relationship has taken a turn for the better recently, opening the door for reconciliation. "Scott has always loved Kourtney, and the door is open on his side in case she ever wants to take their relationship back to a romantic place," the source said.
This article was originally published on