Did The Tinder Swindler Just Join Bumble?
Here's what we know so far.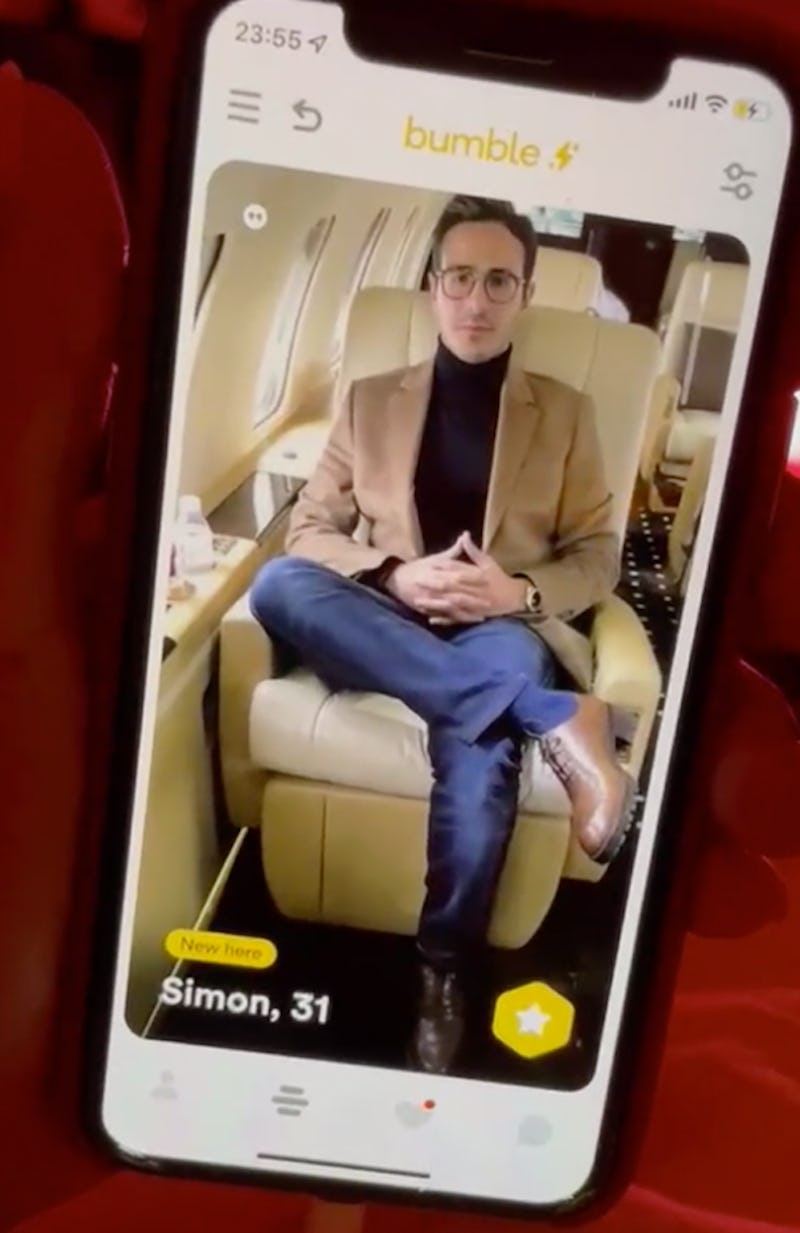 Bustle
The subject of Netflix documentary The Tinder Swindler, Shimon Hayut — better known by his alias Simon Leviev, or his nickname the "Tinder Swindler" — is no longer welcome on the app where he once found his alleged victims.
Hayut is banned from Tinder, and all other apps owned by its parent company, Match Group. A Tinder spokesperson confirmed to NBC News that Match Group — which owns OkCupid, Hinge, PlentyofFish, Match, and other apps, in addition to Tinder — has permanently banned him from its platforms. The spokesperson noted that Hayut has been banned since reports of his alleged crimes first surfaced in 2019, contradicting the recent documentary, which claimed that Hayut was active on Tinder as of February 2022.
But this week, Bustle came across a profile on Bumble — an app not owned by Match Group — that purported to belong to Leviev. The dating profile (seen in the screenshot above) claims that Leviev is in London, and shows him aboard the private jet that he allegedly used to convince women including Cecilie Schrøder Fjellhøy, Pernilla Sjoholm, and Ayleen Charlotte of his wealth.
In a statement to Bustle, a spokesperson for Bumble said: "Safety is a top priority and core to Bumble's mission to empower healthy and equitable relationships. Our teams are taking quick action to block any new or potential copycat accounts from being created. We encourage our community to report any account using Simon's details or photographs to our teams so we can take action."
In the meantime, the dating app has included a list of guidelines for their users on how to avoid falling victim to romance scams. They also encourage users to use the "Block and Report" feature when necessary.
Hayut allegedly conned women he met on Tinder out of huge sums by pretending to be the son of an Israeli diamond tycoon. The women claim he used the money they gave him to fund his expensive and lavish lifestyle, and to lure in new victims.
Following The Tinder Swindler's release, the women have launched a fund to help with their debts, and are continuing to raise awareness about the dangers of dating app scams.
Meanwhile, two days after Netflix's documentary premiered on Feb. 2, Hayut briefly made his Instagram public to speak out about how he was portrayed, adding that he will be sharing his side of the story "in the next few days," before the account disappeared.