Watch Helena Bonham Carter Revive A Soap Legend In Gripping Nolly Trailer
The ITV drama revisits the controversial sacking of Crossroads star Noele Gordon.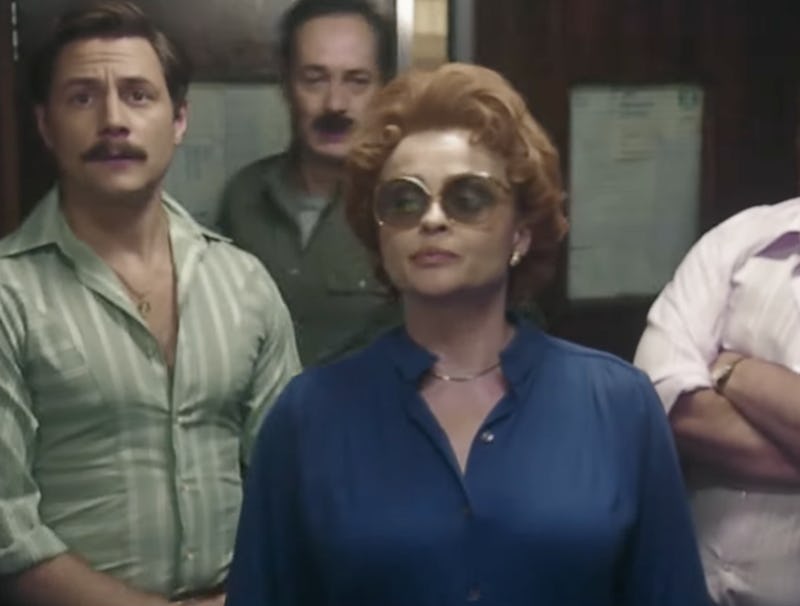 ITV
Russell T Davies is back again, and no, not with Doctor Who (though he is working on that spectacular anniversary). The BAFTA-winning writer of It's A Sin and Queer As Folk fame has a brand new ITV drama titled Nolly. It delves into the rise and fall of the late TV legend, Noele Gordon. Complete with a stellar cast, this mini series sounds like one to add to your must-watch list. If you're keen to learn more about the forthcoming new show, here's everything we know about ITV's Nolly so far.
Nolly Plot
The three-part drama tells the story of Noele Gordon, known as Nolly to those closest to her, who was one of the most famous people in Britain during her stint on the long-running soap opera Crossroads as the flame-haired widow, Meg Richardson. ITV describes the drama as "a bold exploration of how the establishment turns on women who refuse to play by the rules, the women it cannot understand and the women it fears."
Davies himself expands on this: "It's very much a story of how women are treated by the industry, but it's not a Me Too story, that's what I liked about it. We're fortunate in this day and age that Me Too stories are coming out and are being said, but I think they only scratch the surface. The problems that women have with men are not only sexual problems – men have power and authority and tempers and whims on a level that goes far beyond the sexual."
Known to some as The Queen of the Midlands, Gordon had a reputation for being tough, but she was also a hard worker who was adored by cast and crew. Suddenly, in 1981, Gordon was axed from the show during the height of its success without warning. She was offered no explanation and told by TV bosses that "all good things must come to an end."
Speaking to Radio Times, Davies said "She was literally one of the most famous people in Britain. She was hugely famous and she was suddenly mercilessly axed overnight – they didn't even take her out to lunch to discuss it."
An ITV synopsis reads, "At last, the biggest question of all can be answered – why was she sacked? Nolly reveals the truth, the consequences, and the legacy of that terrible day."
Nolly Cast
Per an official press release, the drama is led by Helena Bonham Carter (The Crown, The King's Speech, Harry Potter) as the one and only Nolly. Speaking of the new series, Bonham Carter said that she is "thrilled" to help spotlight Gordon's story.
"Noele Gordon was a fascinating, complex, brilliant and gutsy woman – none of which I knew before I read Russell T Davies' script. I'm so thrilled to help tell Nolly's long overdue and largely forgotten story. Russell's screenplay is a work of brilliance and I hope I'll do him and Nolly justice. I can't wait to start," the actor said in a statement. During a Q&A for the show, Bonham Carter revealed that while she watched Crossroads, she only knew "Noele Gordon as a figure, but I hadn't really taken on board the sacking." She added that Davies is "so great at supporting the underdog, or bringing people who've just been brushed under the carpet out into the light to be fully seen and witnessed and appreciated," which he has done with Gordon.
Joining Bonham-Carter will be Lord Of The Rings star Augustus Prew, who is set to play Tony Adams. ITV describe Adams as "Nolly's Crossroads co-star, devoted friend, confidante, and her occasional chauffer." Sherlock's Mark Gatiss has also been announced as a new addition to the Nolly cast. The Emmy- and BAFTA-winning actor is taking on the role of Larry Grayson, a television presenter and entertainer, who was a close friend of Gordon.
Elsewhere, Con O'Neill has been confirmed as Crossroads producer Jack Barton, with Tim Wallers playing his boss, Charles Denton. The cast is rounded out with Richard Lintern, Antonia Bernath, Clare Foster, Chloe Harris, Lloyd Griffith, and Bethany Antonia.
Meanwhile, Davies revealed that Crossroads was one of the first TV jobs he ever worked on. "I've wanted to write the story of behind the scenes on that show for 40 years. At last, the truth can be told," he commented.
Nolly Trailer & Release Date
On Friday (Dec. 2), ITVX released a first-look of Nolly featuring Bonham Carter as Noele Gordon for the first time. In it, she is preparing to announce her sacking to a group of journalists, all the while being coached to say that she willfully resigned. Gordon doesn't take on that advice, and precedes to inform the British public that she had indeed been sacked.
As it stands, ITV is yet to release the show's official airdate. However, in a press release, it's been confirmed that Nolly will launch exclusively on ITVX in 2023.
This article was originally published on