Jen Shah Has Been Sentenced To 6.5 Years In Prison
"I want to apologize to all the victims and families, and I take full responsibility for the harm I caused."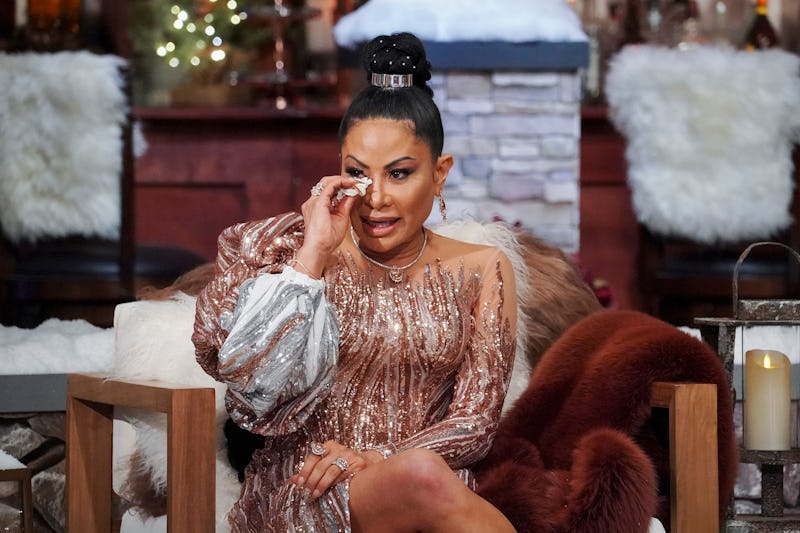 Bravo/NBCUniversal/Getty Images
The Real Housewives of Salt Lake City star Jen Shah has been sentenced to 78 months in prison for wire fraud and money laundering, as reported by Inner City Press. Shah appeared at a New York federal courthouse on Jan. 6 for her sentencing, after pleading guilty to charges of fraud in July 2022, on the day her planned federal trial was set to begin. Before she was sentenced, Shah apologized for her actions, stating her RHOSLC persona "has nothing to do with" her true self.
"I would like to take this opportunity to speak about who I actually am," she said, per NBC, before stating that her family taught her "fulfillment of obligations, humility and generosity, loyalty and respect." She added: "I have to come to terms that I have gone against these core values and I am deeply sorry for what I have done. I want to apologize to all the victims and families, and I take full responsibility for the harm I caused and will pay full restitution to all of the victims. I recognize that some of you lost hundreds and others lost thousands and I promise to repay."
During her July plea, Shah admitted that she committed "wire fraud, offering services with little to no value." She also told the judge, "We used interstate telephones and emails, I knew many of the purchasers were over the age of 55. I am so sorry." Prior to U.S. District Court Judge Sidney Stein giving his official ruling, the U.S. government recommended a 10-year prison sentence for Shah, arguing that she "took a series of increasingly extravagant steps to conceal her criminal conduct from the authorities," while her legal team requested a reduced three-year sentence, citing her "history and characteristics."
After serving her prison sentence, Shah has also been ordered to undergo five years of supervised release. She is expected to report to the Bureau of Prisons on Feb. 17. The judge granted Shah's request to be sent to a prison in Texas, but her exact location has yet to be determined.
Shah was initially arrested on March 30, 2021, which was caught on the second season of RHOSLC. Federal prosecutors charged her with one count of conspiracy to commit wire fraud in connection with telemarketing and one count of conspiracy to commit money laundering. Her assistant Stuart Smith, who had been seen on the show, was also arrested. The New York Police Department alleged that the two led a nine-year scheme in which they would generate lists of innocent people, many of whom were elderly or disabled, and sold their information to telemarketing companies who would go on to sell them misleading or non-existent services or products.
The reality star initially pled not guilty to the charges and maintained her innocence on the following seasons of RHOSLC. In fact, Bravo cameras and her castmates Heather Gay and Meredith Marks followed Shah to New York in July as she prepared to defend herself on trial, only for her to reverse course and plead guilty, which will be shown on the Season 3 finale on Jan. 11.
After the plea, Andy Cohen confirmed in October that Bravo had cut off communication with Shah and rescinded her invite to BravoCon's RHOSLC panel (although she showed up to BravoCon after-parties anyways). On Dec. 16, the day the Season 3 reunion was filmed, Shah announced that she had been disinvited, then re-invited, to the reunion but would not be attending due to a dispute with the network. "I was clear with Bravo that out of respect for the courts and a standing judicial order, I would not be in a position to discuss anything related to my legal case or sentencing," she said. "Bravo found this unsatisfactory and said they expected to discuss this 'storyline.' That expectation has no regard for me or my family's well-being."