Everything We Know About Jesy Nelson's New Music
The ex-Little Mix star will be bringing out new material this autumn, it's been confirmed.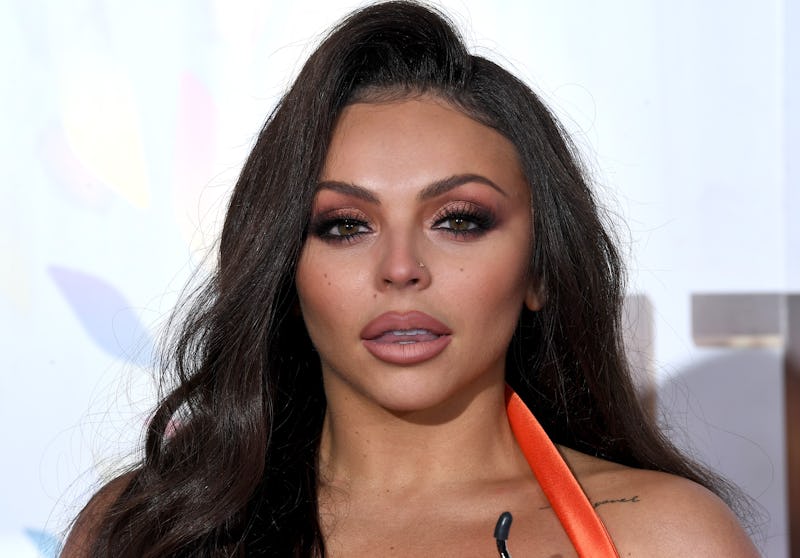 Anthony Harvey/Shutterstock
In December 2020, Jesy Nelson announced that she'd be leaving Little Mix. After nine years with the girl group, the singer told fans, "There comes a time in life when we need to reinvest in taking care of ourselves."
Since then, fans have been watching closely to see what Nelson would do next. In May this year, management firm YMU released a statement saying they had signed the former Little Mix member and, later that month, the singer revealed she had landed a record deal with Universal's Polydor. In August, details finally began to emerge about Nelson's new music. Keep reading to find out everything we know so far.
When Will Jesy Nelson Release New Music?
Although Nelson had been dropping a few hints here and there about new material since the beginning of the year, her Instagram blackout in early August seemed to confirm that something was definitely on the way.
On August 12, the singer broke her Instagram silence with a video clip that featured snippets from rehearsals and recordings, all with an old-school VHS feel. The video had an ethereal sound over the top and a narration from Nelson. "If you genuinely believe something enough and you want it to happen, you can make it happen," the singer could be heard saying. The clip finished with a loading bar, before switching to Nelson's signature, and logo, suggesting we didn't have long to wait for her debut single drop.
On August 18, Nelson posted a polaroid image to Instagram with the caption "BOYZ", which is the name of her new single. Since then, she has continued to share snippets of her new material and time in the rehearsal room.
While there's no word yet on exactly when this material is coming, the Guardian has confirmed it will be in autumn this year.
Although there has been much anticipation around Nelson's new music, the lead up to its release hasn't been without controversy. In August, the debate around Nelson and blackfishing was reignited thanks to an interview she did with the Guardian. Full details and a break down of what happened can be found here.
What Kind Of Solo Music Will Jesy Nelson Release?
So far, we only have details about Nelson's new track "Boyz". Simon Hattenstone, a journalist at the Guardian, was given a preview of the song. Writing about it, he said "It is R&B influenced, with an element of hip-hop thrown in for good measure (including a sample from P Diddy's 'Bad Boy For Life'.) In the song, co-written with producers Loose Change, she calls herself out for being attracted to bad boys."
Whatever the sound will be, it sounds like Nelson has thought a lot about how her new music will be received by old fans. In her interview with the Guardian, she said "I feel you only get one shot to make your impact as a solo artist, so I'm going all guns blazing. I don't want people to be, 'Oh, that's nice,' or 'I expected her to do that.' I want people to be, 'F**k my life, she's here!'"
Is Jesy Nelson Collaborating With Nicki Minaj?
There have been a number of reports and rumours in the past few months that Nelson will be collaborating with Nicki Minaj on her new album. On September 28, Nelson all but confirmed the collab in with a short clip posted to Instagram. In the caption, she tagged the rapper, saying "Do you think they're ready for this? @nickiminaj #Boyz," to which Minaj replied with unicorn emojis.
At the end of the short clip, Minaj can be heard rapping in a British accent, "It's the UK baddie and the barbie."
Why Did Jesy Nelson Leave Little Mix?
When she announced that she'd be leaving Little Mix, Nelson told her followers on Instagram that she found "The constant pressure of being in a girl group and living up to expectations very hard."
"I went on this extreme diet, with bloody shakes, and tried to eat as little as possible," Nelson later told Cosmopolitan. "On the day of the Sweet Melody video I had a panic attack on set because I didn't look how I wanted to look and I found it so hard to just be happy and enjoy myself. I looked at the other three and they were having the time of their life."
She added: "I get so jealous, because I want to feel like that and enjoy it, because music is my passion. To have this dream and not be enjoying it because of what I look like, I knew wasn't normal."
She elaborated on this period in her interview with the Guardian. "After the video, I just got back in a really dark place and ended up back in hospital. That was when my mum said, 'No more,'" she explained, "I had already decided. Then the girls spoke to Mum and said, 'We think Jesy should come out of this now. She has to look after herself.'"
Ultimately, Nelson said, the decision to leave was hers but she felt very supported by the three other members of the band. This support didn't extend to the team that surrounds Little Mix, however. "There was an energy when I walked into a room," she said, "I felt there were certain people on my team who just didn't want me to be there."
Nelson told the Guardian she hadn't spoken to Perrie Edwards, Leigh-Anne Pinnock, and Jade Thirlwall much since leaving the band, but she still held a lot of love for them. " I think we all need time. It's a big thing that's happened," she explained.
And in a cover interview for Glamour in March 2021, the three remaining members of Little Mix seemed just as supportive and protective of their former bandmate as they were when she was part of the group. On the subject of becoming a trio and taking a break from performing during COVID-19, Pinnock said: "This time's taught me that I am still figuring out who I am, too. I don't really know who I am. I used to get scared at that thought, but now I've stopped punishing myself for not knowing. It's beautiful that we're still a group, but we want to help push each other to do our own thing, too. It's like a new dawn of Little Mix."
Most recently, Nelson spoke to journalist Josh Smith about her decision to leave during an interview for his podcast Reign. "Being in Little Mix is literally like a machine," she told Smith. "You don't have any time off. You can't switch off."
Talking about her solo career, Nelson said that she "obviously got a lot more freedom." However, she insisted she still has "the most incredible memories" with her former band. "We laughed so much, they are, they're like my sisters. Obviously, them getting the number one with 'Sweet Melody', and the BTI Award is everything they deserve. I was so happy for them when they won that BRIT Award because they f**king deserve it," she added.
This article was originally published on