Taylor Swift's Boyfriend Joe Alwyn Just Won A Belated Grammy
The actor is finally being recognized for his work on Folklore.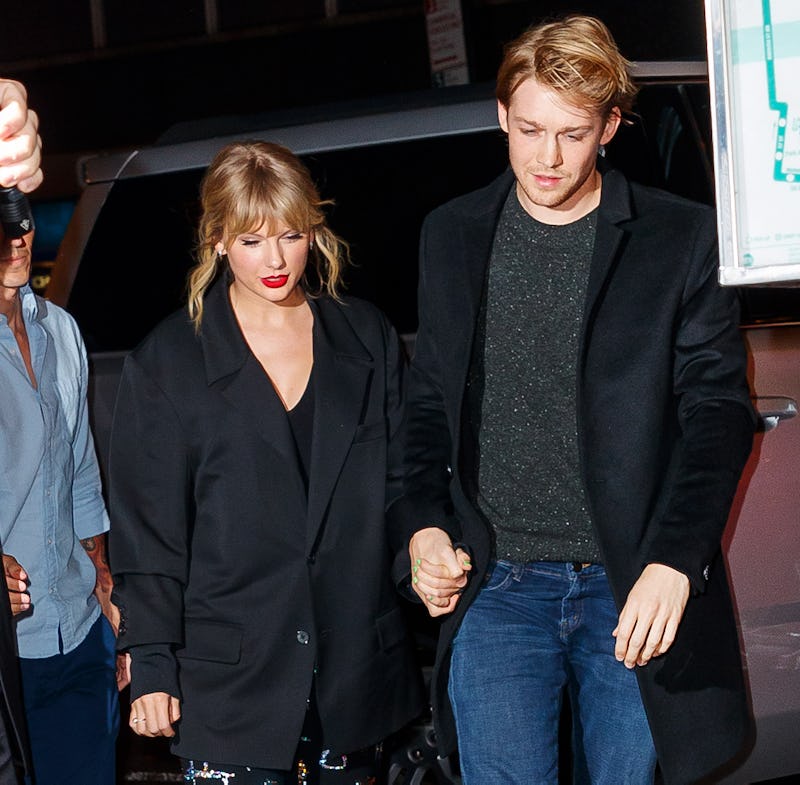 Jackson Lee/GC Images/Getty Images
It's been roughly one month since Taylor Swift's Folklore won Album of the Year at the 2021 Grammys, and Joe Alwyn is finally being recognized for all of his hard work. According to Billboard, the actor has belatedly been awarded a Grammy for co-producing his girlfriend's eighth studio album while hunkering down with her at home amid the coronavirus pandemic. However, at last month's ceremony, the only people announced as winners were Jack Antonoff, Aaron Dessner, and Swift herself.
Given that Alwyn helped create a total of six Folklore songs — "Exile," "Betty," "My Tears Ricochet," "August," "This Is Me Trying," and "Illicit Affairs" — it's only fair that he's also recognized for his contributions to the Grammy-winning LP. However, it's worth noting that when Folklore first came out in August 2020, no one knew that the 30-year-old Favourite star helped create the album at all. In fact, the actor co-wrote "Exile" and "Betty" under the pseudonym William Bowery, which the pop star finally confirmed in November 2020 with the release of her Disney+ concert documentary, Folklore: The Long Pond Studio Sessions.
"So, William Bowery is Joe [Alwyn]... as we know," Swift revealed while sitting by a fire outside of the Hudson Valley studio with collaborators Antonoff and Dessner. "Joe plays piano beautifully and he's always just playing and making things up and kind of creating things." The pop star also added that Alwyn was instrumental in the making of "Exile." Not only did he write the piano part of the track, but he also inspired Swift to make it a duet and even sang Bon Iver's lines while they were writing together. "I was entranced, and asked if we could keep writing that one," she continued.
But Alwyn's contributions extended far beyond co-writing "Exile." Later in the film, Swift explained that she wrote "Betty" with Alwyn after hearing him sing the "entire, fully-formed chorus" in another room. "It was a step that we would never have taken because why would we have ever written a song together?" the "Willow" singer said. "This was the first time we had a conversation where I came in and I was like, 'Hey, this could be really weird and we could hate this, so could we just, because we're in quarantine and there's nothing else going on, could we just try to see what it's like if we write this song together?"
Alwyn has been dating Swift since 2016 and Folklore marked the couple's first foray into writing music together. And even though he wasn't recognized for his work during the Grammys live broadcast last month, Swift made sure to give him a special shout-out during her acceptance speech. "Joe is the first person I play every single song that I write," the 31-year-old said while accepting the biggest award of the night. "I had the best time writing songs with you in quarantine."