Jonathan Majors Was Arrested Following An Alleged Domestic Dispute
The actor's rep says he "has done nothing wrong."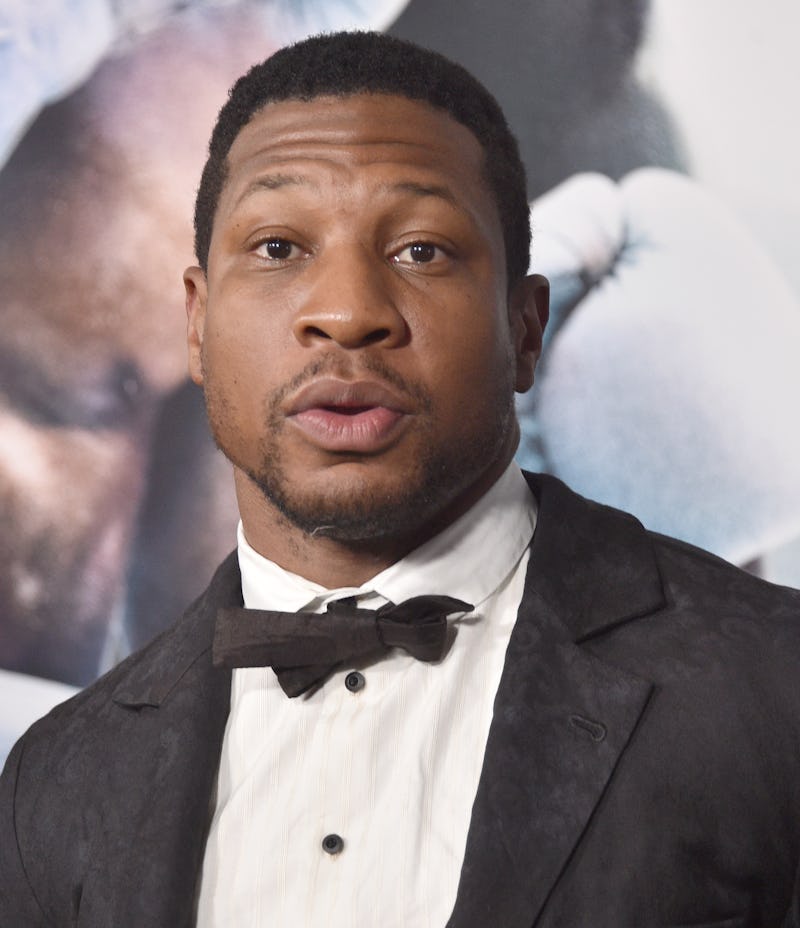 Gregg DeGuire/FilmMagic/Getty Images
Trigger Warning: This piece contains descriptions of alleged domestic violence.
Creed III actor Jonathan Majors was arrested in New York City on March 26 following an alleged domestic dispute, according to an NYPD spokesperson. Police responded to a 911 call from an apartment in Manhattan's Chelsea neighborhood around 11 a.m., and investigators reportedly determined that Majors had become involved in a domestic dispute with a 30-year-old woman who claimed that she had been assaulted.
"The victim informed police she was assaulted. Officers placed the 33-year-old male into custody without incident," according to the NYPD statement, which identified Majors as the male. The woman was transported to a local hospital with minor injuries to her head and neck, and Majors was charged with misdemeanor assault, aggravated harassment, attempted assault, and harassment, per the NYPD. The spokesperson confirmed to the Associated Press that the Ant-Man and the Wasp: Quantumania actor was released from police custody the same day. He is reportedly due back in court in May, per TMZ, which also reported via law enforcement sources that the woman was Majors' girlfriend, but her identity has not been revealed.
In a press statement, a rep for Majors denied the allegations. "He has done nothing wrong," Carrie Gordon said. "We look forward to clearing his name and clearing this up."
ABC News later reported that the alleged victim claimed in her criminal complaint that Majors struck her "about the face with an open hand, causing substantial pain and a laceration behind her ear." She also alleged that Majors grabbed her hand and put his hands on her neck, causing swelling, bruising and substantial pain to her neck and hand, per the outlet.
TMZ's law enforcement sources claimed that the alleged altercation occurred the night of March 25 while Majors and the unidentified woman were in a taxi returning home from a Brooklyn bar. Per the outlet, an argument allegedly turned physical after the girlfriend spotted Majors texting another woman. The two reportedly spent the night apart, and the woman reported the alleged crime the following morning.
In a March 26 statement to Bustle, Majors' criminal defense lawyer, Priya Chaudhry, also denied the allegations. "Jonathan Majors is completely innocent and is provably the victim of an altercation with a woman he knows," Chaudhry said, noting that her team is "quickly gathering and presenting evidence to the District Attorney with the expectation that all charges will be dropped imminently." She elaborated that the evidence includes "video footage from the vehicle where this episode took place, witness testimony from the driver and others who both saw and heard the episode, and most importantly, two written statements from the woman recanting these allegations."
Chaudhry continued, "All the evidence proves that Mr. Majors is entirely innocent and did not assault her whatsoever. Unfortunately, this incident came about because this woman was having an emotional crisis, for which she was taken to a hospital yesterday. The NYPD is required to make an arrest in these situations, and this is the only reason Mr. Majors was arrested. We expect these charges to be dropped soon."
Later, the attorney also clarified reports that the woman called 911. "To set the record straight: As confirmed by one of the woman's own written statements disavowing her allegations, it is Mr. Majors who called 911 due to concern for her mental health," Chaudhry said in a statement to Bustle on March 28.
Majors largely keeps his personal life private, but has discussed dating more generally over the years. While discussing his friendship with Creed III co-star and "best buddy" Michael B. Jordan at Quantumania's Los Angeles premiere on Feb. 6, he mentioned that "girl troubles" is sometimes a topic of conversation. "We support each other on a day to day, so, if it's Marvel it's Marvel that day, if it's girl troubles, it's girl troubles that day — whatever, whatever. He's my brother," Majors told Entertainment Tonight at the time.
In Ebony's February 2023 issue, Majors talked about teaching his 9-year-old daughter self-worth, that her emotions belong to her, and that "no man can make you do anything or feel anything." He also seemed to indicate that he was single. "Like her father, she's not easily impressed," he added. "Yeah, I mean, big-head boys are going to have a hard time dealing with her. I feel bad for [them], because then you have to deal with her and me."
It's currently unclear how the charges might affect the rising star's upcoming projects, including Marvel's Avengers films The Kang Dynasty and Secret Wars. On March 7, The Hollywood Reporter also announced that Majors is set to star in Da Understudy as a Broadway actor who finds a role he's willing to kill for. Da Five Bloods director Spike Lee is reportedly in talks to direct the film.
If you or someone you know is experiencing domestic abuse, call 911 or the National Domestic Violence Hotline at 1-800-799-SAFE (7233) or visit thehotline.org
This article was originally published on