Can You Name All 10 Of The Kardashian Kids From The KUWTK Era?
Since the 2007 debut of Keeping Up With The Kardashians, the number of grandchildren born into the reality dynasty has reached double digits.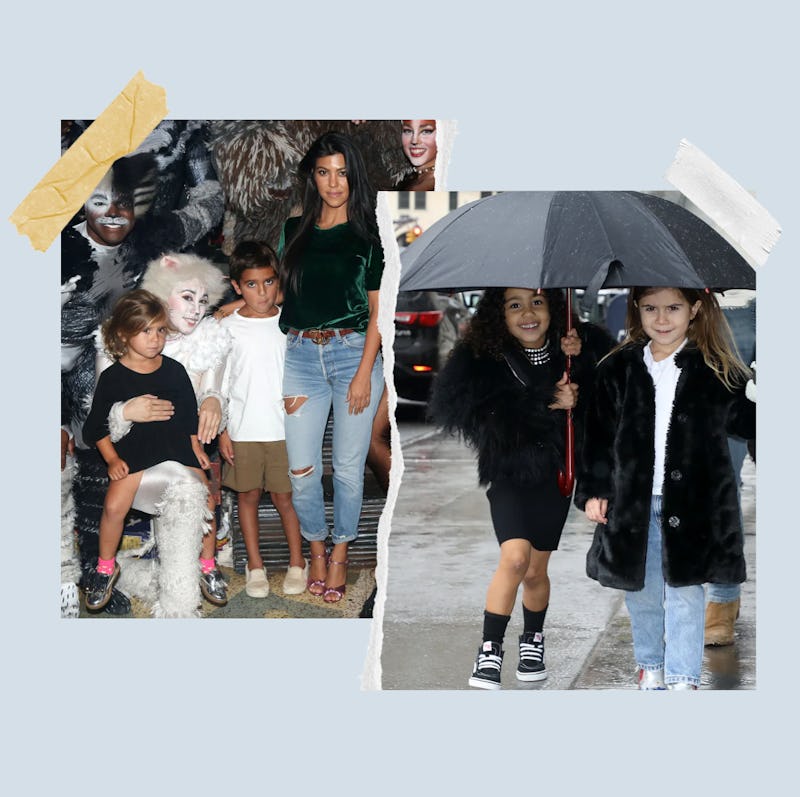 Bruce Glikas/Pierre Suu/GC Images/Getty Images
In the series finale of Keeping Up With The Kardashians, Khloé opens up about moving to Boston to be closer to Tristan Thompson, who plays for the Boston Celtics. The reality TV star confirms that she's headed to the Massachusetts capital initially without her young daughter in order to "make sure that things are set up and all put together" before the 3-year-old joins her. The move is one of the last big reveals in the series, which is concluding after an incredible 20-season run on E! The sisters are planning something big with Hulu, though details are sparse.
Khloé's cross-country jump details just one story of the many kids now part of the very wealthy Kardashian family tree — the number of grandchildren born to the members of the reality dynasty has reached the double-digits over the course of KUWTK's stint since it debuted in 2007.
Among the Kardashian-Jenner sisters (and Rob) in the cast, they have 10 kids. Can you name them all? If not, here's a refresher on all the KarJen offspring who have been featured on Keeping Up With The Kardashians throughout the years.
Who Are Kourtney Kardashian's Kids?
It's not surprising that Kourtney Kardashian — the eldest in the Kardashian clan — has the oldest of all the grandchildren as well as the second-most kids. After meeting Scott Disick at a party in Mexico, the two entered what would turn out to be a 10-year-long, on-again-off-again relationship, and though they were never married, the couple ended up having three children together, with the last being born less than a year before they went their separate ways.
Mason Dash Disick, born December 14, 2009
Penelope Scotland Disick, born July 8, 2012
Reign Aston Disick, born December 14, 2014
Who Are Kim Kardashian's Kids?
The most famous Kardashian also happens to be mother to the most children. It's incredible that in between running her fashion and beauty businesses, filming the show, walking red carpets, and posing for magazines and studying for law school, she is mother to four children. Even with what must be an army of staff to help, it's still impressive that she's able to parent in between all of her many projects. Two of Kim's children were born to her naturally, while the second two were brought into this world with the help of a surrogate. The reality TV mogul suffered from a number of serious health issues during her first two pregnancies, and according to her, she was advised not to become pregnant again, but she and Kanye West were not done expanding their family.
North West, born June 15, 2013
Saint West, born December 5, 2015
Chicago West, born January 15, 2018
Psalm West, born May 9, 2019
Who Is Khloé Kardashian's Kid?
The accented Kardashian sister only has one child, so far, and she was born during a difficult time in the relationship timeline between mother and father. After ending a seven-year marriage with Lamar Odom, Khloé moved on and became romantically involved with another professional basketball player, Tristan Thompson. Less than two years after they began dating, she gave birth to their first child, a beautiful daughter named True. The blessing came to her just days after it was revealed that Thompson had cheated on the reality TV superstar, and not long after that, they split, though they eventually rekindled their love, and now they might get married.
True Thompson, born April 12, 2018
Who Is Rob Kardashian's Kid?
The sole male Kardashian involved in all the KUWTK era, Rob Kardashian has one child. He met Blac Chyna in early 2016, and after just three months of dating, the couple announced they had become engaged. Just a few months later, the celebs revealed they were already expecting their first child less than two months before she was born. The two lovebirds welcomed Dream Renée Kardashian in November, and by December, they had split. If that was hard to follow, just know that Rob and Chyna started dating, became engaged, had a child and broke up all in the span of less than a full calendar year. Somehow, in all of that excitement, the two took part in their own KUWTK spinoff Rob & Chyna, a seven-episode miniseries that ran for one season.
Dream Renée Kardashian, born November 10, 2016
Does Kendall Jenner Have Children?
Kendall Jenner is the only KUWTK cast member with no children. She's only 25, so it's not shocking that she hasn't yet decided to become a mother, but she does stand out as the only one of her sisters (and half-sisters) to not make this big leap.
Who Is Kylie Jenner's Kid?
The youngest of all the KarJen sisters, Kylie was 20 when she gave birth to her only child, Stormi Webster. The little girl enjoys having both the cosmetics titan and rapper Travis Scott (real name Jacques Bermon Webster II) as parents, so she's not only set for life, but she will forever be cool, if only by proximity.
Stormi Webster, born February 1 2018