Everything We Know About The New Kardashian Hulu Series
Looks like Kylie Jenner's pregnancy will be part of the new series.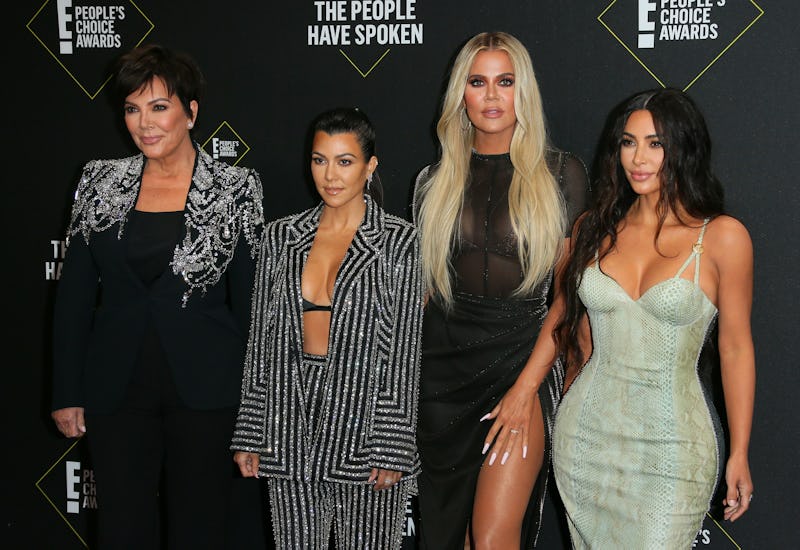 JEAN-BAPTISTE LACROIX/AFP/Getty Images
Keeping Up With the Kardashians ended over the summer, but fans won't have to wait very long to see the famous family on their TV screens again. In late 2020, it was announced that the Kardashians signed a multi-year deal with Hulu to develop "global content" with the streaming service. "Excited to announce our new multi-year partnership with Hulu and Star and what's to come in 2021," matriarch Kris Jenner wrote on Twitter shortly after the news broke. And there is something on the way — but it's coming in 2022 instead.
The original series announcement came just three months after the Kardashians revealed that KUWTK would end after Season 20. "We are beyond grateful to all of you who've watched us for all of these years — through the good times, the bad times, the happiness, the tears, and the many relationships and children. We'll forever cherish the wonderful memories and countless people we've met along the way," Kim Kardashian wrote on Instagram at the time. "This show made us who we are and I will be forever in debt to everyone who played a role in shaping our careers and changing our lives forever."
Finally, details on the new Hulu show are trickling in, including the official name and release date. Here is everything you should know about the show so far.
When Will The Kardashians' New Show Premiere?
On Dec. 31, 2021, the reality family unveiled a New Year's Eve-themed teaser for their new Hulu show — along with the formal title announcement. Introducing, The Kardashians. (Looks like they took some notes from The Social Network and dropped the "Keeping up with." It's cleaner.) Per a press release, the show is a "new, intimate journey into their lives."
"When the countdown to the new year ends," the teaser says, "the countdown to the new show begins." Cue a clip of all the KarJenner women wishing viewers a happy new year. Interestingly, Kim and Kris are standing together in the middle while the other siblings each occupy their own separate box on screen.
Although the teaser didn't reveal when the show would premiere, Khloé dropped a hint during an Oct. 21 appearance on The Ellen DeGeneres Show that the series would most likely hit the streaming platform around the "end of January, early February." "Really fast, so that's the beauty of Hulu," she said. "We're streaming so we get to have a much quicker turnaround than previously. We're really excited."
Now that a bunch of teasers have been released, fans finally know when to expect to series. The new reality show will hit Hulu on Apr. 14, with new episodes every Thursday.
Does The Kardashians Have An Official Trailer?
On Feb. 4, Hulu released another The Kardashians teaser, and it's a montage of the Kar-Jenner clan in full glam in matching tones of off-white and beige. All of them — including Kourtney and a pregnant Kylie — are encased in glass boxes with flowers that seem to come to life. The teaser promises "all the walls will be shattered" before it cues to Kendall shattering her glass box with a light tap. It ends with the family strutting side by side.
With the premiere just a couple of months away, the streaming service also released the full trailer on Feb. 22. In addition to the family's glamorous photoshoots and day-to-day lives, the preview gives a glimpse at Kourtney and Travis' engagement. "This makes me so happy," Kris says through tears. "She's never had a reaction like that for me and it's happened, like, a few times," Kim quipped, referring to her many engagements.
On Feb. 28, the streaming platform released another teaser for the series on the show's official Instagram. "They're back," it says alongside footage of the family prepping for photoshoots and getting snapped by paparazzi. "Over the last year, we have seen such transformations in all of us," Kris says, hinting that the show will likely address everything from Kourtney's engagement and Kylie's pregnancy to Khloé and Tristan's cheating scandal and Kim's divorce.
And on March 14, Hulu released the first full trailer, which shows the many ups and downs in the Kardashians' lives as of late, including Kanye and Tristan drama. At one point, Kim says Kanye told her that her career was over, and Khloé's voice cracks as she asks, "Why are we always making excuses for the people that traumatize us?" There's also footage of Kylie's highly publicized second pregnancy and Kourtney and Travis trying for a baby.
Are They Making More Reality Shows?
Though more reality seems like a natural next step for the family, it wasn't always a foregone conclusion. "Hey guys, we just finished filming forever. Like forever, ever," Kim said during the show's final season, raising a glass to the behind-the-scenes crew. "We're done. We're never filming again, isn't that so crazy?" she said, suggesting that their Hulu content wouldn't necessarily be a reality series in the same format as the original.
But in May, Kris gave a little more information about one of their newest shows. Per People, during the Disney Upfronts, she explained that "this is the next chapter."
"In the new show, you'll see us evolving as a family, fans want us to be who we are and since moment one, they've been emotionally invested in our show just like we are," she said. "The fans will love seeing us continue the journey. I can't say much about what's coming but spoiler, we're going to look fabulous and everyone's going to watch." As the new teaser confirmed, the family does, in fact, look fabulous.
According to Us Weekly, Kim also teased that Kourtney's ex Scott Disick will follow the Kardashian-Jenners to Hulu for their next project, though he didn't appear in the women-centric teaser.
Will They Bring Back KUWTK?
Kris told KUWTK producer Ryan Seacrest in September that the family was looking to "take a minute and breathe and everybody slow down a bit." She also said that it felt like the right time to end the show. "Not slow down professionally, but just you know figure out what our next steps are," she added.
Around the same time, a source close to the family told Entertainment Tonight that it simply became too much for everyone to balance their filming schedule with their growing families and other work commitments. "There was no big reason why the family decided to end KUWTK," the source told the outlet. "The kids who started the show now have their own kids and it's getting very hard to film all together or get enough footage separately."
Kim told Grazia in October of last year: "It's really simple. We just need a minute to regroup." She explained that the family hadn't taken a break "for 14 years" due to their busy schedules. "We've gone in filming a season, then a spin-off, and I think there's no other way to say it other than, we just live such big lives ... There's so much going on that, even just for a minute, we need a break."
However, all of the trailers prove this new Hulu show is very similar to KUWTK.
Will They Explore Some Other Passions?
It seems the Kardashians will also develop shows that are catered to some of their other side projects and interests as part of their Hulu deal. In January 2020, Kim's social justice and prison reform-focused series, The Justice Project, premiered on Oxygen, and in June 2020, Spotify announced that she was co-producing a podcast about criminal justice reform, titled Proving Innocence.
The KKW Beauty founder has long been open about studying to earn her law degree and her passion for social justice and fighting wrongful incarceration, and it seems likely that Hulu subscribers will probably see even more of her criminal justice work going forward. Kim also has her starring voice role in Paw Patrol: The Movie to look forward to in August. Khloé's beauty and fashion ventures continue to keep her busy, and Kourtney has Poosh and a brand new fiancé in drummer Travis Barker.
As for Kendall and Kylie, Kendall's modeling career, relationship, and controversial 818 Tequila brand should keep her occupied. In September, Kylie announced her own line of baby products called "Kylie Baby." Us Weekly announced in 2019 that the mom of one filed trademarks for "Kylie Baby." The Kylie Cosmetics founder teased the project in June with a bathtime photo of her 3-year-old daughter Stormi. "bath time with @kyliebaby," the caption read.
As for Kris, the former talk show host could also be jumping into the beauty entrepreneur space as well. It was first rumored in February that the momager was hatching a potential skin-care line. PopSugar published that pending trademarks for Kris Jenner Beauty, Kris Jenner Skin, and Kris Jenner Skincare appeared in search results from the United States Patent and Trademark Office. Kris then confirmed in March that she would be launching her own skincare brand within the next two years, declaring that it was "ready to go."
How Will Fans Keep Up With The Kardashians In The Meantime?
Fans still have an easy way to follow the Kardashians and their various business ventures before the premiere of their new Hulu content: social media. "When we first started, there was no Instagram or Snapchat or other social media platforms," Kris told WWD's Beauty Inc. in October. "The world has changed. Now there are so many, the viewer doesn't have to wait three or four months to see an episode. We can give them all of the information anyone would ever want to know in real-time."
It's also worth noting that the @kardashianshulu Instagram account is officially up and running. On Feb. 1, the account shared a variety of behind-the-scenes photos of the famous family for fans who are not-so-patiently waiting for the series to hit the streaming platform.
Additional reporting by Julia Emmanuele, Mary Kate McGrath, Candace Cordelia Smith, and Jordyn Tilchen.
This article was originally published on