Karl From The Bachelorette Worked For A Questionable Company
Plus, everything else to know about this season's pot-stirrer.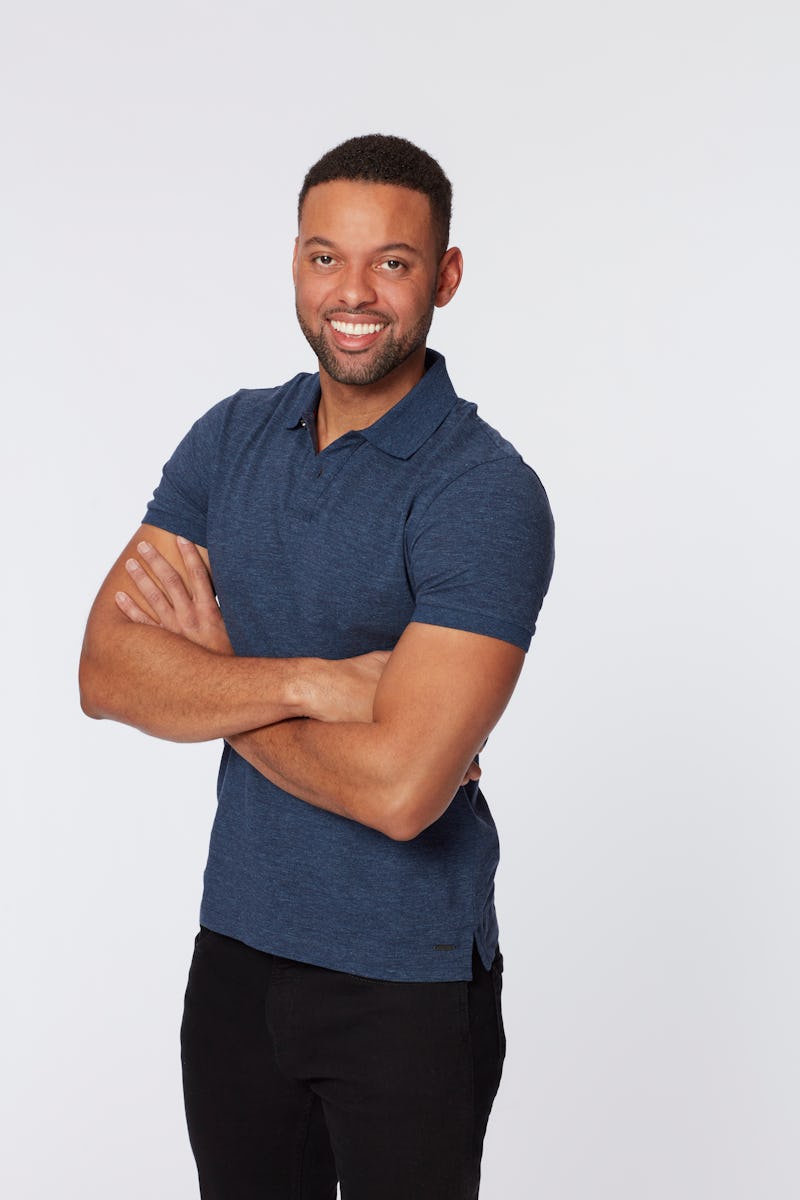 Craig Sjodin/ABC
Katie Thurston has made it clear on her season of The Bachelorette that she doesn't want any contestants who are there for the wrong reasons — but 34-year-old contestant Karl Smith has already raised some suspicions in that regard. In Episode 2, he lied to Katie and suggested that he knew that not all the men were "being 100% transparent" and that some of them didn't "have the best intentions" towards her.
When Katie pressed for details, Karl told her she shouldn't stress about it — which of course is the opposite of what happened. After their talk, Katie gathered the men in the sitting room and angrily delivered the speech featured in several trailers: "If you are not here for me, if you are not here for an engagement, then get the f*ck out."
This drama will undoubtedly impact the rest of the season, so here's everything to know about the Miami-based pot-stirrer.
This Isn't Karl's First Bachelorette Season
Well, technically speaking. Per the New York Post, eagle-eyed fans pointed out that Karl was initially cast for Clare Crawley's Bachelorette season but was ultimately cut before filming began. Producers clearly liked him enough to keep him around for the following season — but as we see now, that may have been because he was the perfect candidate to spark drama for Katie.
Karl's Job Is As A "Success Coach"
Described as a "charismatic and confident guy" in his official ABC bio, Karl is in the business of inspiring people. Per Karl's LinkedIn page, he's the president and founder of Next Level Success, which "empowers entrepreneurs and business professionals with the knowledge, tools, and resources to create greater success." Essentially, he holds live events and training programs that teach entrepreneurs how to be good leaders. (If that sounds a bit vague, welcome to the tech world!) This job is a big pivot from what he initially studied in college, which is listed as pre-medicine.
Though Karl is an experienced businessman, some of the companies he's worked for are questionable. After college, he worked for eight years at Dynasty International Marketing Group, which the owner described as a company designed to create "the most powerful marketing team in the history of network marketing." (Per Investopedia, network marketing is often synonymous with multi-level marketing, many of which end up being pyramid schemes — organizations that require you to constantly recruit more "distributors" to make money.)
In reality, Dynasty operates under ACN, a company which promises customers that they can make a living by selling video phones, satellite TV, and other technology. ACN has denied that it's a pyramid scheme, as "compensation is based 100% on the sale of real products." But according to an old Dynasty newsletter, they suggest that "in building your ACN business, its important to focus 90% of your time prospecting" as that person "will always make the most money." (Also, probably not a good sign if a company has a page titled "Is ACN A Scam?")
Notably, ACN made news in 2020 for its ties to Donald Trump. ACN paid Trump $8 million to be in their marketing materials, and the New York Times speculated that the gig was in part what helped to save him from financial ruin. ACN has since been investigated in several countries, and regulators in France concluded that "only 1% of people recruited [by ACN] could claim a satisfactory income."
It appears that Karl's current job at Next Level Success, while centered around speaking, is still an offshoot of the ACN umbrella. His second most recent job was at the similarly named "Next Level Marketing Group," which Karl describes on LinkedIn as "a team of business developers, within the ACN opportunity."
Karl's Speeches
So far, Karl has used his speaking skills to very questionable ends on The Bachelorette. In Episode 2, he declared during the group date that Katie deserves "17 hours a day of non-stop d*ck action" and then forced everyone to "suffercate" — yes, new word — through a cringe-worthy lecture of what Katie needs from a lover.
Outside of The Bachelorette, Karl's speeches are far less risqué, but they do contain a lot of general platitudes. "What leadership skills, attributes, and traits are you bringing to the table to experience the success that you truly deserve to experience?" he asks in one video. "We can get bigger. We can better. We can produce more," he says in another video. "We help business leaders elevate their results and elevate who they are," he claims in another video.
Karl's Instagram
You can find plenty of other clips of Karl's speeches on his Instagram, which has over 40,000 followers. But his grid is surprisingly un-flashy: it's mostly video clips of speeches, coupled with a few snapshots with inspirational captions.
What Karl Is Looking For
According to his Bachelorette bio, Karl has had long-term relationships in the past but was never able to fully commit to them because his professional goals always outweighed his personal ones. Now that he's found success with his career, he's ready to make marriage a first priority. He is looking for someone who he has "off-the-charts chemistry" with and who values and shares his qualities of being "fun and spunky." He sees life as an adventure and is looking for someone to "add a little extra spice" — though he's certainly doing all of that on his own on Katie's season.
This article was originally published on