Why That Kate Bush Song Is Perfectly Suited For Max In Stranger Things
"If I only could make a deal with God..."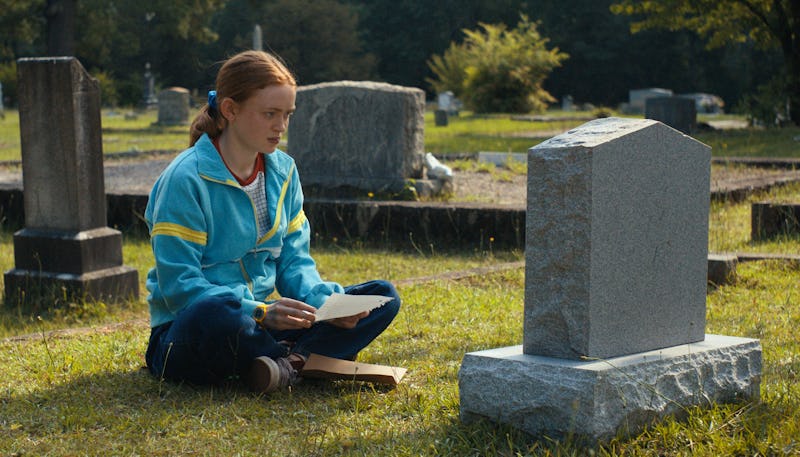 Netflix
Spoilers ahead for Stranger Things Season 4. Can music save lives? In the Upside Down world of Stranger Things, we at least know a Kate Bush song definitely can. Season 4 sees the rise of Vecna, a dark wizard who can psychically connect with people and kill them even when he's not in the same reality. His first targets are the cheerleader Chrissy and Nancy's classmate Fred. Then Vecna sets his sights on Max.
When we catch up with Max at the start of the season, she's drifted from their friends group and is struggling to cope with Billy's death, which led to her parent's divorce and her mom drinking. Even though they didn't get along, Max can't help but think that things would be better if she hadn't frozen up and saved Billy from the Mind Flayer.
It's this guilt that lures in Vecna, who attacks his victims by dragging them mentally into the Upside Down while their physical body crumples. Falling under his powers, Max starts to see a grandfather clock and hear Vecna's voice. Knowing she only has days left to live, her friends scramble to figure out how to save her. The answer comes in the form of Victor Creel, a man who seemingly survived Vecna's attack decades ago but was committed to an asylum when he claimed a demon killed his family. Though Victor falls apart when Nancy and Robin interrogate him, they're able to glean that he snapped out of Vecna's spell because he heard "the voice of an angel" in the real world — in his case, Ella Fitzgerald's rendition of "Dream a Little Dream of Me."
For Max, the song that saves her is Kate Bush's 1985 song "Running Up That Hill," a more modern angelic-sounding tune. Hearing Bush's voice creates a portal out of the Upside Down just moments before Vecna kills Max, and she's able to mentally run back to her body. Max continues to listen to the song on repeat, and by the end of the first batch of episodes, it does seem to be keeping Vecna at bay.
And the song has clearly been on repeat for viewers too. "[Stranger Things] features the song, 'Running Up That Hill,' which is being given a whole new lease of life by the young fans who love the show — I love it too!" Bush wrote in a message shared to Twitter by Netflix on June 5. "Because of this, 'Running Up That Hill' is charting around the world, and has entered the UK chart at No. 8," she revealed. "It's all really exciting! Thanks very much to everyone who has supported the song."
Not only is "Running Up That Hill" a popular and addictive '80s jam, it's also a pretty fitting song for Max. Kate Bush is an English singer and songwriter who, like Max, was often misunderstood. Bush was described in a 2018 New Yorker piece as one of the few female artists of her time who managed to "hold fast without shrinking" her own identity, and she made eclectic music that went on to inspire experimental artists like Tori Amos, Björk, and Mitski. But "Bush got a bad rap from some music journalists for being a dreamy middle-class girl rather than an angry working-class bloke. There was grumbling about her tweeness, her witchy, unapologetic femininity," wrote Margaret Talbot, adding that Bush was viewed as the "high priestess of too much" and, when she got older, a "mythical recluse."
Bush released "Running Up That Hill" in 1985. Per Far Out magazine, the song is about making a deal with God to swap places with her male partner so that they can finally understand each other. The song went on to be covered by artists like Tori Amos, Placebo, Chromatics, and Meg Myers. In 2018, rapper Big Boi broke down the song for a Pitchfork video. Much like how the song functions in Stranger Things, Big Boi said it speaks to "outcasts" and allows the listener to "envision your own world" you can run to. He added that Bush has an "angelic" voice that naturally conjures up "theatrical" images. "I just always thought of her as like, Phantom of the Opera, somewhere living in this big castle with a piano ... just playing all day with sheer curtains blowing," he said.
Annie Zaleski at Salon agreed that the song has an otherworldly quality. It's about how "connection can empower — and also transcend" issues within relationships. Similarly, not only does the song literally create a connection back to the real world, it also comes after Max's scenes with Lucas and her mom, who both beg her to confide in them.
Finally, Zaleski added that because Bush had to fight her label for the title — it was initially "Deal With God," but later changed to "Running Up That Hill (Deal With God)" after fears of religious backlash — the song is "a singular statement made by a strong, confident protagonist asserting their worth." Similarly, while Vecna thinks Max is so guilt-ridden over Billy's death that she wants to die, hearing Bush's song is able to wake her from his trance. When we first hear the lyrics, "If I only could/I'd make a deal with God/And I'd get him to swap our places," at the beginning of the season, it has a tragic quality, implying that maybe Max wishes she had died instead. But her escape from Vecna and running back to her friends flips that narrative. It seems to signify she's finally ready to engage with them again, and that just because Billy's life ended, it doesn't mean hers has to, too.