Katy Perry Suffers "Relatable" Mishap At King Charles' Coronation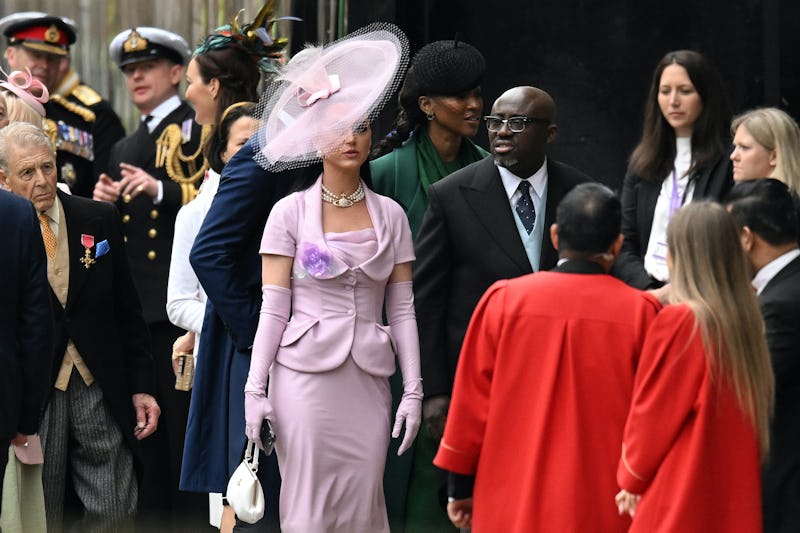 Jeff Spicer/Getty Images
On the morning of Saturday, May 6, the coronation of King Charles III got underway and a string of high-profile guests including senior royals, politicians, and celebrities, made their way inside Westminster Abbey for the landmark ceremony. Among those included on Charles' esteemed guest list were music icon Lionel Richie, actors Joanna Lumley and Emma Thompson, First Lady of the United States Jill Biden, TV presenters Ant McPartlin and Declan Donnelly, and pop sensation Katy Perry, who suffered the most relatable mishap during the king's coronation.
Shortly after arriving at Westminster Abbey for the all-important ceremony, the American Idol judge was spotted struggling to find her seat at the historic venue, wearing a bright pink ensemble.
Thankfully, the "Roar" hitmaker did eventually locate her assigned seat ahead of King Charles and Queen Camilla's much-anticipated arrival. However, many on social media were quick to point out Perry's now-viral mishap, which has become an unexpected standout moment of the royal event.
"Katy Perry looking for her seat would be me. I would just be spinning in circles," wrote one royal spectator on Twitter. "The way she's trying to look for her seat with that hat, it's adorable and funny at the same time," another user joked, while one fan also commented: "Obsessed with Katy Perry trying to find her seat. And yes she looks stunning."
When the chart-topper eventually found her seat, another relieved fan wrote: "Good to know that Katy Perry finally found her seat," along with a clip of the singer sitting down and waiting patiently for proceedings to begin.
Find more memes and tweets reacting to Perry's hilarious coronation mishap, below.
Perry, along with Richie, will also perform at Charles' coronation concert on May 7.