Everything To Know About Kenan Season 2
The show got off to a great start.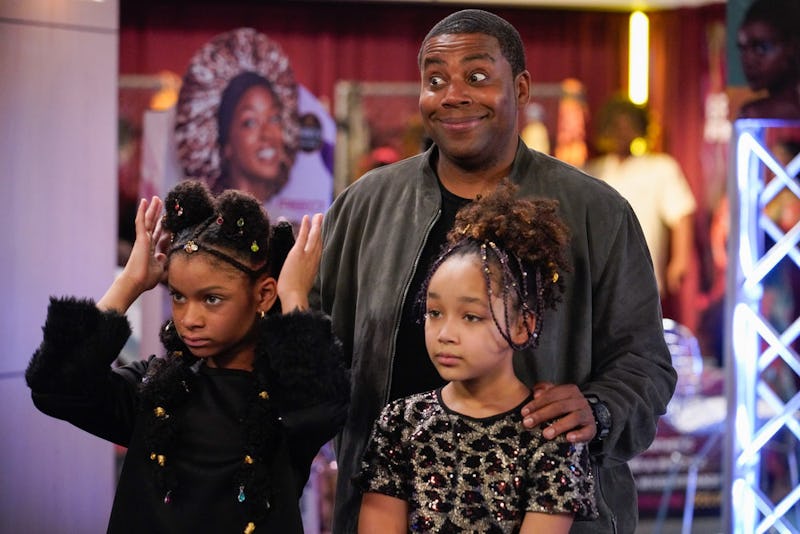 Casey Durkin/NBC
Kenan Thompson's return to sitcom television with his show Kenan got off to a great start. According to Deadline, the Kenan premiere brought in over 4 million viewers and, combined with the Young Rock premiere, gave NBC its best two comedy debuts in the 18-49 demographic since 2017. Since then, viewership has declined slightly for Kenan, as it's averaged about 2.4 million viewers per episode. It's now up to NBC to decide whether to renew Kenan for a Season 2 or not.
But the odds are certainly in its favor. Thompson is an NBC staple between Saturday Night Live and Kenan, and the network is always in need of more popular comedies. It just lost Superstore, which ended in March — so Kenan, with its over 2 million viewers, can help fill that gap.
Thompson told The Atlanta Voice that he wants his series to showcase "young Black fathers in a positive light," something that television could always use more of. "My biggest hope is that it's one of those family destination things, where a lot of people want to gather around with their loved ones and actually sit down to watch the show. That's how it was for me as a kid, growing up we gathered around and watched our favorite TV shows," Thompson added. "I feel like it's been a while since NBC had that appeal to such a wide range of people. It seems to be responded to very well by everybody."
If the show does get renewed for a second season, here's what viewers might expect to see.
The Kenan Season 2 Premiere Date
The first season of Kenan premiered in February 2021. It's possible that the show could be moved to the fall NBC lineup and return as soon as September 2021, or it could remain a winter show and come back in early 2022. The air dates also likely depend on Thompson's Saturday Night Live schedule, since he'll have to work around rehearsals and live shows.
The Kenan Season 2 Cast
The same cast is likely to return for a second season. Season 1 saw Thompson's single father character Kenan Williams joined by Don Johnson playing his father-in-law, Dani Lane and Dannah Lane as Kenan's daughters Aubrey and Birdie, Thompson's SNL co-star Chris Redd as Kenan's brother Gary, and Kimrie Lewis as Mika, the producer on Kenan's morning show. Kenan and Mika started getting closer romantically in Season 1, so Mika will likely be an even bigger part of the second season, if it happens.
The Kenan Season 2 Trailer
There's no official trailer for Season 2 yet, since the show hasn't yet been renewed. But watch this space and as soon as one is released, we'll update the article accordingly.
It can be tough out there for new shows to make it, but Kenan has the star power to carry this show through at least one more season. And with the high viewership and stellar reviews, NBC is more likely than not to bring Kenan Williams and his family back for more.