Kenny Got Naked On BiP Again — This Time On A First Date
That's one way to get to know someone.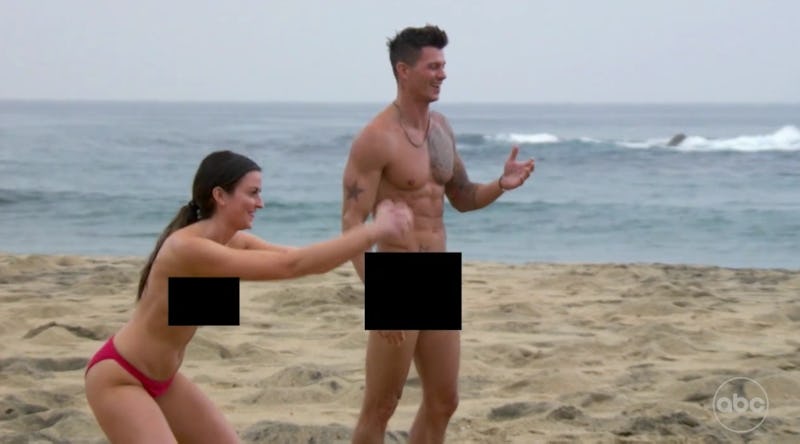 ABC/screenshot
Kenny Braasch apparently can't resist getting naked. After entering Bachelor in Paradise fully nude on the first day, he found himself faced with yet another opportunity to strip down — on a first date, no less.
After arriving during the Aug. 31 episode, Paradise alum Tia Booth picked the 40-year-old band manager to go on a one-on-one date. Completely randomly and totally not with any interference from producers, the date was crashed by three strangers who invited them to play volleyball...then proceeded to get completely naked. Tia, who's quite religious, initially expressed hesitation, but ultimately agreed to go topless if Kenny took off his bottoms. "Usually it's toward the end of the first date that you might see someone naked. Now we're just going to start with it," Kenny said. Tia, meanwhile, told the cameras: "I know being naked is a normal thing, but like, my parents watch the show. My bible study watches the show." She added that she hasn't played volleyball before and wasn't good at it — especially when there was a "flaccid penis flopping around."
Twitter, of course, had a lot to say about the date. Some poked fun at Kenny's keenness to strip without telling a scandalized Tia he'd already been on the beach sans pants. "When tia discovers she's the only one on the beach that HADN'T seen Kenny naked," tweeted one fan.
Others had a few guesses about how her bible study group might react.
And others were just confused about Tia's many euphemisms for genitalia, which included the phrase "China pot."
Many also voiced their concerns about Tia facing the wrath of Demi Burnett — who previously went to the Boom Boom Room with Kenny — when she finds out about what happened on the date. "Tia sleep with your eyes open," one viewer warned.
Still, some enjoyed the pair's effortless chemistry. Whether or not that will translate to them coupling up — and what Demi will have to say about it — remains to be seen.