Khloé Kardashian Clapped Back At An Instagram Troll Who Called Her "Insecure"
"Baby girl, you have to look in the mirror."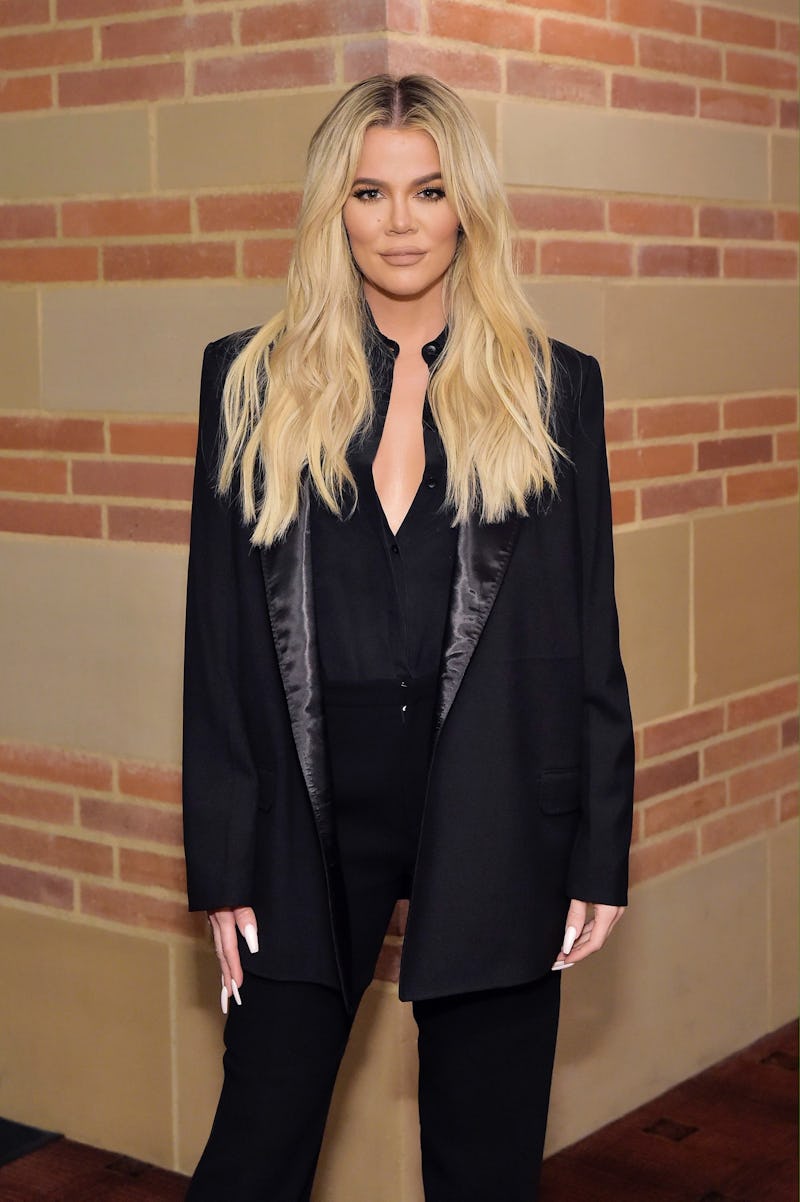 Stefanie Keenan/Getty Images Entertainment/Getty Images
It's been two weeks since an unedited photo of Khloé Kardashian in a bikini made the rounds on the internet, and the reality star is still dealing with the fallout. After sharing a series of photos of herself celebrating Kourtney Kardashian's 42nd birthday this past weekend, one person took to the comments to criticize Khloé for her lack of confidence, per Us Weekly. "If insecurity was a person," they wrote. In response, the Good American founder urged the commenter to do some self-reflection. "Baby girl, you have to look in the mirror," the 36-year-old replied. "Only insecure people tear other people down. I'm sending you so much love, health, and happiness! I'm sorry that you're hurting."
This exchange happened just weeks after Tracy Romulus, chief marketing officer for KKW Brands, told Page Six that Khloé's team was working hard to scrub the unapproved photos from the internet. "The color edited photo was taken of Khloé during a private family gathering and posted to social media without permission by mistake by an assistant," Romulus said in a statement at the time. "Khloé looks beautiful but it is within the right of the copyright owner to not want an image not intended to be published taken down."
Shortly after, Khloé took to Instagram with a series of photos and videos that she felt accurately represented her body. "Hey guys, this is me and my body unretouched and unfiltered," she wrote in an accompanying statement. "The photo that was posted this week was beautiful. But as someone who struggled with body image her whole life. She then echoed what Romulus said about reserving the right to ask for the image to be removed, especially if the image in question was taken "in bad lighting or doesn't capture your body the way it is after working so hard to get to this point."
Khloé went on to say that "the pressure" and "the constant ridicule and judgment" about her appearance has been too much to bear. And after reminding her followers that she's always been called the "fat sister" and the "ugly sister," she said that being a celebrity doesn't give people the license to tear her down. "I'm of course not asking for sympathy but I am asking to be acknowledged for being human," she added, explaining that while she's certainly not perfect, the public has made it "unbearable" to try and live up to their beauty standards.
The reality star also said that after facing years of criticism over her body, she continues to get hate even after getting herself in the best shape of her life. "For over a decade now in photos, every single flaw and imperfection has been micro-analyzed and made fun of the smallest detail and I am reminded of them every day by the world," she continued. "And when I take that criticism to use as motivation to get myself in the best shape of my life and to even help others with the same struggles, I am told I couldn't have done it through hard work and I must have paid for it all."
Khloé closed out her statement with a heartfelt message to fans who have similarly struggled with body image issues. "For those who feel the constant pressure of not ever feeling perfect enough, I want you to know I see you and I understand," she wrote. "Every day I am told by my family and friends who love me that I am beautiful but I know that it needs to be believed from within." She then encouraged her followers to stop trying to meet other people's unrealistic expectations. "Just do you and make sure your heart is happy," she added.
This lengthy statement, of course, didn't mark the first time that Khloé addressed the unfair criticism she receives. In the current and final season of Keeping Up With the Kardashians, for example, she revealed that she can no longer share everything on social media because of all of the backlash and unsolicited opinions she gets in return. "My soul is at a breaking point in regards to the public thinking they're allowed to talk about my weight, my face, my personal life," she said. "I've always been incredibly open with this show and my life, but I just don't think I have it in me anymore. It's not healthy for my spirit."