Khloé Kardashian Reveals She Has An Indention On Her Face After Melanoma Surgery
"I'm so incredibly grateful to all the doctors who helped and continue to help me with my skin cancer journey."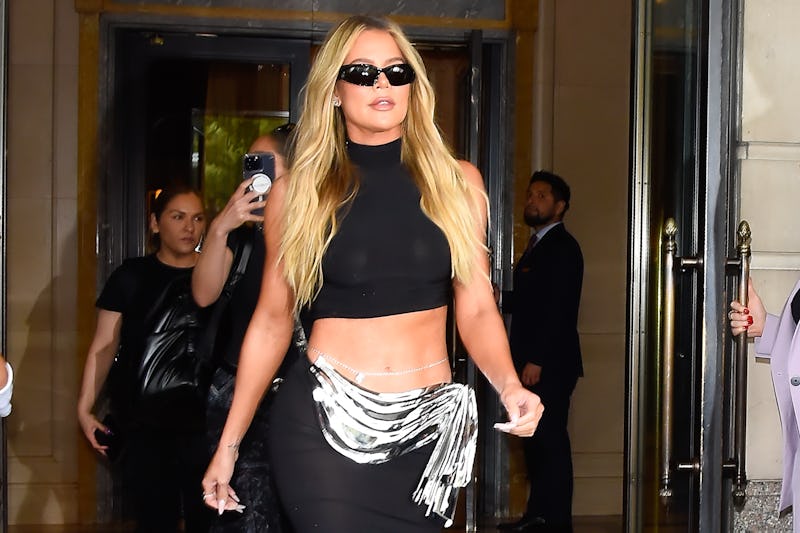 Raymond Hall/GC Images/Getty Images
Months after undergoing surgery to remove a cancerous tumor from her face, Khloé Kardashian is giving fans an update on her health. On Sept. 19, the Good American founder took to her Instagram Story to open up her journey with melanoma, documenting every step of the process from her initial tumor to her post-op side effects, and revealing that the scar from her procedure left a sizable indentation on her cheek.
Kardashian started by thanking the medical team who are working on her cheek indentation, stating that "it will always be something we have to fill due to the mass," before showing love to her doctor for removing the skin cancer. "I am definitely not complaining because I would rather have an indention than melanoma any day," she clarified. "I'm so incredibly grateful to all the doctors who helped and continue to help me with my skin cancer journey."
After sharing multiple pictures of the tumor being removed, her face stitches, and the side effects those stitches caused, the reality star went on to show how her indentation was healing by posting side-by-side photos. "I look insane in these pics but I'm just so happy that my face is slowly coming back together ha," she wrote. "I don't even know how else to word this."
Instagram / Khloé Kardashian
Instagram / Khloé Kardashian
Instagram / Khloé Kardashian
Kardashian went public with her melanoma diagnosis in October 2022, noting that it was "incredibly rare" for someone her age. "After noticing a small bump on my face and assuming it was something as minor as a zit, I decided to get it biopsied 7 months after realizing it was not budging," she said on her Instagram Story. As a result, she wore bandages on her face for months while her scar healed, as she graciously explained to an Instagram troll in February.
As Kardashian told Bustle in July, she wasn't expecting to undergo full-on surgery at all until right before she went in. "The pathologist called and said, 'It spread more than they thought,'" she says. "They were like, 'OK. You have to be put to sleep now.' I drove myself, so I was like, 'Wait. What? I'm not ready to go under.'" Now, she's emphasizing the importance of doing preventative work against skin cancer and getting checked regularly. "I never imagined that this tiny spec would turn into skin cancer," she wrote on her Story. "I can't fathom what could have possibly happened had I not gone to the doctor to get it looked at."