Khloé Kardashian Smokes Weed For Better Sleep — Even Though She Hates It
The Kardashians star talks weird wellness classes, nighttime rituals, and dealing with melanoma.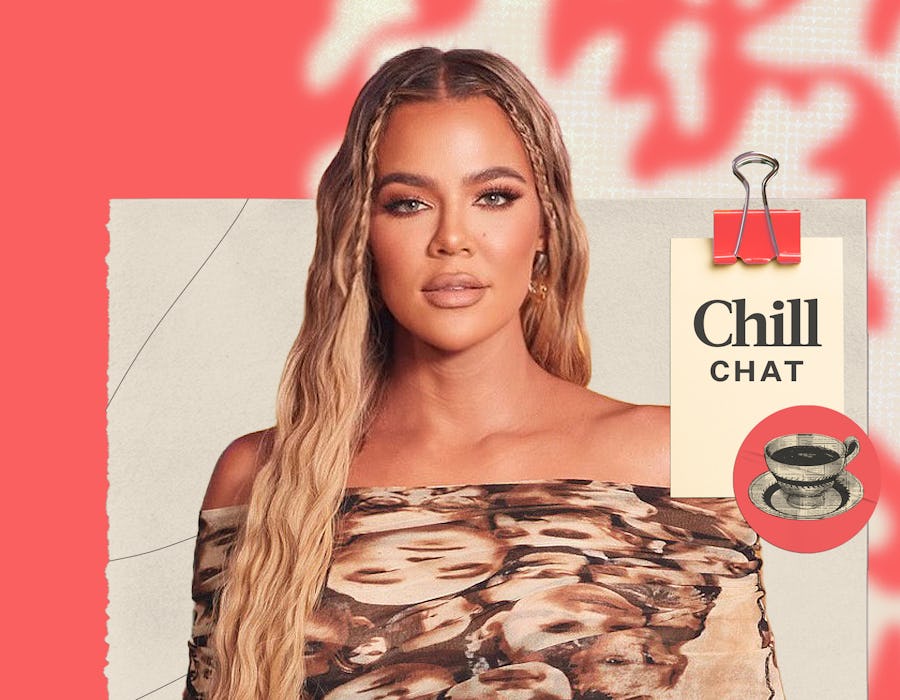 Getty Images
In Chill Chat, Bustle sits down with stars to chat about all things wellness, from their favorite skin care products to their hacks for getting a good night's sleep. Here, Khloé Kardashian shares the surprising way she falls asleep, her weirdest wellness treatment, and her experience with melanoma.
Between producing and starring on The Kardashians, running her Good American denim line, and raising her two kids, Khloé Kardashian wears a lot of hats. But all of that was nearly upended last year after she was diagnosed with melanoma. For more than a year, Kardashian thought a stubborn cystic pimple had grown on her cheek before instincts told her to get it checked out.
The reality star and entrepreneur underwent surgery (as documented on the Hulu series) to remove the skin cancer, which wound up being more invasive than originally thought. "The pathologist called and said, 'It spread more than they thought,'" she tells Bustle. "They were like, 'OK. You have to be put to sleep now.' I drove myself, so I was like, 'Wait. What? I'm not ready to go under.'"
Luckily, the surgery was a success, and Kardashian continued filming with a sizable bandage on her face, which she explained on Instagram. Part of her composure about the procedure came from experience, as the star dealt with the same type of skin cancer when she was 19, shortly after her father Robert Kardashian died. "When you're dealing with a parent that passes away, you're in sort of a brain fog for a little bit," she says. "This [melanoma] was such a significant ordeal, but I don't remember so much of it. I actually didn't even tell my mom until [treatment] was done because I didn't want to scare her, because my dad just died of cancer."
Kardashian's experience has caused her to re-evaluate her entire wellness routine, from the products she uses to how regularly she gets checked at the dermatologist. Here, she chats with Bustle about her self-care practices, including the out-there "hugging class" she tried with Kourtney.
How has melanoma affected your skin care routine?
I've always been really diligent with sunscreen. I don't care to get real tans — I love a good spray tan. In the sun, I'm going to lather up [with SPF] and wear... are they called sun-guards? Long-sleeve shirts, or a hat.
What does your morning routine look like?
I get up around 4:30 so I can work out before I get my kids up for school. As much as I hate that ungodly hour of waking up, I love the quietness. It's my time to myself. I love starting my day with a workout. It keeps me energetic and I just feel accomplished.
Every morning, I say a prayer of gratitude. It puts me in a good headspace. When I don't do that, I sense myself being just a little nastier or on edge or bitchy.
What's your favorite workout right now?
I do a lot of cardio interval circuit training. I love to weight lift. My biggest goal in life is to build leg muscles. I still love Pilates, and I've been taking my nephew, Saint, to go boxing. Boxing is my passion, but sometimes my nails don't permit it.
What songs are on your workout playlist right now?
I do a lot of throwback music, like Tupac, DMX, Lil Wayne — older Lil Wayne. Bruno Mars, Beyoncé, obviously. I like Nivea's "Don't Mess With My Man," and Mariah Carey's "Fantasy." I love a good Janet Jackson moment. My sister, Kim, loves the Jacksons, but she's like, "[The gym] is not the time."
What's the most out-there wellness treatment that you've ever tried?
I don't really know what it was for, but Kourtney once made me do a hugging class. She said it does something with your endorphins. That was interesting.
How do you like to relax at the end of a long day?
Once my kids are asleep, I really like to be in my room, have a couple of hours of not talking, being alone. I'll get in a bath with bath salts. I like to read or watch some really good bad TV.
What's your favorite bad TV show?
How long do we have? I love all things Bravo — I love all the drama. I'm a dork, so I also love the baking shows, but the little kid ones, like Top Chef Jr. or Kids Baking Championship. It relaxes me and puts me to bed. If I start watching Housewives, I won't go to sleep. I'm watching the entire thing.
What do you need in order to get a good night's sleep?
It's hard for me to sleep. I do love Lemme Sleep gummies, but I take quite a few. I turn my phone on silent and I flip it over so I don't see the light because I get distracted. I try to drink Sleepytime Tea, and... I can say I smoke weed, right? I actually hate marijuana, I hate the feeling, but I started smoking at night and it puts me right to sleep — I think because I hate it so much that I'm like, "I can't talk to anyone." Everyone knows to not call me after 10 because if I'm high, I will not answer the phone — I'm so paranoid I'm going to say something stupid, but it helps me.
How do you deal when you feel stressed or overwhelmed?
I go to the gym. I'm someone who just has to get it out. I don't like to burden people with my problems. My personality is wired that way. I never want to add to somebody else's problems if they're having a bad day, so I tend to keep a lot of things in. I'm a big writer.
Would you ever consider writing a book one day?
Probably not a book. When people realize I can write, like with my stupid birthday captions or whatever, everyone's like, "You're so good with your words." It's really vulnerable and personal, so I don't know if I'm comfortable ever sharing those things, but it's so therapeutic. I used to write a lot more on my Instagram, but people would dissect everything, so I tend to just write for myself or my friends and family.
What's the best wellness advice you've ever received?
There's not a one-size-fits-all. I'm not going to say what I do is the Bible and you need to do the same, because it might not work for you. Also, comparison is the thief of joy, and I think we need to compete with ourselves as opposed to looking at others. You have to do what makes your heart happy, and I think the rest just falls into place.
This interview has been edited and condensed for clarity.