Kim Kardashian Addressed Her Split From Kanye West On The KUWTK Reunion
"In no way would I want someone to think that I didn't give it my all, or really try."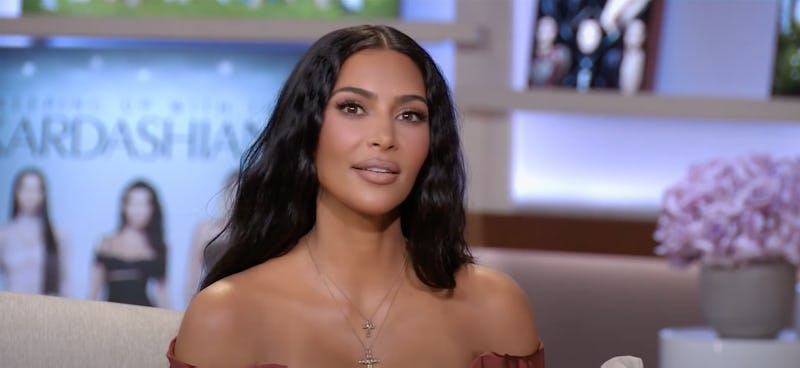 YouTube / Keeping Up With the Kardashians
The first part of Keeping Up With the Kardashians reunion, hosted by Andy Cohen, included what you'd expect from a Real Housewives reunion: accusations, bombshell reveals, and details about huge life events, including Kim Kardashian's recent split from Kanye West. On the June 17 episode, Kim and her famous family, including sisters Khloé and Kourtney Kardashian, Kendall and Kylie Jenner, mom Kris Jenner, and Scott Disick, opened up about everything that went down over 20 seasons of KUWTK, including their past relationships and most viral moments. But one thing Kim kept close to her chest is the exact reason why she decided to file for divorce.
"I honestly don't think I would even say it, here on TV," she said, clarifying that it wasn't just one thing that led to their split. "I think it was just a general difference of opinion on a few things that led to this decision," she said. However, she made it clear that she and West both gave it their all in trying to save the relationship. "In no way would I want someone to think that I didn't give it my all, or really try," she said. "We have four kids. There's nothing that kids want more than to see their parents together. I lived that myself."
On the highly anticipated KUWTK series finale, Kim gave her mom Kris a little more insight into her decision, citing the fact that Kanye primarily spends time at their Wyoming home as a major factor. "I never thought I was lonely," she said. "I could just have my kids, my husband moves from state to state, and I just am on this ride with him, and I was okay with that. Then after turning 40 this year, I realized like, 'No, I don't want a husband that lives in a completely different state to me.' I thought, 'Oh my God, that's when we're getting along the best,' but then that is sad to me, and that's not what I want."
However, on the reunion, Kim made it clear during the reunion that all was currently well between her and Kanye, saying that he will "always be family" to her, especially when it comes to raising their four children, North, Saint, Chicago, and Psalm West. "We have an amazing co-parenting relationship. I respect him so much," she said. "You know, [he] was my friend first, first and foremost, and for a long time, so I can't see that going away. I will forever be Kanye's biggest fan." Well, that might have changed Kanye unfollowed the Kardashian family, including Kim, on Twitter, but Kim did not comment as it happened after the reunion was filmed.
While Kim didn't acknowledge the recent rumors that Kanye was dating model Irina Shayk, she did address some dating speculation of her own, dismissing rumors that she was dating CNN host Van Jones — even though it's helped him in one way. "Van texted me and was like, 'This rumor has gotten me so many dates, and I am so grateful'," she laughed. She also denied ever dating Maluma, explaining that she's only met him a "few times" in Miami but calling him "such a nice guy." Perhaps the rumors will help her find a person that she's happy with soon.