Kanye West Just Unfollowed Kim Kardashian & Her Entire Family On Twitter
The Twitter purge comes during the same week as the series finale of Keeping Up With The Kardashians.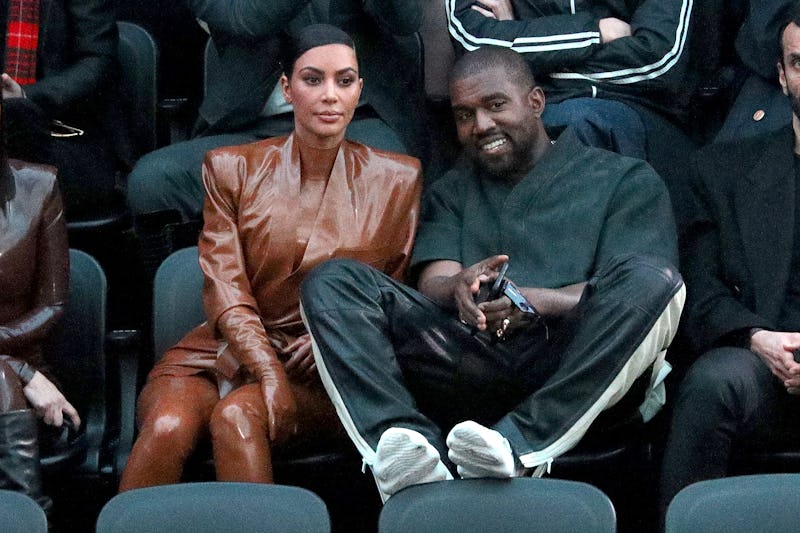 Pierre Suu/Getty Images Entertainment/Getty Images
After a breakup, it's natural to want to stop seeing your ex's face everywhere. So even though it should come as no surprise that Kanye West just unfollowed the entire cast of Keeping Up with the Kardashians on Twitter, fans of his soon-to-be-ex-wife Kim Kardashian and her celebrity family are finding the timing of the Twitter purge fascinating because it happened in the same week as KUWTK coming to end after 20 meme-worthy seasons.
The hip-hop powerhouse no longer counts Kim, Kourtney, Khloé, Kendall, Kylie, mother Kris or any other members of the mixed Kardashian/Jenner clan among people he follows on Twitter, which may be the social media platform he's most active on even though he hasn't posted anything since November 2020.
The unfollowing spree comes almost four months after Kim officially filed for divorce after speculation from fans of the show and the media that she would. The proceedings are apparently moving along amicably, as neither spouse is asking for much in the way of financial support.
On Instagram, West still follows just one person: Kim. They may be on their way to being legally separated, but she is still the mother of their four children, so they will likely remain connected in some ways forever, perhaps on even on Instagram.
Both West and Kardashian are moving on with their lives in different ways, and the divorce doesn't seem to be slowing either one of them down. In the final episode of Keeping Up With The Kardashians, the show that made her a household name, Kim admitted that she's now only searching for happiness, and she doesn't look like she's on the hunt for a new man at the moment, instead focusing on other important matters.
Though she failed her second attempt at a practice law school test, Kardashian seemed undeterred in her latest goal. The reality TV mogul has been clear about her intentions to become a lawyer one day, and she seems willing to put in the work necessary to make that dream a reality. As if that wasn't enough to have on her plate, she's also raising the couple's four children (though Kanye will remain in their lives) and she reportedly has new shows coming.
West, on the other hand, is throwing himself back into a relationship, wasting no time moving on from his first and only wife. The Ye rapper is now involved with model Irina Shayk, and the two have been seen together and rumors are swirling. The newly formed pair recently jetted off to France to celebrate the Grammy winner's birthday.