Kim Kardashian Made A Big Mistake On Kourtney's Birthday Card
Kourtney took the error in stride by mocking her sister.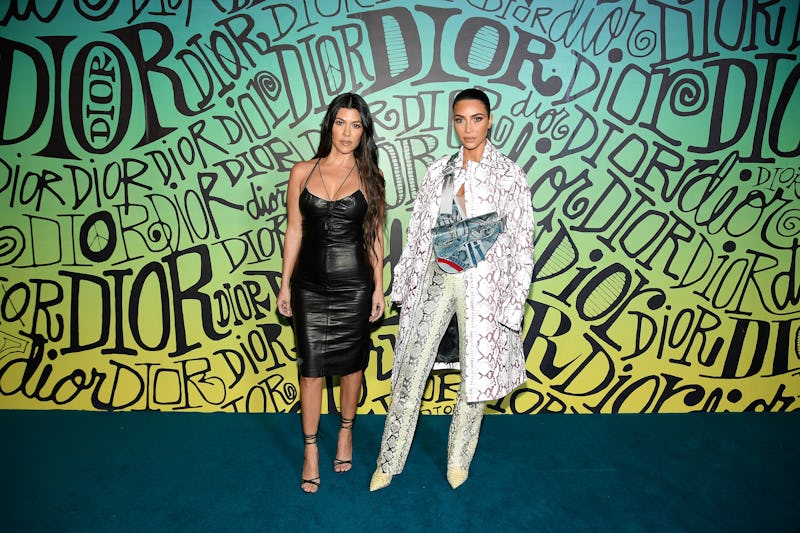 Dimitrios Kambouris/Getty Images Entertainment/Getty Images
Kourtney Kardashian celebrated the big 4-2 on Sunday, April 18, but don't worry if you forgot about it — even her closest family members can't keep track of her age now. Kim Kardashian made a huge error on her sister Kourtney's birthday card, and it proves that she's also trying to forget that 2020 ever happened. Stars, they're just like us!
Taking to her Instagram Story, Kourtney shared a video of the birthday card that Kim gave her for her 42nd birthday, or as Kim thought, her 41st. "Kourtney, Happy 41st birthday," she wrote to her sister. "I pray you have a healthy and happy year. I love you forever! Hope you have the best birthday. Xoxo, Kim." Kourtney took the mistake in stride, mocking her sister on social media. "So Kim thinks I'm 41," she said, laughing. "So I guess last year really didn't count." In all fairness, 2020 shouldn't count for anyone.
What makes this more hilarious is that the birthday card Kim gave Kourtney had a drawing of her iconic crying face, with the caption, "OMG, you're so old!" Apparently, she didn't realize how old. Kim also took Kourtney's call-out in stride, reposting her sister's video on her own Instagram story and commenting "My bad" with a face-palm emoji.
Luckily, Kourtney was showered with lots of love and gifts on her birthday, from people who didn't get her age wrong. Kourtney's new boyfriend Travis Barker built a huge arrangement of tulips and gardenias in her house, even hanging them from her glass ceiling. "Tulips and gardenias are my favorite flowers," she wrote, sharing a photo of Barker's extravagant gesture. "My entire house smells yummy."
For his birthday post, Barker kept things simple by not divulging Kourtney's age at all, but also sharing a (slightly NSFW) slideshow of their most affectionate moments, including a video of Kourtney sucking his thumb. Yes, you read that correctly. "I F*CKING LOVE YOU!" he captioned the Instagram post. "YOU'RE A BLESSING TO THIS WORLD. HAPPY BIRTHDAY @kourtneykardash."