Travis Barker's NSFW Birthday Post For Kourtney Kardashian Proves He's In Love
The drummer just shared some of the couple's most intimate moments.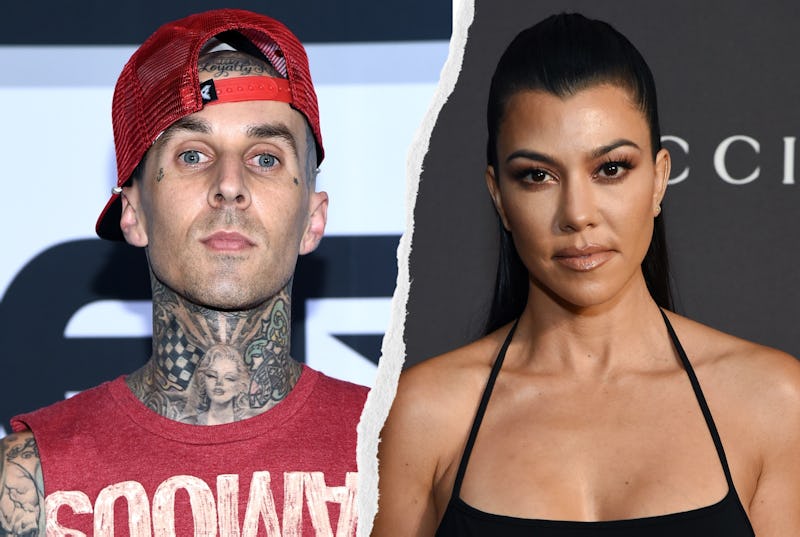 (Michael Buckner/Getty Images Entertainment/Getty Images)/(Michael Kovac/Getty Images Entertainment/Getty Images)
If the extravagant flower arrangement didn't give it away, Travis Barker is head over heels in love with Kourtney Kardashian. On Sunday, April 18, after filling the 42-year-old reality star's home with tulips and gardenias for her birthday, the Blink-182 drummer took to Instagram to profess his love for the Poosh founder. "I F*CKING LOVE YOU!" he wrote alongside a series of PDA-filled photos and one very NSFW video. "YOU'RE A BLESSING TO THIS WORLD. HAPPY BIRTHDAY @kourtneykardash."
The photos that Barker shared were of some of the couple's most intimate moments, including two pictures of them making out in public. He also posted images of them holding hands, snuggling by a fire, and another of him gently grazing Kardashian's foot. However, the most NSFW part of the post was definitely the last slide, which was a clip of the Keeping Up With the Kardashians star sucking on the drummer's thumb.
While this certainly was the most revealing post that Barker has ever shared about their relationship, it's definitely not the only NSFW moment on his Instagram feed. Earlier this month, for example, the musician gave his followers a window into the couple's sex life when he tagged Kardashian in a photo of him playing drums and throwing his drumsticks in the air. "All day I dream about sex w/ you," he captioned the post, proving that subtlety isn't his strong suit.
To be fair, Kardashian hasn't been very subtle about their romance, either. Early on in their relationship, which was first confirmed by People in January 2021, she started writing Barker romantic love notes. "To lots of fun adventures," one of them read. "May we destroy each other completely." In another letter that the musician shared to his stories, the KUWTK star wrote "I love you" in her signature handwriting. Most recently, during a joint family ski trip, Kardashian referred to Barker as her "boyfriend" in a viral TikTok shared by his daughter Alabama.
Even if Barker and Kardashian weren't as open about their romance on social media as they are, fans wouldn't have to investigate too deeply to figure out that they're crazy about each other. Barker, for example, recently got the reality star's name permanently tattooed, and it apparently isn't the only ink he has in her honor. In late March, the 45-year-old father of two shared a photo of a tattoo on his thigh inspired by Quentin Tarantino's movie True Romance. In January, weeks before their relationship was even confirmed, Kardashian posted a still from the film on her Instagram feed, proving that the movie holds special meaning for the couple.
Barker first spoke publicly about their relationship during an interview on The Drew Barrymore Show in early March. When asked about his relationship and if he prefers dating women with children over women without, the drummer answered honestly. "I dated girls who didn't have kids, and I find it hard because they would have trouble understanding like, 'Why don't you want to go to dinner every night with me?' or 'Why don't you want to see me every night?'" he said. "Now I'm spending time with a woman who's a great mom, who's a great friend, and you don't have to worry about any of those things."
The drummer added that he and Kardashian are at a point in their lives where they're able to have a mature relationship. "It just comes natural," he continued. "It's like a maturity thing. And I also really like missing someone and cherishing the time that I spend with them instead of every day being with them, especially in the beginning of the relationship. I think missing someone is so important."