Kim Kardashian Honors Kris Jenner With Belated Mother's Day Throwback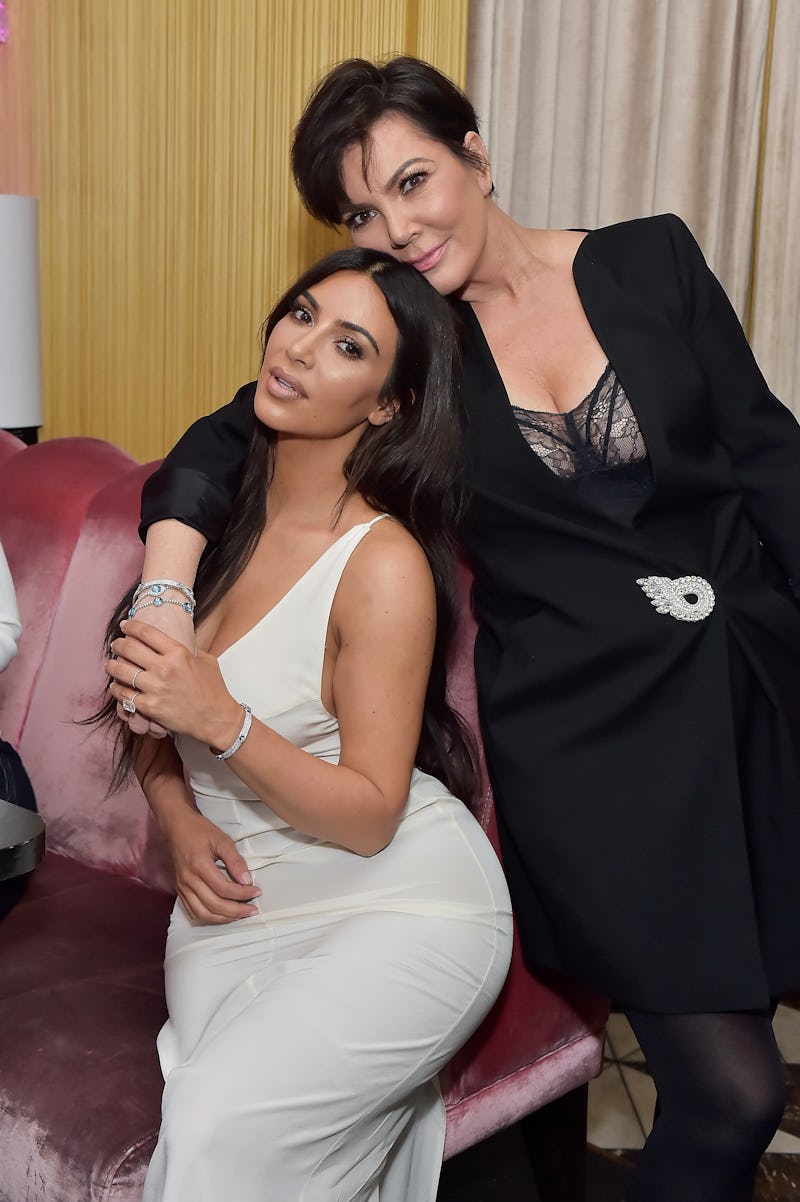 Stefanie Keenan/Getty Images Entertainment/Getty Images
On Sunday, May 14, some of the biggest names in showbiz celebrated Mother's Day with some heartwarming online messages. Eagle-eyed fans may have noticed that Kim Kardashian was notably silent on Mothering Day, and failed to share an expected Instagram tribute to her "momager" Kris Jenner. However, in a belated post on Tuesday, May 16, the reality TV superstar honored her "mommy" with a nostalgic throwback showcasing Jenner's 2000s red carpet style.
Alongside a photograph of her mother sporting a "Bling Bling" tank top at the 2003 Finding Nemo premiere, Kim wrote in a caption: "There's no one more thoughtful, sentimental, generous, supportive, and forgiving than you. You truly are the life of every party! No one has ever made a kaftan on a yacht look better than you."
Clarifying the tardiness of her Mother's Day post, the SKIMS founder added: "I didn't forget to post on Mother's Day, I just figured I had a better chance of you seeing it today." Commenting under the IG snap, Jenner expressed her appreciation, writing back: "I love you so much" along with several heart-eyed emojis.
Fans were also quick to comment on Jenner's "Y2K fashion" on full display in the "iconic" Mother's Day tribute, with one fan commenting: "I need this style to come back."
As for her Mother's Day celebrations, Kim marked the occasion with a special brunch attended by Jenner and her two sisters, Khloé and Kourtney Kardashian, who also brought along their kids. As per PEOPLE, Kim was also presented with a video card from her four children, North, Saint, Chicago, and Psalm, which the reality star shared with fans on her Instagram Stories.
Kim's Mother's Day surprise was overseen by younger sister Khloé and featured heartwarming pre-recorded video messages from each of her children, including 7-year-old Saint, who called his mother "my favorite in the family."
"Mom, I'm really grateful for you," the youngster continued. "I know I'm rude to you a lot, I say you're nothing to me, but you mean the world to me. I love you more than anything. I even love you more than my cute little brother Psalm. I love you. Never forget that."
This article was originally published on