Nicola Coughlan Made Kim Kardashian An Honorary Bridgerton Duchess
Lady Whistledown invited the "Duchess Kardashian of Calabasas" to set, calling her the No. 1 Bridgerton stan.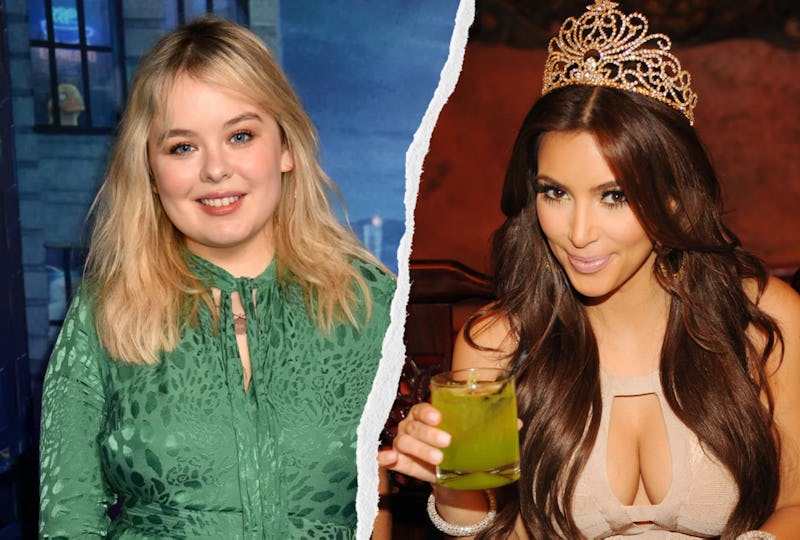 Dave J Hogan/Denise Truscello/WireImage/Getty Images
Please rise for Duchess Kardashian of Calabasas. Nicola Coughlan revealed a Kardashian family connection to Bridgerton, and Kim Kardashian, who has made it clear how much she loves the hit Netflix show, was totally stunned. Coughlan posed a question on Twitter about Kardashian on April 20, deeming her "the world's number one Bridgerton stan" in the process.
"Does @KimKardashian know that the Kardashians were a massive inspiration for the Featheringtons and we talked about them all the time during our fittings?" she asked, referring to her character's (somewhat) noble family on the show. "Because I feel like she should know this." Kardashian responded minutes later, revealing she has a Bridgerton group chat, which is how she found out about Coughlan's tweet. "WHAT?!?! I am freaking out!!!!!!" she wrote. "Can I please come to a fitting?!?! It would make my whole life!!!!!! I love you Lady W!!!"
Their sweet interaction kept going, with Coughlan officially extending her an invitation to set and revealing another surprising connection that she has to the show. "Omg yesss of course we would love to have you!" Coughlan responded. "Also did you know that Mr. Pearl made your corset for the Met Gala and the very next one he made was mine for Bridgerton? You've been part of the Bridgerton world for longer than you know!"
Kardashian did not take this news lightly. "OMG I'm gonna faint!!!!!!" she wrote. "Does this make me an honorary Duchess in Bridgerton?!?!?!? I am the corset Queen!!!" As a matter of fact, it does, with Coughlan officially bestowing her with an honorary title. "Why of course, Duchess Kardashian of Calabasas!" she said. "Lady Whistledown is happy to declare you the season's true incomparable." Spoiler alert: if any Bridgerton cast member can speak for Lady Whistledown, it's Coughlan, and Kardashian is taking on her new role with pride. "I will wear this title proudly and not let you down Lady Whistledown!" she promised.
Bridgerton has many fans, with more than 80 million viewers tuning into the show within its first month, but Kardashian has proven to be its biggest supporter. In March, she documented her first time watching the show on her Instagram Story, proving she was just as emotional about the love story between Simon, Duke of Hastings (Regé-Jean Page) and Daphne Bridgerton (Phoebe Dynevor) as the rest of us. "I'm not ok!!!!" she wrote after seeing their breathtaking waltz dance. "What is happening?!?! I'm not crying!"
Proving once again that stars are just like us, there was no one more upset than Kardashian when Page announced that he wouldn't return to Bridgerton after its first season, commenting "Wait!!!! WHAT????" on the show's Instagram announcement. She also reposted the news on her Instagram Story, reacting in disbelief. "I'm NOT ok!!!!!" she wrote. "What is happening!!??? How can this be?" Perhaps Duchess Kardashian of Calabasas really does need to make a cameo appearance next season — if only to avenge for the Duke's absence.