The Kylie (Minogue VS. Jenner) Lawsuit, Explained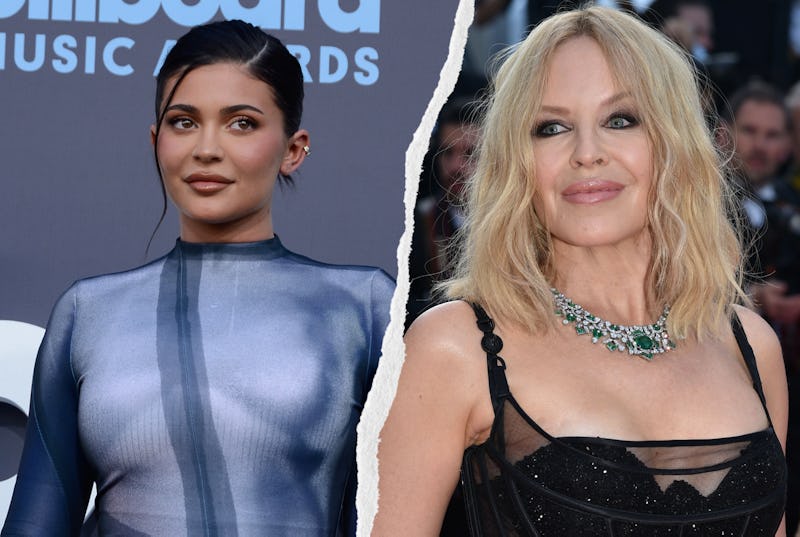 Getty Images
The internet loves a good feud. Long before the WAGatha Christie drama, the two most famous Kylies of the world were battling it out over who got to use the trademark. The case has long since been settled, but the singer recently referred to the drama as "just business". So what actually happened between Kylie Jenner and Kylie Minogue, and did they ever come to an agreement?
In April 2015, Jenner filed papers with the US Patent and Trademark Office (USPTO) to trademark "KYLIE" for "advertising" and "endorsement services" with the United States. This was around the same time she founded her multi-billion dollar business Kylie Cosmetics. Just under a year later, in February 2016, an Australian-based firm representing Minogue filed a notice of opposition, noting that Minogue had been selling products under the "KYLIE" brand long before Jenner. They also stated that customers buying Jenner's products under that name "would likely be confused, be mistaken, or be deceived" into believing they were buying something from Minogue.
In the filing, Minogue's team described their client as an "internationally-renowned performing artist, humanitarian, and breast cancer activist known worldwide simply as 'Kylie'", going on to define Jenner as "a secondary reality television personality" whose "photographic exhibitionism and controversial posts" on social media "have drawn criticism."
According to BBC, by January 2017, Minogue's team withdrew the application, which raised "the possibility that they agreed to a settlement". However, a month later, the USPTO declined Jenner's trademark application.
Jenner has remained silent, but Minogue has been very open about the fiasco. During a recent appearance on Watch What Happens Live, the singer expressed that she has "spent a lifetime protecting my and building my brand so it was just something that had to be done." She also revealed that they'd come to an agreement, but didn't specify exactly what it entailed.
However, a quick glance at Kylie Cosmetics tells you all you need to know. While Jenner couldn't trademark her first name for the brand itself, she has used it for specific ranges like her lip kits which are sold as "Kylie by Kylie Jenner".
Previously, Minogue spoke of her dismay that some of the wording used by her lawyers became attributed to her – specifically the "secondary reality television personality" jibe. "Can you imagine me saying that?! That was just unfortunate that that is how those lawyers speak," she told Rolling Stone in 2018. "So I genuinely hope that it's understood: That certainly did not come from me."
When asked a year later how it felt to be "the dominant Kylie" by Paper Magazine, Minogue found it "hilarious that it's caused such a kerfuffle" within the industry. "I think she has done amazingly well, but I think it's just important that people know that there is room for more than one Kylie." But as she noted during her interview with Rolling Stone, fighting for your trademark is "really important". As Minogue explained: "I've been doing that for years and years. It was just causing confusion with customers. As long as it's clear, then we can all win."