Kylie Jenner Thinks Tristan Thompson Might Be "The Worst Person On The Planet"
On The Kardashians, Khloé's family found out he cheated on her from paternity test results.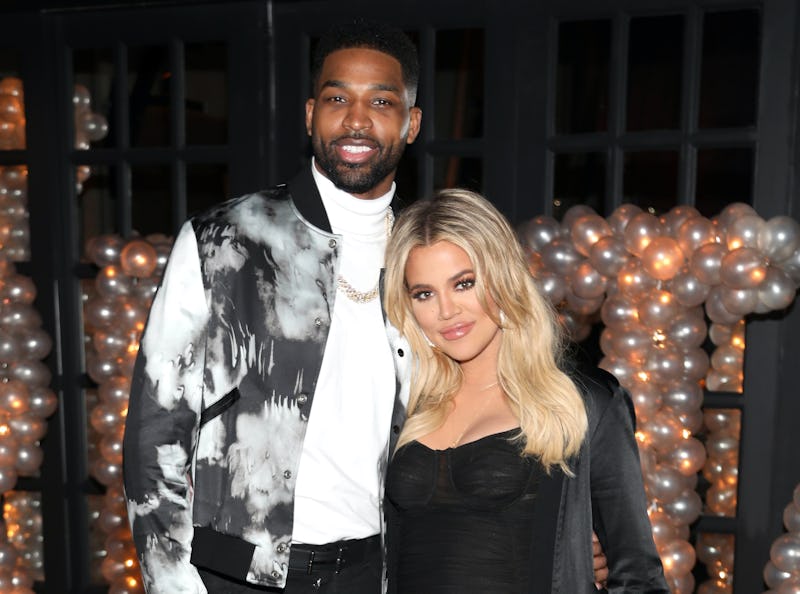 Jerritt Clark/Getty Images for Remy Martin
Tristan Thompson has some explaining to do. On the June 9 episode of The Kardashians, Khloé Kardashian's family found out about her ex-boyfriend's paternity scandal — before Khloé did — leading her sister Kylie Jenner to question if Tristan was "the worst person on the planet," considering this was the third time he allegedly cheated on Khloé while they were together.
It all went down at 6:30 a.m. on Dec. 1, 2021, when Kim Kardashian was the first to discover Tristan's response to a paternity lawsuit that Maralee Nichols filed in June 2021, in which she claimed the two conceived a child three months prior. In his statement, Tristan acknowledged that he had sex with Nichols after his 30th birthday in March 2021, when he was in a public relationship with Khloé, but could not confirm whether he was the father of her child, who was due to be born the same day the lawsuit was reported publicly.
"You're lying," Kylie told Kim when she got on the phone, and when Kim confirmed otherwise, Kylie asked, "Is Tristan, like, the worst person on the planet?" Kim seemed like she was about to agree but stopped short in front of the cameras. "No, I know — I'm filming right now," she warned Kylie. "But this is always what happens with us, because I'm always filming when this sh*t happens."
Nichols gave birth to her son Theo on Dec. 1, and on Jan. 4, 2022, DNA test results confirmed that Tristan was the baby's father. "Khloé, you don't deserve this," he wrote in an Instagram Story after announcing the news. "You don't deserve the heartache and humiliation I have caused you. You don't deserve the way I have treated you over the years. My actions certainly have not lined up with the way I view you. I have the utmost respect and love for you. Regardless of what you may think. Again, I am so incredibly sorry."
After Kourtney joined the call, calling Tristan's actions "never-ending betrayal," Kim explained what may be the most hurtful part of the ordeal for Khloé. "The whole thing that's so sad is she wants a baby boy, and now this girl's having a f*cking baby boy?" she said. "A f*cking random that he sleeps with one night? F*ck him." The sisters agreed that Khloé didn't deserve this treatment and may have to break up with Tristan for good. "This has to be her final sign," Kylie said.
"This couldn't be more awful," Kourtney concurred. "I just didn't know she knew about this." But Kim was quick to correct her. "We don't know if she knows. How do we know if she knows?" she asked, before Khloé finally called Kim back.
The episode ends on a cliffhanger, meaning fans will have to watch the season finale to see Khloé's initial response, but given her first words to Kim, it doesn't sound like she knew anything. "What the f*ck is this?" she asked.