Laverne Cox Shared The Touching Story Behind Her Groundbreaking Barbie Doll
The actor's tribute Barbie is more than just a doll.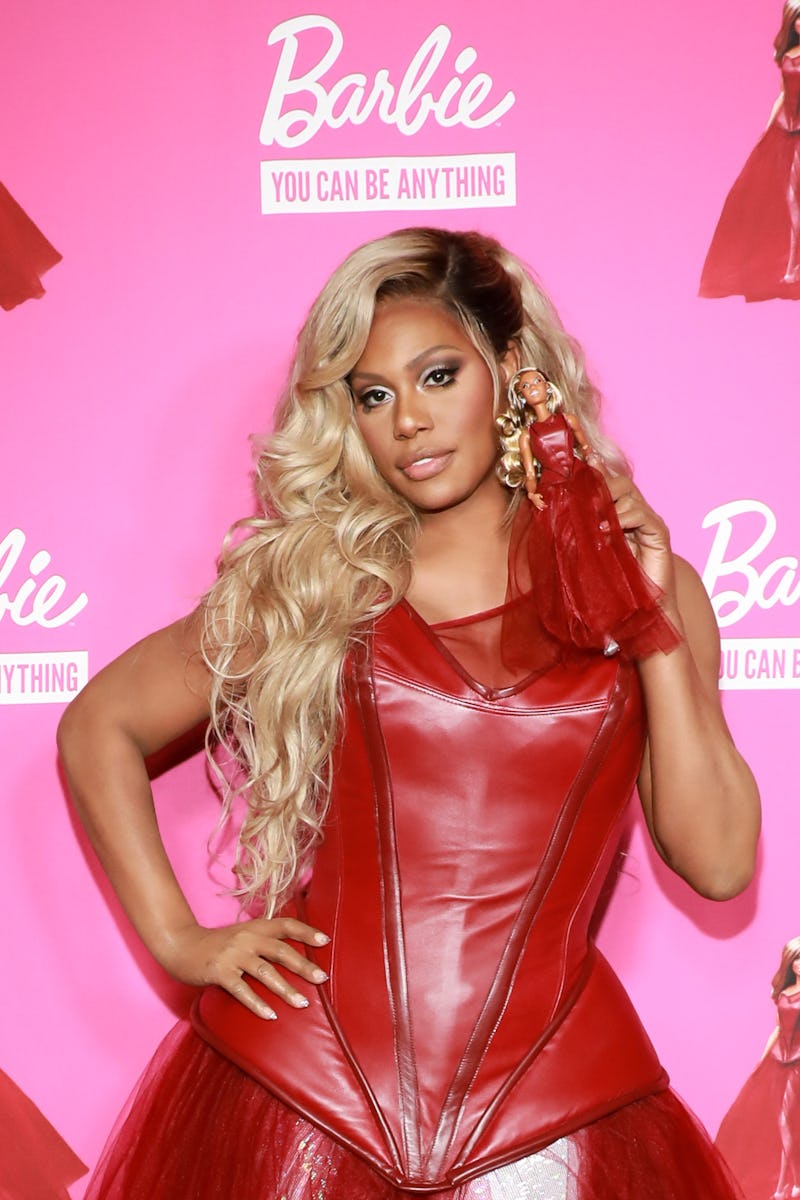 Jason Mendez/Getty Images Entertainment/Getty Images
Laverne Cox got an especially unique birthday present this year: her own Barbie doll. The actor and advocate is the latest celebrity to inspire an addition to Barbie's tribute collection, and she's made no secret of how touched she is to have the brand's first transgender doll created in her image. In fact, Cox opened up about the role Barbie has had in healing her past trauma as an adult and what she hopes her doll will represent to trans youth.
"As a kid, I wanted a Barbie doll so badly and my mother did not allow me to have one," Cox explained in a video she posted to Instagram on May 27. "It was painful, and my therapist said, 'It's never too late to have a happy childhood, so you should go and buy yourself a Barbie and play with her.' And so I did. I went out and bought a Barbie doll and I played with her and I dressed her, and it was a way for me to heal my inner child."
Also in the video, Cox shared that she told her mom about getting herself the doll — and for Christmas, that's what her mom finally got her. "It was so deeply and beautifully healing," Cox added. It's made being the inspiration for a Barbie all the more special to her, as she described while introducing her Barbie on the Today show on May 25.
"I think this year particularly, when over 250 pieces of anti-transgender legislation have been introduced in state legislatures all over the country, targeting transgender children, LGBTQ youth, that I hope all the kids who are feeling stigmatized when their health care is being jeopardized, their ability to play in sports, I hope they can see this Barbie and have a sense of hope and possibility," Cox said. "If they don't see themselves in this Barbie, I hope they know that they can create spaces where they do see themselves, where they are represented, because representation matters."
The Orange Is the New Black vet, who is celebrating her 50th birthday this year, combined her birthday "extravaganza" with her Barbie's launch party and showcased her stunning look on Instagram on May 28. Fittingly, she matched her Barbie, wearing a custom design by Garo Sparo. Her doll's outfit had been important to her, and she worked on with Mattel's team to come up with pieces that you can mix and match to create multiple looks while keeping the price point at $40.
"I love her and I had so much fun collaborating with everyone at Mattel, designing her," Cox added on Today.
It sounds like she had the best birthday, with the best gift, ever.