Leslie Fhima From The Golden Bachelor Previously Dated Prince
The late music icon reportedly wrote a song about her.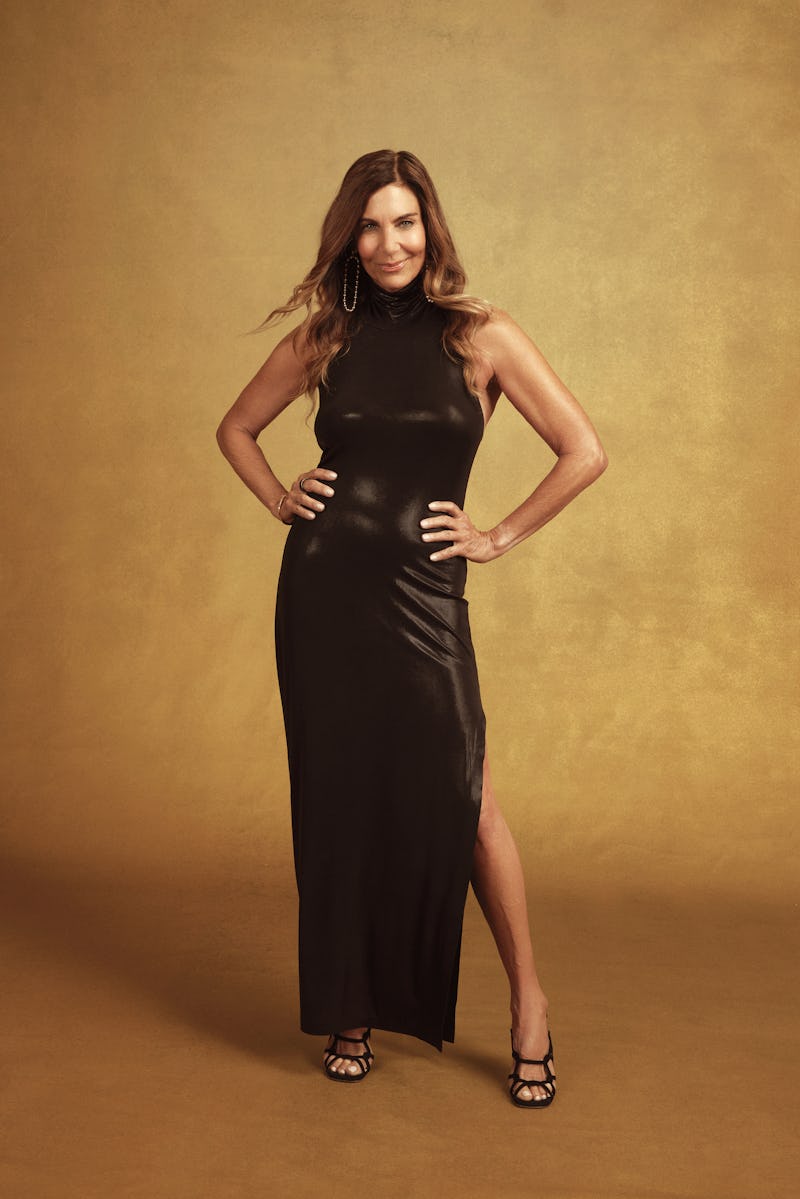 ABC/Ricky Middlesworth
Leslie Fhima started watching The Bachelor when her children were younger, and has been hooked ever since. So when ABC announced it was casting for The Golden Bachelor, a new spin-off of The Bachelor about a senior's quest to find love, the 64-year-old fitness instructor jumped at the opportunity and applied.
Leslie says she's looking for a man who will enhance her life, and is ready to put it all on the line to pursue the show's inaugural lead, 71-year-old widower Gerry Turner. When producers asked in a Golden Bachelor teaser why she's looking for love now, the Minneapolis mother of three replied with a laugh: "I've been ready for a long time!"
That doesn't mean her dating life has lacked excitement, though. Leslie's son, Eli Fhima, said in an interview with Minnesota's Star Tribune that Leslie dated Prince in her late teens and early 20s — and that she inspired Prince's 1979 song, "Sexy Dancer." Eli further claimed that his mom ended the romance to tour Europe with the Ice Follies. "Not only did she date Prince, but she broke up with Prince," he said.
And that's not all there is to know about Leslie. Below, all the details on the Golden Bachelor contestant.
Leslie Fhima's Job
According to Leslie's Golden Bachelor bio, though she "may best be known as a former professional figure skater," she's also a former aerobics champion, and has run 10 marathons. Athletics are still a major part of her life: Leslie now works as a personal trainer and is passionate about helping others live their best lives. She opened her first fitness studio in the '80s, and now runs her own fitness company, Soul612, while also working as an instructor at Lifetime Athletic, per her LinkedIn.
Outside of the wellness world, Leslie is also the founder of PowerBark, which sells a product that she describes as a "meal on the run for the dog on the go." She explained in a LinkedIn post why she was inspired to create a canine meal replacement bar: "As a personal trainer, I'd often take my dog Sadie with me all day. She would miss her meals until we got home later. I was eating a protein bar one day when I thought 'why can't there be something like this for dogs?'"
Leslie Fhima's Family
Leslie — who split from her ex, restaurateur David Fhima, in the '90s — has three adult children and is a self-described "glama" to three grandkids. She also loves spending time with her mini Aussiedoodle, Billie.
The Star Tribune featured Leslie in a 2020 article about a "new breed of active, tech-savvy grandparents," in which she described herself as constantly on the move: sledding, swimming, having dance parties with her grandkids, and teaching her grandson to snowboard. "I keep their car seats in my car so we're always ready to go," Leslie said. "I used to joke, that's a real buzzkill when guys walk me to my car after a date."
Leslie Fhima's Instagram
Outside of showcasing her love for figure skating and dancing, Leslie uses Instagram to share her "glama" adventures — including their dance parties and outings to Minnesota pro sporting events — and speak about how important the role is to her.
"Sometimes I wake up and I still can't believe this world.. it's so foreign.. unknown.. often scary," she captioned a 2020 Instagram post. "Then I take a walk with my grandkids and remember to see it through their eyes.. a simpler time where going to get ice cream and watching the sunset is just fine for them.. being with the people who matters most in their life and spending quality time with all of us."
She also posts on Instagram about music. In addition to posting about the time she met her favorite Bachelorette, Michelle Young, at a Giveon concert in September 2022, Leslie also shared content from an "amazing" Lil Wayne show in April. In her ABC bio, she also says Lady Gaga and Post Malone top her Best Concerts Ever list.
Spoilers For Leslie Fhima's Golden Bachelor Journey
Potential spoilers ahead for Leslie's Golden Bachelor journey. Even before it was announced that Leslie would appear on the Golden Bachelor, Reality Steve reported that Gerry was filming a hometown date in Minnesota. On Aug. 30, the Bachelor Nation blogger shared more details, claiming that Leslie took Gerry on a hometown date, and that she was one of the final two contestants who meet Gerry's family in Costa Rica ahead of the final rose ceremony.