How Pose Changed The Lives Of The People Who Made It
"This show marks impossible dreams coming true."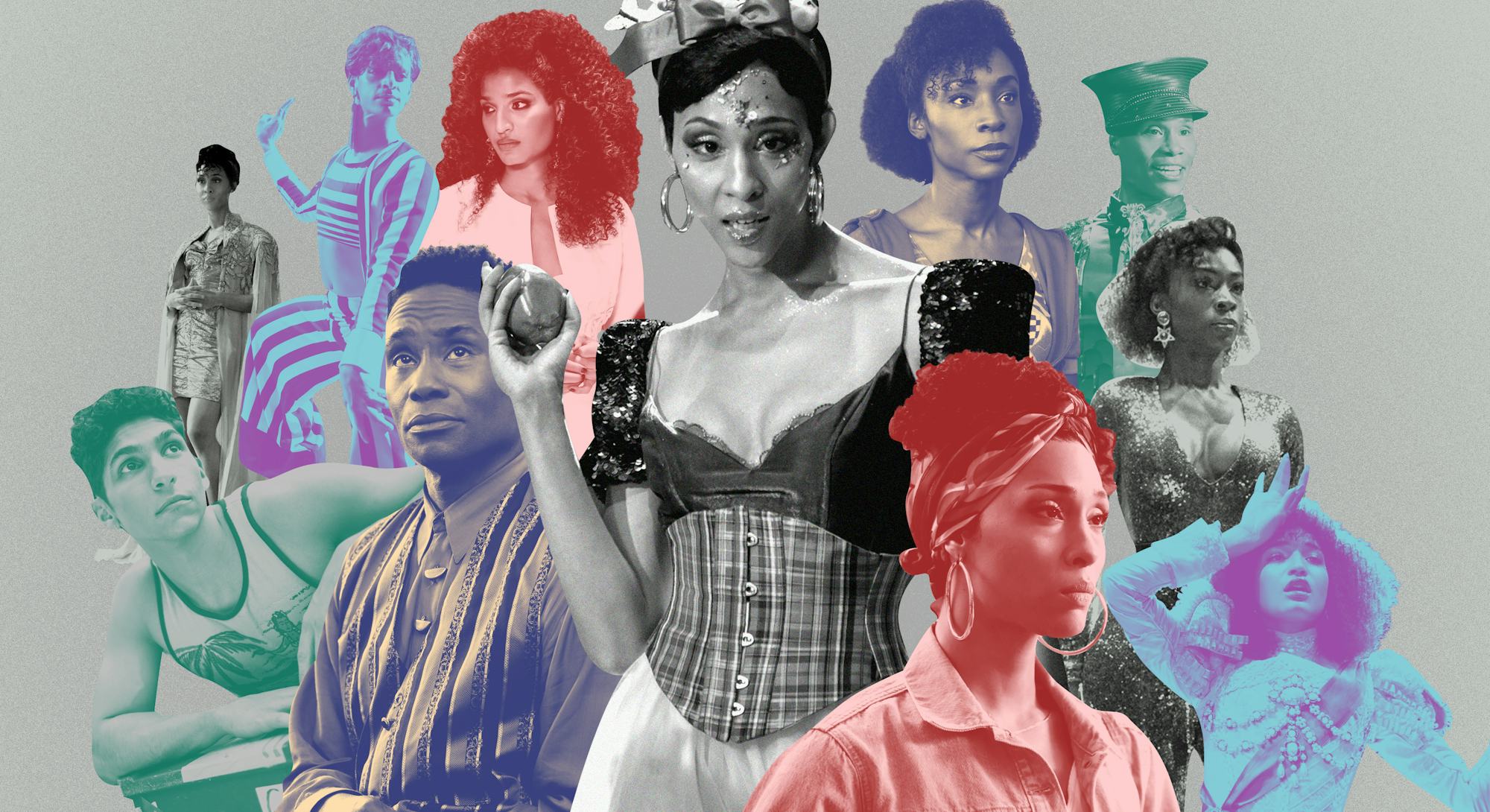 When Pose premiered in 2018, transgender representation was growing onscreen, but Hollywood seemed unsure of what to do with the trans women in their stories. Amazon controversially cast a man in its leading trans role for the otherwise groundbreaking Transparent; movies continually portrayed trans people as tragic figures.
Enter Pose. Set within the New York ballroom scene in the '80s and '90s, the show featured the largest-ever cast of actors who are transgender, centered trans women of color, and told layered stories about characters rarely given the space to show their full selves onscreen. At its heart, it was a tribute to the real women who built and embodied ball culture but never got due credit. "This show was always created with the intention of paying homage, really, not only to those intrepid individuals who were part of the balls and survived New York in the '80s, but also specifically to the trans community and trans women who really helped to build it in the '70s, and who have essentially been erased from history," series co-creator Steven Canals told AssignmentX in 2018.
Pose's series finale on June 6 after three seasons feels both too soon and just right; the show knew how to make the most of its time on the floor. Amid the massive shift in mainstream conversation about trans rights that unfolded throughout its three years on air, Pose brought those discussions to living rooms across the world with authenticity as its anchor. Canals and his co-creator Ryan Murphy consulted with folks from the ballroom community to ensure accuracy and tapped Janet Mock as a writer, producer, and director to help portray the trans women in the series realistically.
"It was the first time you had trans actors in trans roles played by trans people that were directed by trans people," says Angelica Ross, who played Candy. "When you look at performances from actors like MJ Rodriguez and Indya Moore and myself and Hailie Sahar, and you look at them next to a man pretending to be a trans woman, you can see where most of the story is focusing on a superficial understanding of being trans."
Throughout its run, Pose tackled everything from the realities of the AIDS crisis to the incredible passion of the LGBTQIA+ community — for the ballroom scene, and also for each other. Below, stars MJ Rodriguez (Blanca Evangelista), Angelica Ross (Candy Johnson-Ferocity), Angel Bismark Curiel (Lil Papi), and Billy Porter (Pray Tell) reflect on the show's legacy, the most meaningful episodes, and how the series changed their lives.
On landing a dream job
From the beginning, Pose was poised to make history: the casting call looked to build the largest-ever cast of transgender actors in series regular roles alongside a large LGBTQIA+ crew and recurring cast.
Angelica Ross: I had really no clue what the show was going to be about except for that it was going to focus around a ballroom community. I had some experience in the ballroom community, but mostly I have experience in the pageant community. And they were looking for a woman, Elektra, who they described as a little bit older, and they were looking for Blanca, who they described as a Latinx trans woman. So I really didn't think that I saw myself in the show at first [and] I wasn't going to audition. It wasn't until my agents told me that they had already been talking with casting about me that I auditioned and got a callback, even though I found out I didn't get the role of Blanca. They called me months later to tell me that they had written a role for me with Candy.
"It was the beginning of the best period of my life."
Angel Bismark Curiel: I had a feeling I didn't really have too often when I picked up material, just like, "Oh my god, this guy is me." I've never had that kind of confidence before coming into auditions. I wasn't even really [in the audition room] for too long; I left and tried to get it out of my head. But I remember I had a really hard time letting [the audition] go. Two or three weeks passed by and just as I was starting to move on, I got a call from my agent and she said, "Are you sitting down?" Sure enough, it was the beginning of the best period of my life.
Billy Porter: I had been so frustrated with the lack of work that was available to me [after winning a] Tony and Grammy [for Kinky Boots]. I had more auditions in that particular pilot season than I'd ever had in my entire life, [but] the dismissive feedback was the same. If the description of the character didn't include "flamboyantly…" I wouldn't even get called in for it, and then [if I went in], the feedback would be that I'm too flamboyant. This one day [after getting that feedback again], the back of my head blew off. I hung up the phone [after complaining to my sister] and my manager called with the audition for Pose. I said, "You have got to be kidding."
Originally there was no character of Pray Tell, so I was auditioning for what became the Charlayne Woodard part, who is the dance teacher of Damon. I went into the audition knowing that was not the right part [for me]. It was the Tony award and the Grammy award that gave me the courage and the space to propose to the casting director that maybe they should be calling me in to be in the ballroom world. I was like, "I was there; I lived it. Isn't there [an emcee] of the house of something?" Because I know the world! That's when they informed me it was going to be the largest cast of transgender women and I just cried. I was like, "This is going to be major — please, please ask [Ryan Murphy] if there's something in that world I can be a part of." He agreed and created Pray Tell for me, and it has been one of the greatest gifts of my life.
On filming their first scene
The first season followed Blanca (MJ Rodriguez) as she set out on her own to form the House of Evangelista and challenge her old house — the House of Abundance, run by the ever-commanding Elektra (Dominique Jackson) — in the ballroom scene of New York in the 1980s.
MJ Rodriguez: My first scene was actually in Washington Square Park with Ryan Jamaal Swain. It was Blanca introducing herself to Damon for the very first time. And all I had to do was walk up, put a little quarter in the cup, and ask him some questions. But I was nervous as all hell! Every single moment I was like, "Just don't flub, girl. Don't flip with these heels you've got on because you know how to pump. Don't fall."
Ross: Our first scene we shot was in the House of Abundance. We all were fresh and in this big room filming together, and I just remember all of us being a little bit nervous. In between takes, we would talk about how real the content was for us and these stories of other girls that we knew.
Curiel: The first scene I had was a dinner scene in the House of Evangelista in Harlem. That was also the first day I got to meet Ryan Jamaal Swain, MJ Rodriguez, and Indya Moore, who were all fantastic. They had already been filming a few days and they did not ever make me feel like an outsider. I felt so loved from the jump, so accepted by everyone that I think it made me want to go even bigger and better the next day.
"He said, 'Release the kraken, bitch!'"
Porter: [My] very first scene was with Ryan and MJ in Pray Tell's house, when she tells him that she has HIV. To be in the room with [Ryan Murphy], who had been on my vision board for almost 15 years, just took my breath away.
But it was the first ball scene that really solidified my place and my confidence. I was standing at the podium for the category of Royalty, and I was giving the performance that I thought was necessary: the toned down, television version that was expected of me. Because all of the notes and the comments that I've received in the past were that I was too big, I was too much. So I did the first pass, and in the middle of it I heard "Cut!" and Ryan came up to me on the stage and said, "I need all of you. I want all of it. You never have to worry about being too much anymore; I got you." And I was like, "OK, but once you let the kraken out, she don't go back in!" And he said, "Release the kraken, bitch!"
That was the moment that the signature of me pulling the microphone down to my mouth came from. I've never felt safer, I've never felt more seen, and it really released me and freed me to be what you see Pray Tell is today.
On seeing the public's response
Season 1 scored rave reviews, with a 96% rating on Rotten Tomatoes. The show seemed like the perfect balance of Murphy's soapy opulence and confident representation of the LGBTQIA+ community. But for many in the cast, it was the public's reaction that mattered the most.
Ross: There was a feeling that Pose was going to be a big show, but none of us really knew what that meant. We knew that Ryan Murphy had experience with Glee and Nip/Tuck and American Horror Story, so we knew we were in good company. But a show that was going to be focused mostly on queer people and Black and brown trans folks? We weren't sure that the mainstream audience would be ready for all the truth and realness that we bring to the screen. But eventually we found out that they were ready and they're actually hoping for more.
Rodriguez: My first reaction to the public receiving the show was beautifully overwhelming. I didn't know how it would be received, these very in-depth and raw stories we were telling. And I was so afraid that the world would probably judge our process and who we are and what we have to go through. But honey, I was proved wrong, and I was very happy I was wrong.
Porter: FX spent a huge budget on us — Ryan Murphy made sure — so [it was being promoted]. And as more and more people began to realize that the show existed, the love grew beyond anything that we could have imagined. I have friends who called me who I haven't spoken to in years who I have lived through the AIDS crisis with, who said, "It's such a healing piece of work because it's allowing for those of us who never had a chance to process that time and process that trauma." That's really, really powerful.
On the most meaningful episodes
Pose had a quiet grace that allowed it to examine deeper issues with a humane and thoughtful eye. It covered racism in the church, inter-LGBTQIA+ community debates, how the AIDS crisis left people of color behind, and violence against trans people.
Porter: They are all meaningful, but I'll pick one: Season 3's "Take Me to Church." In between Season 1 and Season 2, Ryan asked me what it was I most wanted to talk about with Pray Tell, and my answer was immediate: we need to start talking to our church community about their violent homophobia, their violent hatred that they have weaponized the Bible to use against us. It's time to have that conversation in public and tell the truth, and especially to remind the Black community that Christianity is a colonizer's religion that is placed on us.
So I spoke to Ryan about that, and he cooked up the "Take Me to Church" episode, which for me has been the most profound, just in terms of how I got to use my art. I call it laying a purpose — dare I say my ministry.
"It was really important for me to display the kind of love that we have [for each other], because that often is not shown or depicted in our narratives."
Rodriguez: There were two episodes: There was the Christmas episode and there was the episode when Blanca walks into the dance teacher's office and really vouches and fights for her son to get what he deserves because there's potential there. She's challenging this dance teacher to really notice [Damon]. And when this dance teacher, Helena, asks, "Who are you?" and Blanca says, "I'm his mother" — that was a moment for me to really solidify what my mother has done for me and what she fought for when I was younger. But also to show how there are plenty of mothers out there who just so happen to be trans who fight for their kids because they see the work and the potential and they see the light that's inside of them.
In the Christmas episode, Angel finally gets [the patent red pumps she'd always wanted as a kid]. It shows how so many people in the LGBTQAI+ community, so many trans girls, when they're younger and they're asking for something and they're trying to express themselves through asking for something, they don't get it. And then you receive it from your House mother. It was just beautiful to see, and I love that it was a symbolic episode. All mothers and daughters around the world — who just so happen to be trans or not — this is what the relationship looks like when you really put work into your children.
Ross: Hands down the "Never Knew Love Like This Before" episode [after Candy's death in Season 2]. I can never thank Ryan Murphy enough for such a sendoff. You've got to be very lucky to get that whole episode as a love letter to the character and to the people that loved her and supported her. It was such a dual experience, because I both experienced me, Angelica Ross, saying goodbye to my friends and knowing that I wouldn't be involved in the story as much, as well as Candy getting a personalized goodbye to her sisters and the House of Ferocity. It was really important for me to display the kind of love that we have [for each other], because that often is not shown or depicted in our narratives, that we are loved and we are supported. That might not have been Candy's full story, but she was loved, and there will be people who will miss her.
Curiel: It was definitely the scene where Lil Papi sings to Angel at their wedding. That one hit me right in the gut. I was so terrified, and I remember doing it in front of my cast mates and crew with the understanding that other people would see it. I felt so naked and so scared, but I remember in the middle of all that MJ said a really beautiful thing to me. She said, "Any time you get overwhelmed, look at me." And I did.
My grandparents, I didn't really get to meet them growing up, but I got to meet my grandmother as an adult, I think two years ago, before she passed. And I found out that they were artists in the Dominican Republic in the 1950s. My grandmother was an artist and a singer, and my grandfather was an Opera singer and actor. When I saw the episode with that particular scene, I saw my grandfather reflected back at me, and I just remember being so shocked … [like] "Man, I'm my ancestors' dreams right now." They were popular in the Dominican Republic but they still died penniless, and here I am on a major network doing this thing that they lived their entire lives doing. That was a full circle moment for me.
On their favorite ballroom scenes
Almost every episode of Pose features at least one ballroom scene as a major set piece. It's here that the found families of Pose come together to walk, vogue, show face, and show out.
Porter: [I love] the first one, of course, because it was the establishing one. I also love the one, I think it was last season, where I go off on Elektra for not showing up for the AIDS marches and the community in that way, and I kind of have a breakdown. But I've been loving that in Season 2 and kind of this season, they let Pray Tell on the floor to perform. To be able to show why Pray Tell is who Pray Tell is is very fun. Because you can't be standing up there reading people if you can't do it yourself.
Rodriguez: [There was] a statement ball that I loved — and when I say statement, it was truly a statement. This was right after Elektra had lost to Blanca, and Elektra was like, "No honey, you're going to come back into the ballroom and I'm going to serve you so that I win." It was a high heels category where Blanca and Elektra walked against each other to show who is the most equipped to go through the world in pumps and heels. I just love the way the camera kind of turns around us, the dynasty kind of feel it gave, the toothy gaze that we give to each other in that ballroom scene, and also just watching Dominique as Elektra with that big trophy and that beautiful black dress with those tall, 7-inch heels. Honey, she deserved to win.
Ross: I loved seeing the new introduction of the House of Khan [in Season 3]. Leyna Bloom, her face is nothing to play with. So the fact that she came and did the scene, I just was absolutely out of my seat. The House of Khan in general… I really felt like Candy would've been proud and probably would've joined that house.
Curiel: Hands down my favorite ballroom performance will always be MJ doing Whitney Houston's national anthem. MJ milked that moment beautifully; you could see the fun and the joy in her eyes. I could sing MJ's praises all day; I think she's one of the most talented leading women out there. But that performance she did in particular was just so wild. I've rewatched it at least five or six times.
On their favorite looks
What ball would be complete without a show-stopping wardrobe?
Rodriguez: First season, second episode, the pink sequined feather dress, walking in on Diana Ross' "Boss." It's just — ugh, it all came together so beautifully.
Curiel: I love, love, love that Romeo and Juliet outfit I got to wear. I had this blue leather sort of Shakespearean look. The thing that always cracked me up was that [the costume team never wanted] to dress Lil Papi up too much, so with that look we got to top it off with some Reebok sneakers.
Ross: [Before I] probably would've said "Never Knew Love Like This Before," my final costume of Season 2. Now I would say my Sleeping Beauty look. The whole costume team really outdid themselves with the Once Upon a Time ball. Me walking the ball with a bed tied to my back and my hair spread across the pillow? It was just absolutely stunning.
On what being on Pose taught them
In addition to winning over critics and fans, Pose won a number of awards during its run, including two GLAAD Media Awards, an Emmy, and a Peabody. It also changed what the Pose cast felt was possible for their careers.
Rodriguez: When I went in, I was very nervous to take on a role like Blanca. She was a leading lady on a show, and with that comes a lot of responsibility. There was a lot of weight on me that I was simultaneously worried about, ready for, and also overwhelmed to step into. I actually looked to Blanca for a lot of my inspiration to lead this show. She taught me how to be a leader, how to not break for anything, how to walk with my head held to the sky, and that anything is possible. So that's what I'm taking away from this show, that anything is possible. There are so many beautiful opportunities out there that are structured for me. I miss nothing, and whatever comes my way means it's meant for me.
Curiel: I remember starting off and thinking, "Aww, I'm in this big show, and things are going to get easier, and all the offers are gonna come in, and people are gonna know my name and I'm gonna be able to do all the things I want in my career." And things are just as hard. I'm still very much in the hustle and trying to be patient with myself and not rush the process so that when I do end up on sets, I'll be playing roles that allow me to feel comfortable. I was always looking for the next role and there were times that I was not very present with what I had… with Pose, I was soaking up every last second. I remember telling myself, "Yo, what was I rushing for? Everything I need, everything I want is right here."
Ross: What I'll take from my time is you have to bring it all to the floor. And what that means is when it's your time to walk or to be in the spotlight or be in that moment, that's your time to show up. And you gotta be prepared for it as much as possible because none of us is given a pass, it's just not that easy. So you've got to bring it hard.
Porter: My favorite thing about the show and the role is that I got to live long enough to see the day where Pose was even possible. When I got into the business, Pose and Pray Tell and all of these characters were literally impossible. This show marks impossible dreams coming true, and I can take that with me for the rest of my life.
This interview has been edited and condensed for clarity.