Lil Nas X Responds To His BET Awards Snub By Teasing A New Diss Track
BET responded to the outcry, stating that they "love Lil Nas X."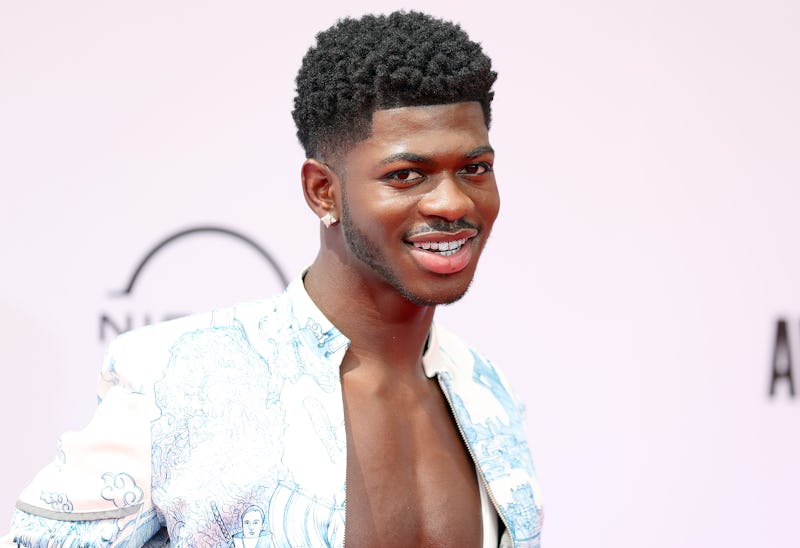 Rich Fury/Getty Images Entertainment/Getty Images
Lil Nas X isn't letting the BET Awards get away with snubbing him for a nomination. On June 7, the Grammy-winning rapper shared a snippet of his new song "Late to the Party" on Twitter, which makes his message to the award show very clear. "F*ck BET," he repeats over the intro, before he goes on to brag about his chart accomplishments in the first verse. "Look at how I top sh*t, I just put like three up in the top 10, and I don't need nobody," he raps, nodding to when three songs from his debut album MONTERO landed on the Top 10 of the Billboard Hot 100 in September 2021.
The 2022 BET Awards nominations were announced on June 1, and Lil Nas X's name was nowhere to be found. "Thank you bet awards. an outstanding zero nominations again," he tweeted in response to the snub. "Black excellence!" He explained his disappointment in a follow-up tweet, noting how Black gay artists are treated differently in the music industry, even among their own community. "I just feel like black gay ppl have to fight to be seen in this world and even when we make it to the top mfs try to pretend we are invisible," he wrote in a now-deleted tweet.
After releasing the snippet, Lil Nas X explained on Twitter that his reaction to the snub was less about the award show itself and more "about the bigger problem of homophobia in the Black community." When questioned why he cared about the snub since he won two Grammys in 2020 for his Diamond-certified hit "Old Town Road" and received five more Grammy nods in 2021, he said that was his exact point. "How can i get acknowledged by the most acclaimed award show in the world and then not even just 1 nomination from my own people? is that not crazy?" he asked.
BET issued a statement responding to Lil Nas X's sentiments on June 7, saying he received a Best New Artist nomination in 2020 and has performed on the ceremony twice, including a 2021 performance of "Montero (Call Me By Your Name)" in which he kissed a male dancer onstage. "No one cheered louder that night than BET," they wrote. The organization explained that BET staffers are not part of the voting academy who determines nominations for the award show. "We are committed to using all of our platforms to provide visibility and inclusion for all of the many intersections of the Black community," they wrote.