Martin Compston Loves Reading Line Of Duty Fan Theories As Much As You Do
"There are some absolutely wild ones."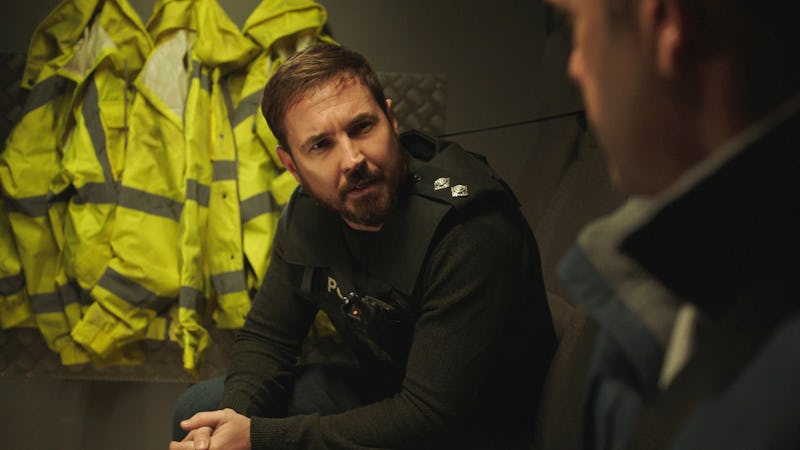 BBC/World Productions
There is one question on everyone's mind this week: Will we finally find out who "H" is? With the sixth season of Line of Duty coming to a close this Sunday (May 2), its cast and crew are taking the opportunity to reminisce about their time on the series. For Martin Compston, that's weekly zoom calls with his castmates and revealing the origin of DI Steve Arnott's waistcoats.
In a recent interview with Radio 1 Newsbeat, Compston dished out all the gossip on what goes on behind the scenes, expertly weaving away from questions about the season six finale and the true identity of "H". Instead, he reiterated how much of a family the cast and crew are, particularly with his "pals for life" Vicky McClure and Adrian Dunbar, who have weekly chats about fan theories over a glass of wine.
"There are some absolutely wild ones," Compston said. "I saw someone had put together an acronym of something Jimmy Lakewell (one of the show's characters) had said, and that led to the word 'Carmichael' (Patricia Carmichael, played by Anna Maxwell Martin). You just wonder who's got the time to sit there and come up with these things."
Having said that, Compston reckoned that there are a handful of viewers who are "pretty on the money" with their theories. Take that as a cue to run through the dozens on Twitter and see which ones end up being right on Sunday, especially since Compston told the Shrine of Duty podcast that there "are a lot of big answers" in the finale.
In that same interview, the actor also hinted that this season could well be the last. "You know, people have stuck with us for such a long time. I think there comes a point where the natural story arc that's been running all these years comes to an end." Don't worry just yet though, as Compston went on to say that he and the cast "genuinely" don't know what's going to happen with the show – it's all down to Jed Mercurio.