RHOM Star Lisa Hochstein Breaks Down Her Shocking Divorce & Season 5's Viral Moments
"In the last nine months, I found out so many secrets... and I'm sure there [are] more to come."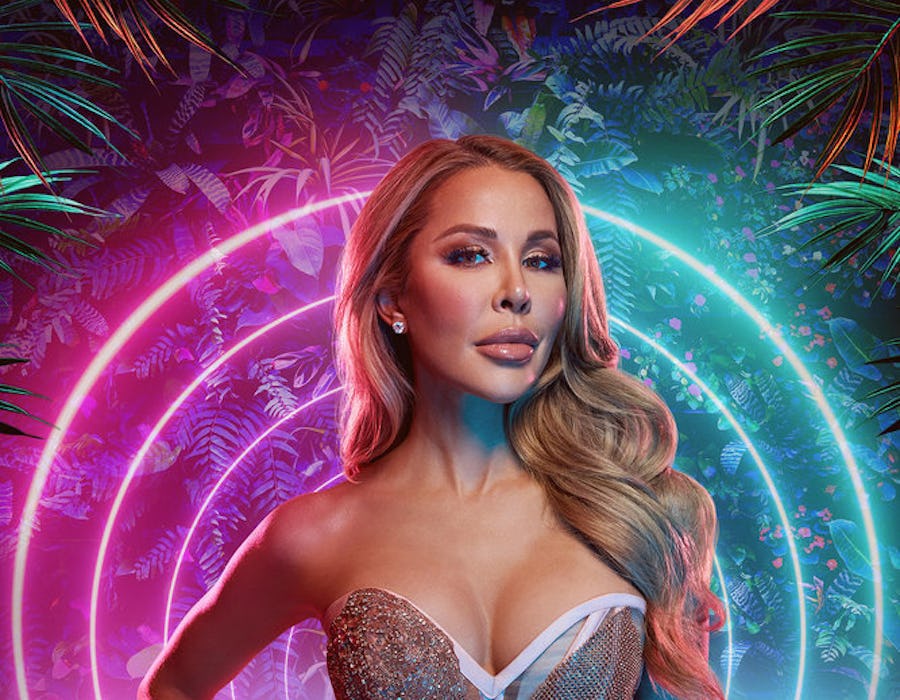 Most celebrity divorces don't play out on national TV, but the dissolution of Lisa Hochstein's marriage is one of the few that has. For the Real Housewives of Miami star, rewatching the end of her marriage on the Peacock series, which airs its Season 5 finale on March 2, was even more painful than the divorce itself. "I'm laughing now, but I'm crying inside," she tells Bustle of her experience. "It was hard enough to deal with it in real time, and then having to relive it all over again... it's [like] the scariest rollercoaster at Disneyland."
In May 2022, when Lisa was already filming RHOM Season 5, her husband, plastic surgeon Lenny Hochstein, filed for divorce and asked her to move out of their Star Island mansion. At the same time, Lenny also told Page Six that he'd already moved on with new girlfriend Katharina Mazepa. But while Lisa's world stopped, the cameras kept rolling, and her fellow Housewives rallied around her.
Fans saw Lisa grasp her new reality, including attempts to save her marriage, a move she now regrets. "Me almost wanting to be back with this man and saying how much I loved him is heartbreaking considering the things that were happening behind the scenes that I didn't know," she says. "A lot of things came out after we wrapped, and also while we were filming, but not everything was discussed. In the last nine months, I've found out so many secrets and tidbits and information about how this all unfolded and the timeline of the affair. I'm sure there [are] more to come."
Viewers saw one of those secrets exposed in the season's fourth episode. Before he told Lisa that he wanted a divorce, Lenny was caught in a hot mic moment saying he hadn't been intimate with Lisa "because then I would be cheating on who I really care about," insinuating that he was already with someone else. (He told Page Six he started dating Mazepa "after the decision was made" to divorce.)
Below, Lisa opens up about reliving her divorce as RHOM airs, where she stands with his family, and this season's drama.
How did you build the strength to become this vulnerable on camera?
I didn't know I could be that strong. Those were some of the darkest days of my life, days when I couldn't get out of bed, but they're things people don't see all the time. They see my Instagram. I'm not going to post a photo of me crying or curled up in bed in the fetal position. I'm doing good but not great. It's gonna be a long journey before I get to the other side.
Did you ever think about quitting RHOM, even though you were already filming when Lenny dropped the divorce news?
100 percent. I wanted to quit so many times, but it's my job, and I felt like there was no way out. I signed up for this. Many, many women and men have messaged me or come up to me in person and have been so supportive, saying they admire my strength. I'm trying to be strong for everyone else, because people need that. People want you to [see] that you can get to the other side.
We see in the season finale that Lenny's mother, Marina, doesn't support you the same way she did before. What's your relationship like today?
I don't feel like I have her support right now. Marina and my father-in-law don't want to see the family separate. They moved here in their older age to be with the family as their grandchildren grew up, and this puts a monkey wrench in that. And then Lenny and Marina got into a huge fight, one of the worst I've seen between them, so she was extra upset. But she decided she didn't want to lose Lenny and lose access to her grandchildren when Lenny's with them. As a mother, I get that.
What's your hope for your relationship with Lenny now?
I had been thinking, "Well, maybe one day we could go on vacation together, even with significant others." I was hopeful. But so much has happened, [and so] I don't see that in our future right now. It's just getting so ugly and dark. We're in the media all the time.
I want to get your take on some of the more fun and petty drama on RHOM. What did you think of Nicole's mirror invitation to Larsa?
I did not think Nicole had that kind of feistiness within her. It was a funny moment. Larsa was even taken aback, and it's not like Larsa gets shocked easily. It was very ballsy for Nicole. I'm sure people are gonna use that to disinvite other people to things in the future.
How would you rate Adriana's new song "Fyah"?
She's five stars across the board. I give her a 10 out of 10. She's put blood, sweat, and tears into her music career, and the song is so fitting for Miami.
Julia called Alexia a barracuda, which you had to look up. How do you feel about the comparison?
Oh my God, she does not look like a barracuda at all. She's one of the most stunning women I've ever seen. She looks like a Barbie. That's all I'm gonna say about that.
What are you hoping fans see from you if RHOM returns for a sixth season?
I hope fans see me coming into my power, like a phoenix rising out of the ashes. For so many years, Lenny and I [had a deal in which I would] promote him and his business. That was my goal. I was always trying to do the most I could, because it ultimately helped us. I really thought we'd be together forever, so I didn't focus on my own business, which was a huge mistake. Make sure you have your own side hustle, so you don't get left in that situation.
This interview was edited and condensed for clarity.