Andy Cohen Apologized To Larsa Pippen After A RHOM Season 5 Reunion Dust-Up
"I don't want to scream at women."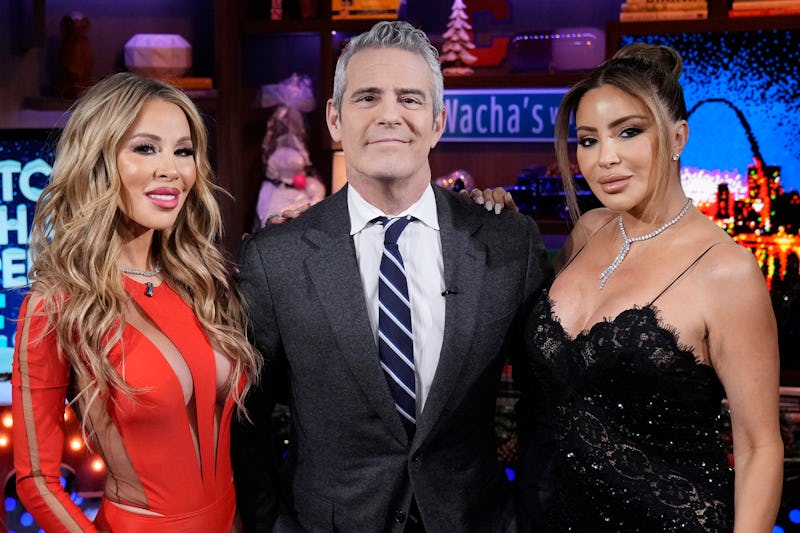 Bravo/NBCUniversal/Getty Images
The Real Housewives of Miami's Season 5 reunion taping really got heated — and not just for the ladies. In the midst of filming the Peacock special on Jan. 26 in New York City, host Andy Cohen took to his Instagram stories to apologize for losing his cool toward one Housewife in particular: Larsa Pippen. "We're still shooting, and I didn't have screaming at Larsa on my bingo card today," Cohen said in a video, before issuing a public mea culpa.
Off-camera, Pippen could be heard asking the host of Bravo's Watch What Happens Live with Andy Cohen if he was going to apologize, and he swiftly obliged. "I'm sorry, Larsa," he told her, prompting Marysol Patton to ask the reason for his apology. "For screaming at her," Cohen responded. "I don't like screaming at women. ... I said it on the break, I don't want to scream at women. Anyway, sorry." Fellow cast member Lisa Hochstein also chimed in to point out that he had "screamed at" her during last year's reunion, and he told her he was sorry as well. None of the women appeared in the video because their reunion looks have yet to be revealed, though Bravo did "leak" the RHOM reunion seating chart already.
After filming wrapped, Cohen posted a happier Instagram story with another special lady: his 21-month-old daughter, Lucy. "I made it home in time for bedtime with my number one, beautiful, sometimes high-maintenance woman," he said while holding his girl, ultimately dubbing his reunion moderation duties a "lovely day" of work.
Though it's unclear what led Cohen to raise his voice at Pippen, she's found herself in the middle of plenty of drama this season. A recent episode even included a video montage of rumors she'd spread this season, ranging from Lisa's finances and mortgage to someone saying they saw Julia Lemigova making out with a man in public, and more recently, that Dr. Nicole Martin had supposedly slept with all the doctors at the hospital where she works as an anesthesiologist.
Meanwhile, Pippen's personal life has been making headlines as of late. After she and ex-husband Scottie Pippen finalized their divorce in December 2021, she was romantically linked to Marcus Jordan — the son of her ex's teammate, NBA Hall of Famer Michael Jordan — the following September. Afterward, she denied they were dating, but eventually seemed to confirm romance rumors by finally going Instagram official on Jan. 23. Taken at the Trophy Room store in Orlando, Florida, her photo shows them cuddled up and holding hands while posing in front of a floral display in the shape of the elder Jordan's Chicago Bulls jersey.
"Checks over stripes," Pippen captioned the post, referencing Drake's verse on Travis Scott's "Sicko Mode" pledging loyalty to Nike over Adidas. Marcus, for his part, commented, "That's what I like, that's what we like!"
There's no word yet on how he felt about the already-dramatic RHOM Season 5 reunion, though.