Michael B. Jordan & Lori Harvey Broke Up But "Still Love Each Other"
Her father Steve Harvey, who confirmed the split, says he's "Team Lori, 1,000 percent."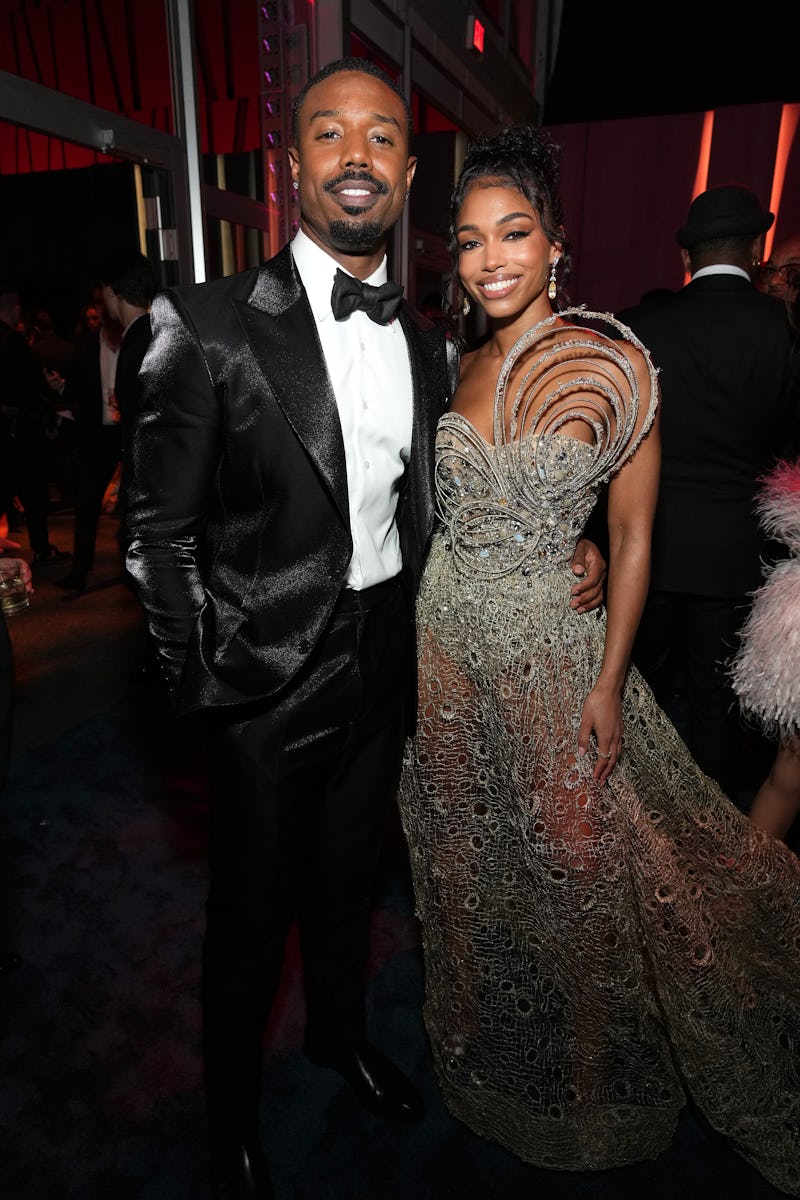 Kevin Mazur/VF22/WireImage/Getty Images
After more than a year of dating, Michael B. Jordan and Lori Harvey have broken up. The model's father Steve Harvey confirmed their split on the June 6 episode of his radio show, jokingly saying that he was carrying on in spite of his devastation. "I'm fine," he said. "I still gotta go to work … I still gotta take care of my family." The comedian proclaimed he's "Team Lori, 1,000 percent," saying he loves and supports his daughter, before adding that he has no hard feelings for the Creed star. "He's still a cool guy from what I know," he said. "It's a breakup. I'm pretty sure they'll be fine. People break up all the time." Bustle has reached out to the former couple's reps for comment.
On June 4, People reported that both halves of the couple are "completely heartbroken" and "still love each other" after ending their relationship. The split, a source explained, came down to different life paths. "Michael matured a lot over the course of their relationship and was ready to commit for the long term," the source said. "He let down his guard with her, opening up emotionally in a romantic relationship for the first time."
The couple hasn't confirmed the breakup themselves, but that may be by design. As Harvey told Bustle in 2021, they like to keep things close to the chest: "I think we're both very private people naturally ... we know there are people that love and support us and want to see us. So [we want to] give just enough, but keep the majority of it just for us. We're trying to find a balance."
At the time, Harvey reflected on her first impression of Jordan ("I was like, 'He's cute!'") and how he meshed well with her very famous family, including her dad. "I knew they were going to love him, which they did," she said. "[The introduction] was good. It was easy." They knew each other for several years thanks to mutual friends, Harvey explained, before being linked together in November 2020.
When the couple did offer rare glimpses of their relationship, they were open about being deeply in love. "There are roles that I passed on that I knew I didn't have enough life experience to play. I was like, 'What can I pull from?'" Jordan told The Hollywood Reporter in December. "But I finally found what love was." He also recalled knowing it would take a "special person" to put up with dating in the public eye, making it clear he'd found that with Harvey.
Now, there's the breakup in the spotlight, too. While Harvey still appears in several posts on Jordan's Instagram account — now filled, predictably, with fan comments mourning the power couple's demise — the model seems to have scrubbed Jordan from her social history, fans observed. Take a look for yourself: You won't find a picture of the Creed star anywhere on Harvey's grid. Of course, for a celebrity who's widely known for not reacting, the quiet Instagram cleanup might be her most natural way of making a statement on the split.
This article was originally published on